After surveying hundreds of patients nationwide in 2017, we have compiled the following data to help your practice increase production and profitability in the coming year. In our proprietary survey process, we ask 25 key questions to uncover trends and changes in dental marketing year over year. This report details the cumulative data from three of those questions.
Would you search online for a practice like this one? [Yes – 70%, No – 30%]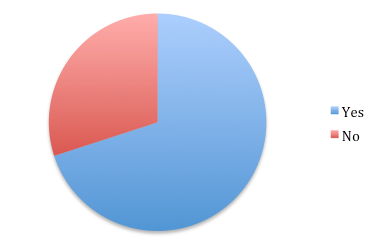 The data shows a continued upward trend from last year, with 2016's results indicating that 63% of patients would search online for a dental practice. That being said, you are still missing out on 30% of potential new patients if you are investing only in online marketing.
There are more than 50 marketing tactics that a dental practice could deploy, and of those, only a handful is right for your practice right now. The majority of practices realize higher production dollars and profits when the marketing plan includes the right combination of marketing tactics: brand/awareness, traditional, internal and online/digital.
What type of marketing do you pay attention to when searching for a dentist? [Referral – 37%, Online search – 21%, Newspaper – 2%, Email – 2%, Online reviews – 18%, Signage – 4%, Radio/TV – 3%, Social media – 7%, Direct mail – 5%]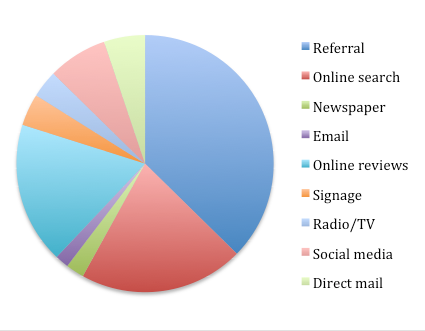 While referrals are still the leading answer, they are down to 37% from 67% in 2016. Trends also show that the importance and significance of social media in a patient's decision-making process is increasing. Recent studies show that 88% of consumers trust online reviews as much as personal recommendations.[1]
This data illustrates another growing trend in marketing: patients, and consumers as a whole, will utilize and research on several different platforms before making a decision, especially when their health or that of their family members' is involved. They may hear about your practice from a neighbor, scan your website, and check out your online reviews or social media profile. Then, without even realizing it, they may see your direct mail flyer that you sent two months ago in the stack of papers in their study. That totals four different contact points that they made with your brand before even making a decision.
Focusing on a single marketing tactic limits your pool of potential new patients, as well as your credibility and trustworthiness. By maximizing your marketing in a strategic and data-driven way, you will be able to target, attract and retain your ideal patient, building trust and strengthening the relationship before they even pick up the phone to schedule an appointment.
What would be the easiest way to encourage you to write a review or make a referral?  [Email reminder – 58%, In-office reminder – 13%, Handwritten note – 9%, Small reward – 21%]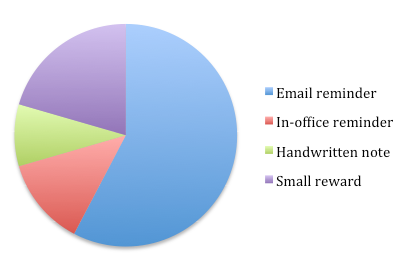 Interestingly, email reminder is holding steady from 2016's report. This data shows us how willing people are to sing your praises and send new patients your way, but generally one of two things tends to happen:
The patient gets busy with life and simply forgets to refer to you or write a review
The patient doesn't even realize you are accepting new patients
People are very willing to send their friends and family your way or write a review, they just need to be reminded and it needs to be extremely easy for them to do so.
One way to do this is to send a monthly email reminder to your patient base with a link directly in the email for them to write an online review.
And, as always, we're all little kids at heart and like to be rewarded/incentivized for "good" behavior. Offer patients a small gift card or account credit if they refer a new patient to your practice. Or, spice things up and enter their name in a drawing every time they refer, picking a winner monthly or quarterly.
Make sure to document all of this on social media, too. Your current patients need to feel the love, and your prospective new patients will want to be a part of that!
While these are the major trends we saw in dental marketing in 2018, our philosophy is that each practice has its own unique print in the world. Resist the temptation to copycat what everyone else is doing and explore all the possibilities for the best outcome.
Get a complimentary marketing plan for 2017 that is custom to your practice's goals.

[1] https://searchengineland.com/88-consumers-trust-online-reviews-much-personal-recommendations-195803