SEO has come a long way from the black hat days of link farming and keyword stuffing. This is due mostly to the rise of machine learning AIs such as Google's Rank Brain, a machine learning system that helps Google analyze and determine search results. These AIs have the ability to analyze a large range of user experience and ranking metrics and determine which information it thinks best correlates to what a user is searching for. We have seen recent changes to these in the form of Google's algorithm updates. As one of the nation's largest dental marketing agencies, we have watched these changes take effect first hand and have compiled a list of SEO trends we see emerging in 2018. The top trends in dental SEO for 2018 are:
Mobile First Indexing
Comprehensive, In-Depth Content
Increased Video & Image Searches
The Rise of Voice Search
Links + Linkless Mentions
Mobile First Indexing
In October of 2016, combined online traffic for mobile and tablet devices officially passed desktop, marking 51% of all online traffic for the first time in history. Following the tipping point, Google announced that they would be switching to a "mobile-first index," meaning Google would consider the mobile version the actual version of the website, even if someone searched from a desktop computer. Therefore websites that were mobile-friendly were given preferential treatment in search results. Now, mobile traffic sits at 60% and growing. Although mobile first indexing is not live yet, it could happen any day now, and it is sure to have a major impact on websites that are not mobile friendly. If you have a website that isn't mobile-friendly, you should start the process now before it is too late.
Comprehensive, In-Depth Content
In the past, Google would crawl a page and look for the number of times a particular keyword or phrase was used throughout the:
Copy
Title Tag
Description Tags
Alt Tags
H1
URL
Although these are still ranking factors by some consideration, they are more measures of content versus context. Remember, it is Google's number one job to display the most useful information that correlates to a user's search query, not the most alike. Content that contained between 1900 and 2000 words typically outperformed websites with less content.
Another way to give your content a boost is through the use of LSI keywords or Latent Semantic Indexing. LSI keywords are words that are strongly associated with your page's content. For example, the LSI keywords for "proper dental care" might be: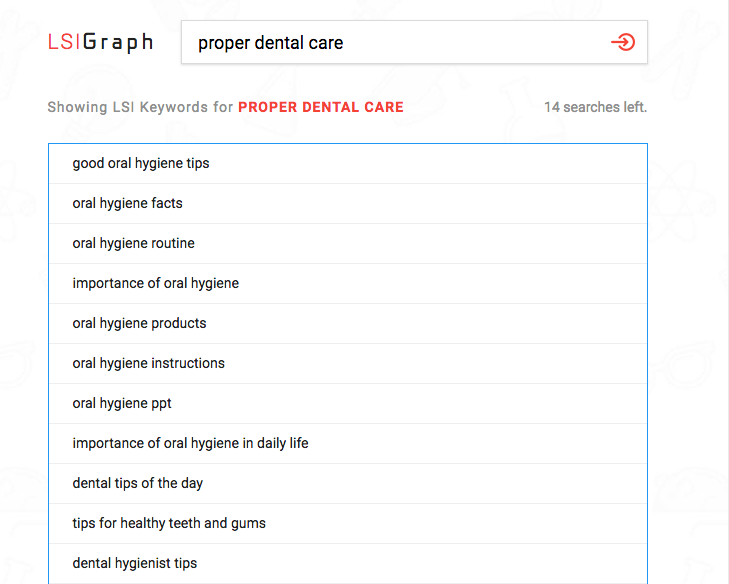 You can also use the blue hyperlink words at the bottom of Google's search engine to get more LSI keywords and check them with Google's keyword planner to look up search volume.
Increased Video and Image Searches
2018's biggest SEO winner may very well be the rise in video search. In fact, according to Cisco online, video search could make up as much as 80% of all online search by 2021. Youtube is already the second largest search engine and increased 60% just this past year.  Optimizing your videos with keywords and content like you do with a web page can also increase the chances of it appearing directly in search results.  Nearly 55% of searches contain at least one video in the results.
Out-bound video has also exploded in 2018. According to eMarketer, nearly 77% of marketing agencies say that out-stream video will be a crucial element to their clients' success going forward. Unlike in-stream videos, out-stream video plays outside of video content. These are often used in social media feeds or placed in between content. These videos tend to have a much higher viewability since they can be placed anywhere and formatted to only play when in view of the user. A study by Marketing Land found that viewers actively watch out-stream ads for 25 percent longer than other types of video ads. The study also found that 42% of respondents who viewed these video ads were aware of the brand measured in the study, and 65 percent of respondents who were exposed to out-stream formats were aware of the ad upon video completion.
People have also altered the way they search through the use of image searches, looking for topics such as "hairstyles for men" or "living room ideas."  Google image searches are made over 10 times as often as any search on Bing or Yahoo, and they represent more than 40 times the number of searches on Facebook. Again, these searches are based on increasing a user's experience. To ensure better rankings it is important to use high-quality images and optimized alt tag and descriptions.
The Rise Of Voice Search
Currently, one in five searches come from voice search, 35x from what was used in 2008, which is likely to grow with the adoption of smart home devices and the increases in mobile traffic. With that in mind, it is imperative to stay on top of voice search. The best way to optimize for voice search is to optimize for question dialog (such as titles using "Where is," "Who is," "How do I," or "What is"…with answers listed in the content below). Google will usually favor text inside featured snippets and first page websites for voice search results.
Links + Linkless Branded Mentions
It is no surprise that links are important. And just like last year, content and links will remain the foundation of SEO. However, it is likely that as Rank Brain advances, hyperlinks and anchor text will become a thing of the past. Bing has already confirmed that they are using unlinked brand mentions as a ranking signal and a patent from Google suggests they do the same. Gary Illyes, Webmaster Trends Analyst at Google, stated in September last year, "If you publish high-quality content that is highly cited on the internet — and I'm not talking about just links, but also mentions on social networks and people talking about your branding, crap like that. Then you are doing great."  In theory, this would be a great step forward since there are more brand mentions then links using those mentions on the internet.  Link building would become more organic and interlinked with content and less about "link-building."
To stay up to date on the latest news and insights make sure to sign up to our blog or follow us on social media for real-time releases.  If you are interested in learning more about SEO and how it can help you achieve your goals contact us or call (720) 350-4484.