by Wendy O'Donovan Phillips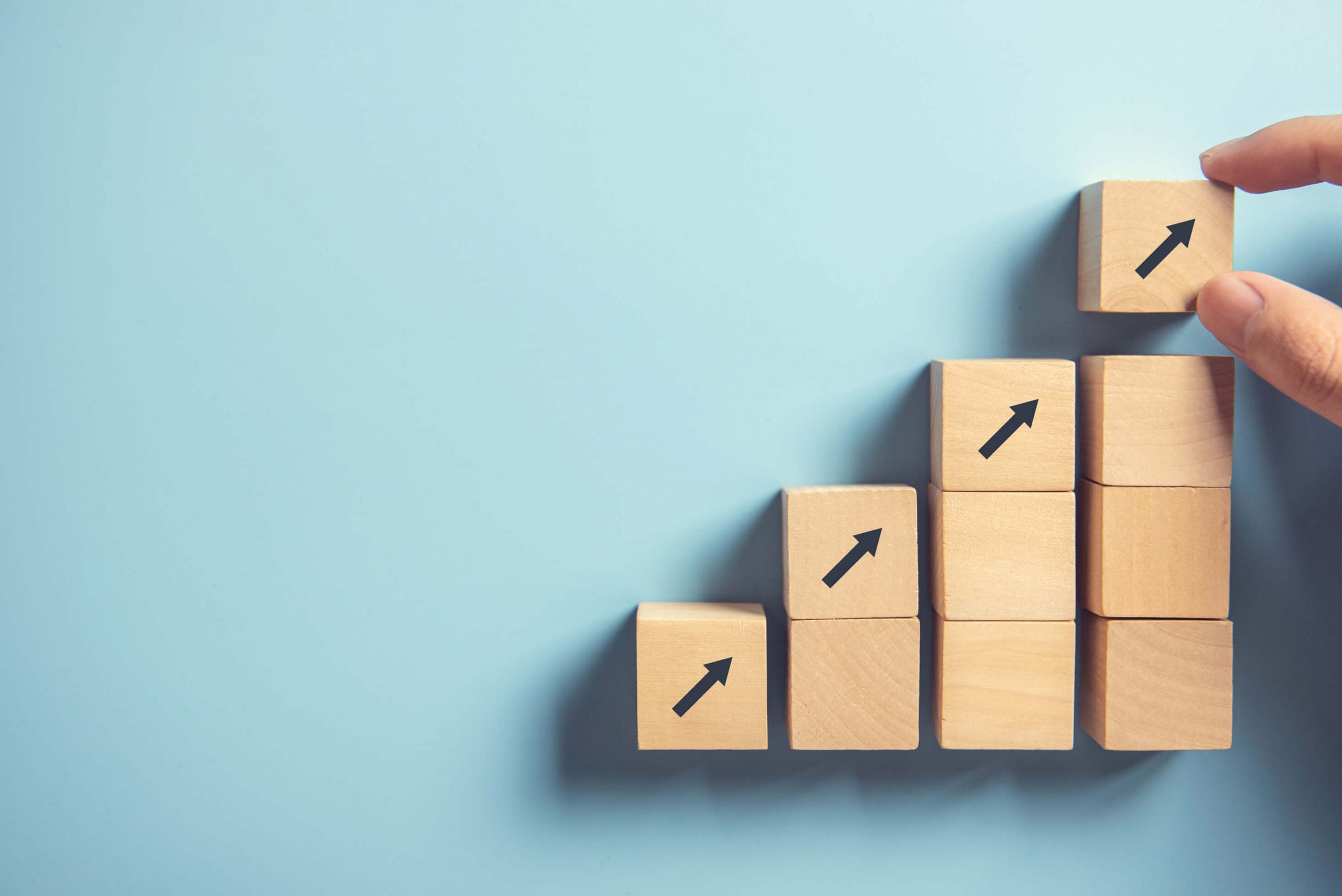 Quick, finish this sentence: Our internal marketing team finished 2019…
Strong and ready for more.
Relieved.
Sick.
Disappointed.
An answer of 1 or 2 may indicate your team accomplished all that it wanted to, or at least came close. If you ended the year with several team members out ill or with a few exiting the organization in the last quarter, you as their leader may be rethinking a few things.
It can be extremely difficult from within the team to pinpoint trouble areas. After 12 years advising thousands of healthcare organizations nationwide, here are a few symptoms of distress we see prevalent in teams like yours. Identify the symptoms that seem most familiar then jump down to each corresponding suggested remedy.
| | |
| --- | --- |
| Familiar Symptoms | Suggested Remedies |
| Frontline marketers seem unclear on organizational priorities, executive expectations or high-level desired outcomes | Focus on a Singular, Big Goal – 1 |
| Marketers say "yes" to most project requests, appear overwhelmed or are struggling to prioritize everyday tasks | Highly Functioning Workflow – 2 |
| The team has myriad goals or key performance indicators, but they seem unclear on where they are headed as a team and how to get there | Strategic Planning Model – 3 |
| Marketers are working from dated brand messaging standards or are not working from universal messaging standards at all | Clear and Universal Messaging – 4 |
| Marketers are pushing projects around rather than drawing from strategies and research to elevate critical and creative thinking on campaigns | Fruitful Campaigns – 5 |
| There are breakdowns between marketing and executives on data reporting successes | Executive-Level Reporting – 6 |
| The team is churning out a lot of content, but, when asked, they appear unsure whether it truly serves its audience or the organizational mission, vision or message | Content Marketing Strategy – 7 |
| Meetings tend to focus on tactical plans, not brainstorming strategic approaches | Strategic Thinking – 8 |
1. Focus on a Singular, Big Goal
Individuals on far too many marketing teams are unable to articulate exactly what their efforts produce, or are meant to produce, on a high level. Why, then, would any effort matter at all?
A Big Important Goal (or BIG) aligns the company vision statement and the highest-level financial goal to serve as a collective compass for the team. The BIG states clearly why the team does what it does and the biggest impact it has on its organization.
Here are a few examples:
BIG #1
VISION: To deliver technology that creates a legacy of wealth for you, your family and your team.
HIGHEST FINANCIAL GOAL: Increase revenue 167% by December 31, 2022.
BIG #2
VISION: To make positive changes that impact the people living in our communities, to truly help others.
HIGHEST FINANCIAL GOAL: Increase overall occupancies across 13 locations from 78.8% to exceed 90% by year end 2020.
BIG #3
VISION: To empower practices, providers, and patients to create meaningful change in healthcare.
HIGHEST FINANCIAL GOAL: Increase revenue from $25 to $33 million by end of fiscal year 2019.
By knitting your "why," as Simon Sinek encourages, together with your highest financial goal, as FranklinCovey suggests, you create a crystal-clear Big Important Goal on which to focus the team. Make the BIG the first topic of conversation at every weekly marketing team meeting and explore how it elevates inputs and outcomes over time.
2. Highly Functioning Workflow
We once worked with a team of 15 marketers who had 18 internal clients, executives within the organization who tapped the marketing department for any and every marketing need they desired. That was on top of the communications they regularly produced to connect with thousands of external customers. This free-for-all situation was not only overwhelming for each of the marketers, it was also undermining their success as a team.
Highly Functioning Workflow on a marketing team starts with one key, incredibly valuable position that most internal teams neglect to fill: the project manager. This role acts by policing each project request to ensure it:
Will help the team achieve its vision and highest financial goal (see Focus on a Singular, Big Goal)
Serves one or more of the previously agreed-upon strategies, or actions, that see them have the ultimate success (see Strategic Planning Model – 3)
If the answer is "no" to either of these simple litmus tests, the project request is handed back through a client-facing marketer to the requestor with either an explanation of why it was declined or a timestamp of later prioritization. The project manager and client-facing marketer are two distinctive roles, which preserves the former from bias by relationship with the client.
The ensuing healthy tension on the team will give way to laser focus on what is truly important, give more meaning and satisfaction to the marketers' jobs and set the marketing team on the right course for achieving the Big Important Goal and taking right strategic action toward measurable success.
3. Strategic Planning Model
It happens all the time on internal marketing teams: over the years, multiple team members or executives develop myriad goals, strategies and tactics. So many so that the marketing team is confused on where to focus and to what end.
The Strategic Planning Model is a one-page document shared once weekly with the entire marketing team and any involved executives to show:
The vision and highest financial goal that all marketing efforts are meant to produce (see Focus on a Singular, Big Goal)
No more than three objectives, or destinations, that the marketing department has yet to reach and that, when reached, will have them achieve the vision and highest financial goal
No more than five strategies, or actions, that the marketing team can take to achieve each objective (15 strategies in total)
The corresponding measure (quantifiable short-term micro-action) and goal (quantifiable desired long-term outcome) for each strategy
Here is an example:
A weekly team meeting focused on this single document readily empowers marketers to see where they are going, why it's important, how to get there and what immediate impact individual action has on the organization. When each team member commits to meeting one of the measures weekly and achieves that commitment, accountability, morale and results improve. Each strategic shortcoming can be traced back to the root cause, not for punitive reasons but for the effectiveness of the plan at large. Each hiccup can be mapped out and the responsible party can be given a chance to rectify the situation, both providing immediate improvements and a big-picture learning opportunity. This is empowerment at its finest.
4. Clear and Universal Messaging
Perhaps you work for an organization whose top-line executives believe has viable brand messaging, but you as a marketing executive know it misses the mark. Or maybe your team has brand standards that differentiated the company years or even decades ago, but that no longer hold water. Or it could be that the current brand messaging simply needs updating.
The path to Clear and Universal Messaging does not have to be long and arduous. Consider this straightforward approach to a brand refresh:
Survey the 2-5% of current customers whom the company most wants to replicate, asking particularly what the brand does that cannot be found elsewhere
Conduct competitor research to ensure common responses from the survey truly differentiate the company
Based upon research outcomes, articulate in writing the brand personality that most suits your brand. For example:
The Ruler Archetype
The Ruler Archetype seeks to prevent chaos by taking control. Motivated by the desire for safety and security, the Ruler works to get (and keep) power. A lover of policies and procedures, the Ruler is drawn to things that are substantial, timeless and high quality. This archetype sees itself as a role model for others to emulate and seeks to help others secure prosperity and security.
The marketing techniques they will use will appeal to the consumers' desire to be important, influential and successful. Imagery is often classical, traditional, statuesque, noble or sophisticated.
Ruler brands speak authoritatively, often spreading the idea that they are the lead in their field. Their image is solid, polished and often very assertive.
From common responses from the surveys, articulate in writing the brand promise that most accurately describes what you can deliver that no competitor can. For example:
As a leader in a complex and dynamic industry bombarded by relentless change, you need a compass to find the best way forward. We are proud to be your healthcare navigator, transforming data into pointed and actionable insights so you can make informed decisions that drive personal, professional and industry growth. Because we know healthcare is successful when you are.
From commonalities in the survey data, write down three differentiators, or supporting points to the brand promise. Continuing with the example:
More than data. Healthcare intelligence. 

With access to vast sums of data, our analytical capabilities are unparalleled in our field — but we know that's not enough. We collect, synthesize and explain data in meaningful and actionable ways so you can approach difficult decisions with confidence, knowing you're supported by the latest and most relevant healthcare intelligence.
Connect. Collaborate. Grow.

We work closely with you to ensure you have access to the research, resources and mentorship you need to grow personally and professionally — so you, in turn, can grow an entire industry.
A proven partner.

We've been in this business since 1926. We've seen every kind of change imaginable. And through it all, our focus has been helping leaders navigate shifting dynamics with insight, intelligence and comprehensive support. We're looking forward to the next hundred years, and to witnessing the changes you'll bring.
When the internal marketing team has a part in conducting the research and developing the brand messaging, they will be far more likely to embrace long-term adoption. Be sure to engage the internal team in the process for best outcomes, especially if you are using an outside firm to assist in the development.
5. Fruitful Campaigns
We once worked with a company that was sending each of its customers 714 emails per year. Ouch.
It's easy for marketers to slip into the "more is more" mentality. Writing, designing and sending lots of emails feels and looks like productivity. Of course, the opposite couldn't be truer.
Here are a few principles that team embraced to lessen the workload and improve open and click-through rates:
Develop traffic-magnet campaigns. To be an effective traffic magnet, each email needs to solve a real problem, promise quick learning or a quick win, be quick to digest and demonstrate expertise. (See Content Marketing Strategy – 8)
Develop lead-magnet campaigns. To be an effective lead magnet, your content needs to: give in-depth information, provide actionable data, be evergreen.
Align every campaign with the corresponding strategy on the Strategic Planning Model; in this case, "Develop comprehensive campaigns focused on attracting qualified leads for revenue-generating services, products and integrated solutions." (See Strategic Planning Model – 3)
When the marketing team is trained to strategize first (see Strategic Thinking – 9) and rewarded for thinking about campaigns before executing them, the work gets more rewarding, the campaigns more effective and results better aligned with executives' expectations.
To hone continued creative thinking, it's imperative that marketers continue to learn and grow professionally. Incent team members to participate in continuing education, subscribe to blogs, listen to podcasts and attend webinars. Creativity happens in expansive time, not on deadline.
6. Executive-Level Reporting
Top-level executives within your organization want to know that the marketing department is producing returns and results. Expert marketers have a litany of analytics and data at their fingertips, and while this is beneficial at some levels, it can pose a problem when it comes to internal communication. Too often, marketers over- or under-share data with executives, inadvertently arousing unfounded fears that marketing outcomes are not what they should be.
Train marketers to share top-line metrics for the executive team and provide example reports for only those metrics. For example, answers and corresponding reporting related to these three top-level topics were delivered to the executive team in a monthly email:
Website Channel Reporting: How many net new visitors came to the website in the last month, quarter and year? How did that compare with the prior year?
Marketing Campaign Reporting: How did the marketing department rank in overall ability to clearly tie campaign spend to revenue specifically generated from those campaigns?
Sales Funnel and High-Level Analysis: Did the team achieve the lead generation goal for the month? Did the team reach the budgeted revenue forecasted for the month? If not, what was learned and what will be done differently next month?
The marketing department and executives agreed together on these three buckets, so expectations are aligned and analysis paralysis eliminated. The marketing department on its own continues to dig into deeper analytics to prioritize updates and drive results, but they no longer get bogged down trying to communicate all the nitty gritty up the ranks.
7. Content Marketing Strategy
Very few marketing teams produce actual content. Most churn out a litany of blogs or emails with a semi-promotional bent and very little actual thought leadership.
Why is this?
The Content Marketing Strategy is the most complex, time-intensive strategy appearing on any organization's one-page strategic plan (see Strategic Planning Model – 3). A proper Content Marketing Strategy requires, at a minimum, these facets expertly delegated by a strong project manager (see Highly Functioning Workflow – 2):
The strategic development of a target persona, which is far narrower than a target audience. For example:
Dr. Larry Hernandez, Physician Owner
At 52 years of age, Larry has a well-established practice but is consistently concerned with the ongoing health and viability of his business. At work, he is motivated by providing superior patient care, leaving a legacy and earning an income that supports his standard of living. On the other hand, he is focused on developing a better work-life balance so that time with family and his ability to enjoy recreational activities increases, while stress and long hours decrease. This disconnect means that although he is consistently looking for ways to create greater success and meaning in his work, he's also often too scrappy and budget-conscious to invest in the appropriate solutions. His common challenges include:
Financial concerns
Operational efficiencies
Future viability
Staff turnover
Keeping up with changes
Competing with corporate medical practices
Not burning out
Patient care
Continuing education
Every writer and contributor's clear viewpoint on the purpose of each piece of content, as outlined in the below infographic: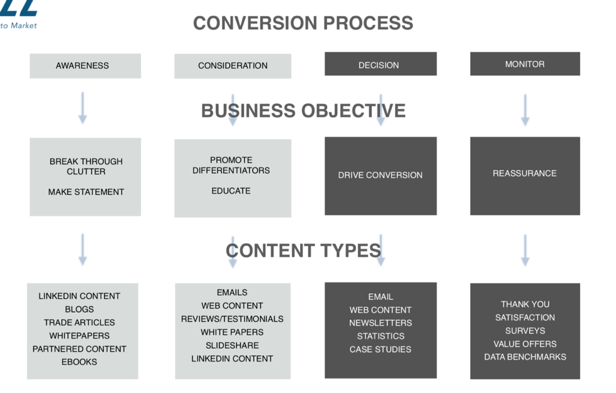 An editorial calendar created fresh each quarter which weaves together the content pillars (see Clear and Universal Messaging – 4, differentiators) with content topic examples that speak to the target persona's common challenges. For example:
Every piece of content adheres to the marketing department's predetermined content policies checklist. As an example:

All content represents our brand promise (see Clear and Universal Messaging – 4, brand promise)
Non-gated pieces should be about 1,000 words
All content needs to be polarizing, offer a lightbulb moment or otherwise illuminate something consumers never thought about or knew
All content pieces shall include at least 3 sources
All content shall have SEO implementations before publishing.
We always write to people never for industries
Content shall forever be non-promotional in order to preserve thought leadership
Regularly creating truly engaging and actionable content is a massive undertaking, often consuming 60% or more of the internal marketing team's time and effort. Yet when correctly produced, great content positions the organization as a thought leader and expert and, over time, attracts extremely high-quality leads.Get a Free Content Pillars Template
8. Strategic Thinking
If the marketing team is focused on tactical plans, rarely if ever brainstorming strategic approaches, it may be time for a refresher on the creative process, which, counterintuitively to most marketers, does not start with creation. A tremendous amount of waste can occur in marketing with this inverse framing, particularly as lost time and overspending. As just one example, marketers unwittingly allocate time and budget to marketing channels that key audiences don't actually frequent.
This infographic lays out one way to consider the entire creative process, with an emphasis on the idea that maintaining longer focus on strategy increases efficiency and effectiveness in creation:
Of course, before strategy (the right thinking or action) can take place, the right research must be conducted. This research criteria can serve as a good guide for novice marketers or those no longer in the habit of asking and thinking before creating:
Every facet of research completed directly serves one of the strategies already on the one-page strategic plan (see Strategic Planning Model – 3)
At least one research approach is external (for example, programmatic surveys), one is internal (like a multi-department strategic brainstorm session) and one is competitive (such as secret shopping direct competitors)
Each area of research incorporates non-redundant approaches (surveys, interviews, web research, etc.)
Research conducted creates buy-in/ownership from stakeholders
With this new knowledge in mind, marketers can confidently move to the strategy phase in the creative process. We like to think of this as the time to put up your feet and think about how best to answer the challenge posed. In the previous example, the strategy on the one-page plan read, "Develop comprehensive campaigns focused on attracting qualified leads for revenue-generating services, products and integrated solutions." In the strategic phase, the marketing team might work together to identify all of the possibilities shown from the research then agree upon an outline of how best to proceed. Simple strategy is better than no strategy.
Strategic thinking is a muscle built and atrophied over time. Empower marketers to build into their workdays the time needed for research and strategy. Inspire them to focus first here to give ease and swiftness to creation and implementation. Demonstrate to them how the results soar.
Big Buzz is a marketing agency delivering a steady stream of move-in-ready leads to teams serving the senior living industry. For more than 15 years, Big Buzz has helped senior living marketing and sales teams nurture leads to increase occupancy, grow and scale. CEO Wendy O'Donovan Phillips is the author of the book Flourish!: The Method Used by Aging Services Organizations for the Ultimate Marketing Results, has been published in McKnight's, has been a regular contributor to Forbes, and has been quoted in The Washington Post, ABC News and Chicago Tribune. The Big Buzz leadership team regularly lectures in front of audiences ranging from 25 to 3,000 attendees, including at Argentum and various LeadingAge chapters. Agency awards and accolades include recognition for excellence by the American Marketing Association, Gold Key Award Winner by the Business Marketing Association, HubSpot Academy Inbound Marketing Certification, and Top Advertising and Marketing Agency by Clutch.
by Wendy O'Donovan Phillips
Share
Join the 13,000+ care professionals who read our weekly insights.
Get actionable learnings to apply now to attract warmer leads.