Strategic website design and development is one of the most crucial marketing assets to your practice. With many people searching for their next dentist online, your website serves as the first impression of your business. Its main purpose should be to educate website visitors and make it easy for them to become new patients.
At Big Buzz, we have created a strategic process around website design and development that will cater to your dental practice marketing needs without sacrificing your unique brand. According to research from Stanford University, 46.1% of people say a website's design is the top criterion for deciding if a company is credible or not. Therefore, it's extremely important that your design looks professional.[1]
We have created a homepage checklist to help you visualize the key components of great website design and development that help to educate and convert website visitors into new patients. 
Clear Navigation: The main navigation of your website should be logical, intuitive and easy to understand. This means that you're including legible typography, short page titles and a clean background. A high-resolution logo that is not blurry or pixelated is necessary to help users ensure that they have landed on the right website.
Vibrant Call to Action – Direct users to take action (request an appointment, call the practice, etc.) by using a bright button or a quick animation style to grab attention.
Top Bar Navigation – Including contact information such as the practice phone number or social media icons can create a more positive user experience and allow more opportunities for prospective patients to contact the practice.
Impactful Headline: Just below the main website navigation and above the fold should be your practice's unique value proposition: the one characteristic, approach or service that will influence a visitor to choose you over the competition.
Peep Laja, Founder of CXL, a top online digital marketing educational resource, wrote in a recent blog about value propositions, "It's also the #1 thing that determines whether people will bother reading more about your product or hit the back button."[2] In this case practice, your practice is the product.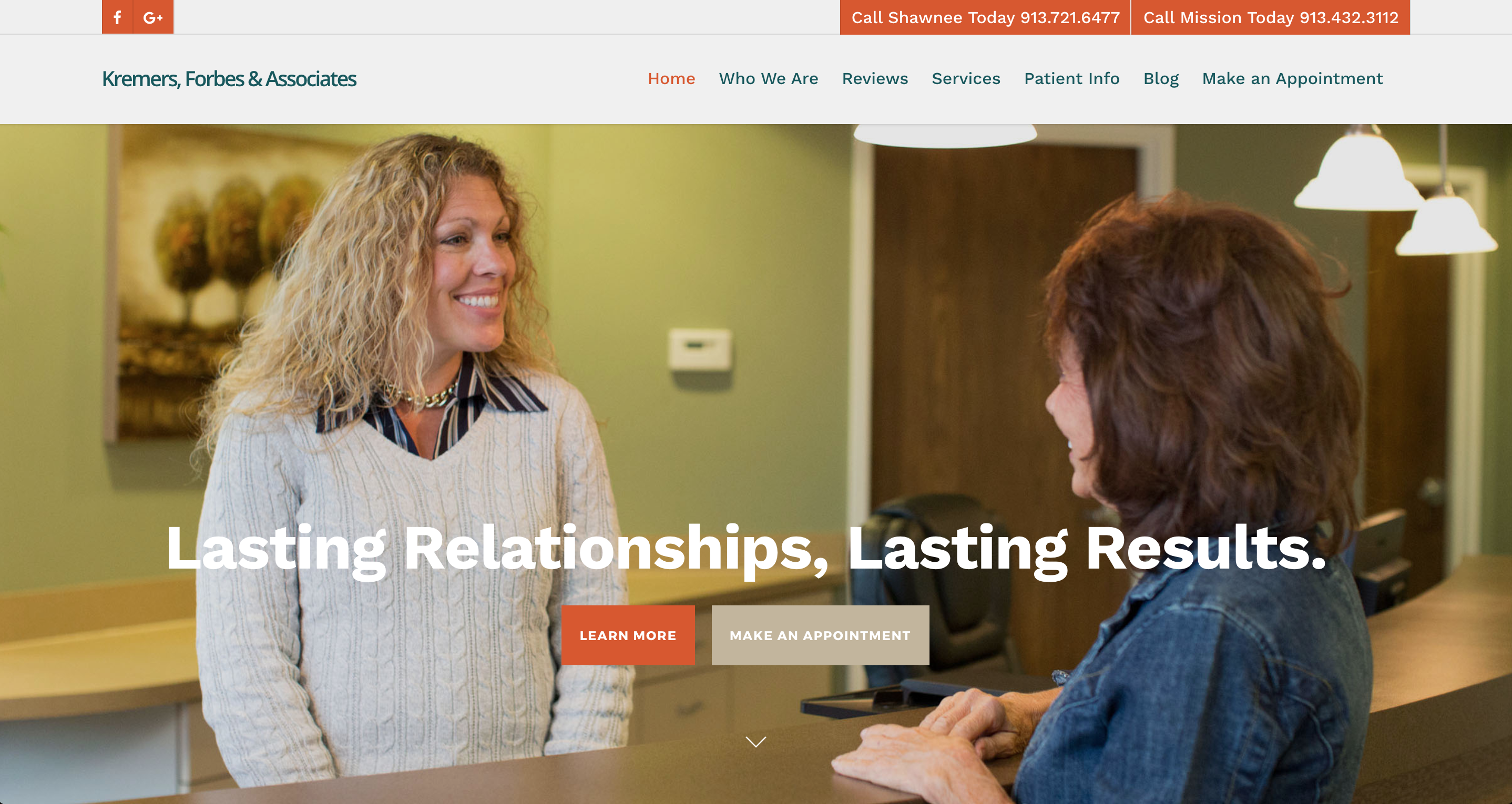 Include Differentiators: Your website homepage is the first impression visitors will have of your practice, so it's important to cater the text towards how you differ from your local competition. The area below the main section of your website (which includes the impactful headline) should include an area of focus dedicated to your practice differentiators.
These feature a more in-depth description of how your services stand out amongst the competition.
Surveying your top patients will help you develop the correct language to use, allow for a descriptive and definitive differentiator and help attract more of your ideal patients.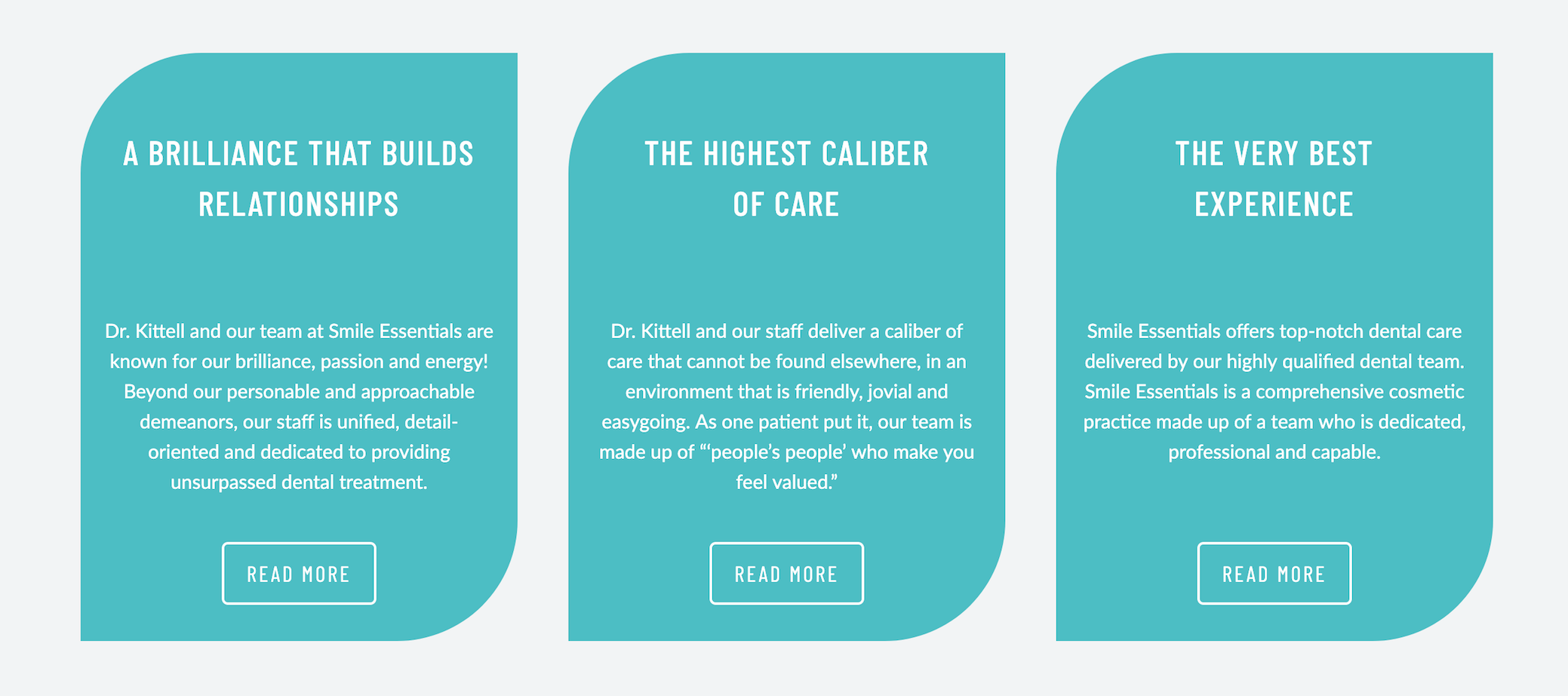 Introduce Yourself: Create a space on your homepage that shows people who you are and why you do what you do. Potential new patients are scrolling the homepage to gauge how comfortable they will feel in your care, so it's important to be personable, not just professional.
Include a high-resolution photo of the doctor, the team or the doctor and his or her family. It's always great to put a face to a name and begin to build trust with potential patients.
Make this section small and concise, then direct the user to a full "About Us" page on the website with a call to action button. This will allow you to drive patient traffic to learn about you and your team in more detail to establish further trust in the practice's expertise.

Get Users to Take Action: Adding a highly visible call to action (CTA) on your homepage creates a signpost that directs users to take a desired action such as booking an appointment, contacting the practice or signing up for a newsletter.
Once a website visitor has read about and researched the practice, make it easy for them to take action. Include multiple ways to contact the practice, such as an online contact form, email address and phone number. Be sure to include multiple call to action buttons so visitors never have to look too hard to find a way to get in touch.
At Optimizely, a great CTA "makes it clear to potential customers which action to take next and helps remove friction in moving the user down the sales funnel."[3]

Accessible Contact Information: Every website should contain all of your practice's contact information in the footer. This will include your address, hours of operation, social media links and how to contact the practice via phone or email.
Developers can make the footer more unique to the practice by including interactive Google maps, Google reviews, a newsletter sign-up form or a small contact form.

Create a Responsive Environment: It's important to note that creating a strong homepage for your website also means ensuring that the design and development of the overall website is responsive. This means that the website is developed to respond to the behaviors and environment of a user based on their screen size, browser and device orientation.
A study conducted by the Pew Research Center found that "among mobile internet users – the 86% of Americans who use the internet at least occasionally using a smartphone, tablet or other mobile device – 92% go online daily and 32% go online almost constantly."[4]
Users today are utilizing mobile and tablet search engines to find dentists near them which is why it's key that your website is responsive and appeals to the direct needs of potential new patients. In fact, we often notice users increase their amount of time on a website when they do not have to do any extra work to read website content.
Ultimately, creating a user-friendly experience will help improve key website metrics and guide more website visitors toward becoming actual patients.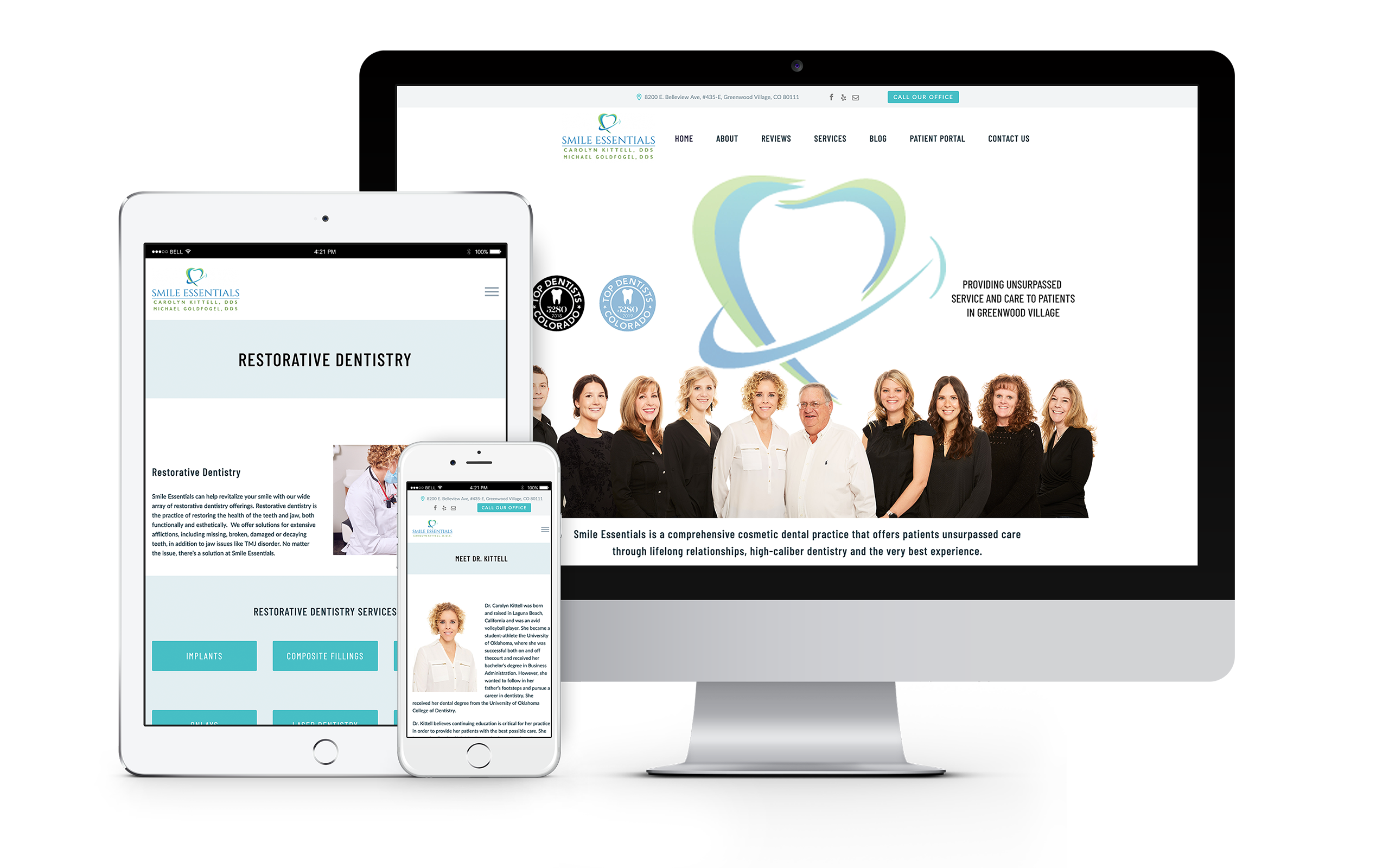 Simply share a little info with us, and we will get you scheduled
with a marketing professional who will walk through the checklist with you!
In a recent patient survey done for a practice in Colorado, 41% of respondents said their first step in finding a new dentist would be a Google search. Right now, having a website that is user-friendly, engaging and effective is more important than ever before. If you would like an honest assessment of your website, call or text Big Buzz CEO Wendy Phillips at 303-284-4414 or send her an email at wendy@bigbuzzinc.com. It can't hurt to look, but it can hurt big time to ignore the needs of today's patients.
Big Buzz is an agency delivering focused marketing efforts for dentists and dental teams nationwide. CEO Wendy O'Donovan Phillips is the author of KABOOM!: The Method Used By Top Dentists for Explosive Marketing Results, has been published in The American Academy of Cosmetic Dentistry magazine and has been quoted in Forbes, The Washington Post, ABC News and Chicago Tribune. The American Dental Association hired Phillips as an expert consultant in marketing. She regularly lectures for dental organizations and associations in front of audiences ranging from 25 to 5,000 attendees. Agency awards and accolades include recognition for excellence by the American Marketing Association, Best Advertising Agency and Best Web Developer in Denver by Expertise, and Top Advertising and Marketing Agency by Clutch.