Effective leadership these days is a feat that takes incredible self-awareness, an understanding of world events and a balanced amount of faith that everything will work out in the end. In that spirit, I have developed a series of 10 blogs that I hope capture more of the clarity than the chaos of these times for us leaders in business. Indeed, with fortitude we can see clearly the path ahead. I hope this helps. Here's the fourth of 10:
I have visited two dental/medical offices in the last month, each with very different approaches to adhering to the same new safety protocols from the Centers for Disease Control (CDC).
In the first example, I took my daughter to her pediatric dental appointment at A Wild Smile in our neighborhood. They are known for their Disney-level of fun and service in our community. I'm not kidding when I say a visit there is nearly as fun for my child and nearly as fulfilling for me as a walk down Main Street in Disneyland. The staff always goes the extra mile to take care of both parents and children with absolute white-glove treatment, and this visit was no different.
We approached the door to find a friendly and colorful sandwich board sign that read, "Please ring the doorbell, and we will be right with you." Once admitted, we were greeted in the vestibule by a team member who first gave us a warm welcome then quickly took our temperatures. Since they had me fill out PPE fee approval forms online prior to the appointment, intake was fast and painless. We enjoyed a few frames of Moana while standing in the waiting room before being ushered to the back office.
The appointment was just as engaging and memorable as they always make things, with subtle fun touches like stuffed monkeys hanging from the overhead trees in their own PPE masks. Even the goodie bag at the end seemed like an extra-special treat, rather than just taking a toy from the treasure chest.
As we checked out, I raved to the front office about the experience, and they were focused enough despite all these changes to ask me to write an online review for them. Five stars from mama and marketer alike!
In the second example, I visited a medical facility. They, too, had a sandwich board out front that read: "STOP. We will call you when we are ready for you…" followed by verbatim CDC text cut and pasted onto 8.5 x 11 paper and taped to the bottom of the sign: "If you have a fever… If you have shortness of breath…"
Intake was done by a frazzled team member who was so busy adhering to protocols that she forgot even to make eye contact with me. The appointment itself was nothing memorable, just the same procedure as usual. As I left, I saw a sign by the front office: "STOP: Please exit, and we will contact you about billing."
Which do you want to be? The one that's still on-point with brand, the one that continues to walk the walk when it comes to their reputation, the one that's actually having a little fun with all this craziness? Or the one that is so bogged down with protocols that they have lost sight of who they are?
I certainly know which I would prefer to visit as a patient.
Yes, practice safety protocols, and communicate them in a way that is in keeping with your vision and values. Otherwise, you risk sacrificing differentiation among competitors as well as your reputation, or brand.
Explore what this looks like for your organization. Call or text me at 303-284-4414 or send me an email at wendy@bigbuzzinc.com.
– Wendy O'Donovan Phillips, CEO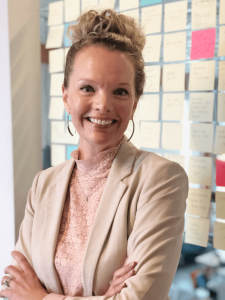 Start with a complimentary 15-minute call with me.
Text 'CEO Insights' now to 303-284-4414.
Your Enhanced Inbox Awaits
Join the 13,000+ healthcare professionals who already receive our weekly marketing tips, case studies, survey data and more!
Sign Up For The Latest In Healthcare Insights Delivered Straight To Your Inbox!