What is Healthcare Consumerism?
Healthcare consumerism is the protection or promotion of the interests of consumers as it relates to healthcare. It transforms the decision process by putting the purchasing power in the hands of the consumer. According to a recent survey of 1,000 healthcare leaders, from providers and consultants to biotech executives, consumerism is the second-most powerful force impacting the industry, behind only consolidation.
The challenge is that most health plans ask very little of the participant in terms of how they consume their healthcare services. Unlike with retail products, patients are more interested in receiving care from a healthcare system that appears effective and seems to have their interests in mind, rather than managing their own health information or shopping for various plans. As a result, patients pay little attention to what they pay for care in relation to what they receive, despite the fact that patient financial responsibility has risen 11% this year to an average of $1,813.
Consumers are looking to take control of managing their own health but in many cases lack the understanding and tools to do so.  While consumers are used to shopping in other industries, healthcare is still inundated with confusing language, costs, services and processes. According to NRC Health, 75% of consumers considered healthcare to be the most important and expensive decision they would make. However, many consumers find dealing with healthcare system so overwhelming that many patients avoid treatment to save themselves from expenses, hassle and confusion. As a result, organizations must place an elevated focus on consumer convenience by creating channels and systems that are accommodating and simple to use.
What's more, there is often a misguided sense of the need for healthcare on the part of the consumer. According to the CDC, nearly 117 million people had one or more chronic health conditions – that's one in four adults. Yet still, most people would consider themselves in better shape than they actually are, decreasing their odds of seeking help to improve their health.
In actuality, millions of dollars go towards healthcare awareness every year. However, it is a long, slow, friction-paved path to get consumers to accept their health challenges, buy into a system, create an actionable plan and stick to it for the long term. In regards to marketing, the healthcare industry has struggled to move away from the objective data related to clinical processes and treatment education and instead utilize some of the many strategies that can truly help connect with consumers. Cognitive research shows us that people are more likely to make decisions based on perception or an emotional response. To change consumer behavior the healthcare industry must inspire change rather than just educate objectively.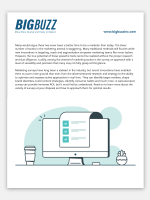 The Power of Programmatic Surveys

Download the guide to learn more about the variety of surveys at your disposal and how to approach them for optimal results.
The Role of Marketing in Healthcare Consumerism
Marketing has become a platform for leveraging the changes in healthcare consumerism and creating momentum for meaningful change.
Providers can leverage healthcare consumerism by following a few steps:
Pay closer attention to consumer behavior and insights.
Aim at the deep-rooted gut and emotional triggers that drive action and engagement. For example, freedom to travel, becoming a better parent or partner, accomplishing goals.
Educate consumers on the process of selecting healthcare services based on their needs.
Improve the communication and cooperation between patients and their healthcare providers.
Create a comfortable and intuitive user experience across multiple channels.
Use inspirational marketing and messaging to build consumer loyalty.
Push for more preventative measures such as healthy lifestyles and diet.
The digital landscape has changed drastically, creating an uproar of digital disruptors in the healthcare industry. To learn how your organization can leverage healthcare consumerism through digital marketing contact one of our marketing experts.
Interested in the Programmatic Survey Process?

Simply share a little info with us, and we will get you scheduled
for a free one-hour strategy session with our experts.