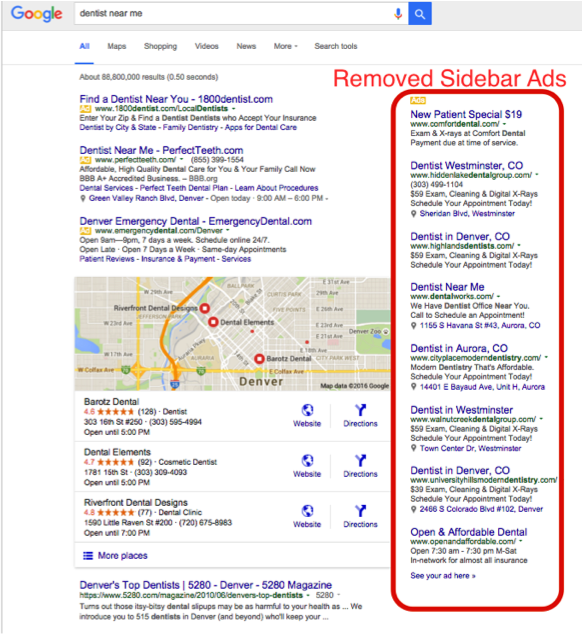 Google announced Friday that they will be removing the sidebar section of paid ads, which will impact the performance of many campaigns, particularly for dentists. There will, however, be a fourth top-page ad for "highly commercial" queries. This will be an update from the current three top-page ads. Big Buzz is monitoring this to implement in current clients' AdWords strategies.
Who will be impacted most?
Dentists in competitive markets, such as Phoenix, San Diego and Colorado Springs
Dentists with low ad spend budgets, at or under $500/month
Dentists who spread their ad spend budget across too many services
What you need to know about the change:
With a fourth ad being included in the top-ad listings, organic results will be pushed down slightly.
Expect your ad impressions to go down since the number of available ad slots has been reduced from eleven to seven.
Competition is expected to increase, as there are fewer ad positions available.
The average cost-per-click will increase. (No doubt Google made this change to make more money from AdWords.)
Only ads that show up on desktop computers are affected, not those appearing on mobile phones or tablets.
Search queries such as "Wisdom Teeth Extractions" don't appear to be considered "highly commercial" while queries like "Wisdom Teeth Extractions Cost" are, and are getting that fourth ad spot.
Expect a slight loss of online market share due to the rise in competition and decrease in overall impressions.
The quality of landing pages will become more important for reducing costs and increasing chances of top-page "worthiness".
How can you address the change?
Increase your ad spend budget to improve your competitiveness for the top positions.
Target queries that are closely related to an intent-to-purchase so that a fourth ad becomes available.
Reduce the number of services you advertise so that more budget can be spent promoting top services.
Ensure that your most important ad groups have landing pages with high quality scores.
Contact Big Buzz today for a complimentary assessment to optimize your current online advertising campaign for the best results. Simply enter the coupon code BESTADS into the "Additional Information" field in this form.