Your Enhanced Inbox Awaits
Join the 13,000+ healthcare professionals who already receive our weekly marketing tips, case studies, survey data and more!
If your company recently discovered that an upcoming conference or event was cancelled due to rising concern over the COVID-19, you're not alone. Bloomberg recently reported that the spread of coronavirus has so far scuttled more than 50 major corporate events with an estimated attendance of almost 1 million people, and that's just in the United States. This is a major issue for healthcare companies across the country as events are one of the largest lead generators for B2B demand generation. Unfortunately, this is a difficult truth that we must accept as the outbreak may linger for a few more months and possibly recur next year.
So, how can you conduct B2B lead generation in lieu of a canceled event?
Webinars
SEO (Search Engine Optimization)
SEM (Search Engine Marketing)
Gated Content/Social Advertising
Webinars
73% of B2B marketers say a webinar is the best way to generate high-quality leads. If a member of your organization was scheduled to speak at a cancelled event, there is an opportunity to simply shift the lecture to a digital format. There are already two significant factors working in your favor: demand for the information you're presenting and the event's existing marketing infrastructure. A marketing agency can help you leverage these advantages and complement them with a promotional campaign, creating the potential for an even larger audience than the physical event would have yielded.
SEO (Search Engine Optimization)
SEO is the practice of increasing the quantity and quality of traffic to your website through organic search engine results such as Google, Bing and Yahoo. Below is the 2019 Periodic Table of SEO ranking factors. SEO professionals optimize websites to fall in line with best practices like the ones listed below. After reading through the table, take the quiz and see how your current SEO strategies hold up. For more information you can find the full article here.
Quality +3 – Ensure that you are writing in-depth, well-written content that is highly valuable to the reader.
Research +3 and Keywords +2 – Research and keywords typically go hand in hand. Make sure you are taking the time to research popular and relevant search terms as well as accurate sources to include in your content.
Freshness +2 – Make sure you are creating timely content and either refreshing or retiring old or stagnant pages.
Multimedia +2 – Include images, video, podcasts, etc. to break up content spacing and increase engagement on your pages.
Answers +2 – Create content that can easily be converted into an answer in search. Search queries are often entered in the form of questions. Formatting it this way increases your chances of being featured as a snippet in the SERP.
Depth +2 – Aim for substance. Shallow content often fails to attract new users and can set you up for a penalty. Typically, blogs should contain at least 300-500 words. However, the best ranking blog length for 2019 is 1,705 words.
Crawl +3 – Utilize technology SEO to ensure search engines can easily crawl your pages and find relevant information related to a user's query.
Mobile +3 – Optimize your website for smartphones and tablets and ensure that it's responsive.
Duplicate +2 – Use redirects and canonical tags on duplicate content.
Speed +2 – Ensure your website loads quickly on any device.
HTTPS +2 – Provide a secure connection for visitors with an SSL certificate.
URLs +1 – Use best practices for URL structures and build a keyword into your page's address.
Titles +3 – Build keywords into your page titles. We recommend using a keyword first followed by a descriptor or brand name.
Descriptions +2 – Meta tags should describe what the page content is about.
Structure +2 – Use Schema markup and other tools to enhance your listings. This also helps search engines find types of content (events, products, organizations, etc.).
Headings +2 – Build keywords into your H1 and H2 tags as well. Make sure each page only has one H1.
AMP +1 – Utilize accelerated mobile pages to boost your page load times on mobile devices.
Authority +3 – Gain authority in everything by getting quality links, shares, comments and more.
Engagement +2 – Visitors should spend time on a page engaging with the material and not bounce.
Reputation +1 – Sites with high traffic, links and history carry weight when it comes to reputation.
Value +3 – Links should come from trusted, high-quality websites.
Anchors +2 – Ensure that anchors linking to other pages use similar keywords.
Backlinks +1 – Increasing your backlink profile with high-quality links leads to better rankings.
Country +2 – Consider the country of your searcher and use hreflang tags when necessary.
Locality +2 – Consider the region, state, city or landmark that may be beneficial to your searcher.
UX +2 – User experience matters now more than ever.  Optimize your website for the optimal user experience.
History + 1 – Take into consideration how regularly someone has visited your website.
Intent +1 – Take into consideration why someone is conducting a specific search and what information they may be utilizing your website for.
Toxins/ Don'ts
Cloaking -3 – Don't show a search engine different pages than your searchers.
Schemes -3 – Don't buy links, spam blogs or use any other black hat tactics to improve your rankings.
Stuffing -2 – Don't use excessive keywords in your copy in attempts to game the system.
Hiding -2 – Don't hide keywords by making them invisible to the viewer.
Piracy -1 – Don't host stolen content on your website.
Intrusive -1 – Don't use ad-heavy content or bombard the user with pop-ups and interstitial content.
Emerging Verticals
Voice – Smart home devices and mobile search are becoming increasingly popular.
Local – Listing, reviews, maps, NAP (name, address, phone) are vital for local businesses.
Image – Photos and illustrations are increasing in SERP.
Video – Searchers are looking for engaging, live action content.
For more information on emerging verticals check out our white paper "Disruptive Marketing Technologies 2019"
Search Engine Advertising -SEM
Search engine advertising, often referred to as SEM, is generally comprised of two segments of advertising: search and display. The main difference between the two is that search ads use a "pull" approach while display use a "push" approach. Search is usually the more popular of the two due to its known cost effectiveness. In fact, according to a Google Economic Impact Report, advertisers on average make $2 for every $1 spent – doubling their investment. Search advertising is fairly simple in its concept. A user heads to a search engine and enters a query about a particular product or service. Based on bids for particular keywords and phrases, your ad will show at the top of search results for those given queries. This would typically bring the user to a landing page to fill out a form or purchase a product. In this way, search ads are the best for targeting intent.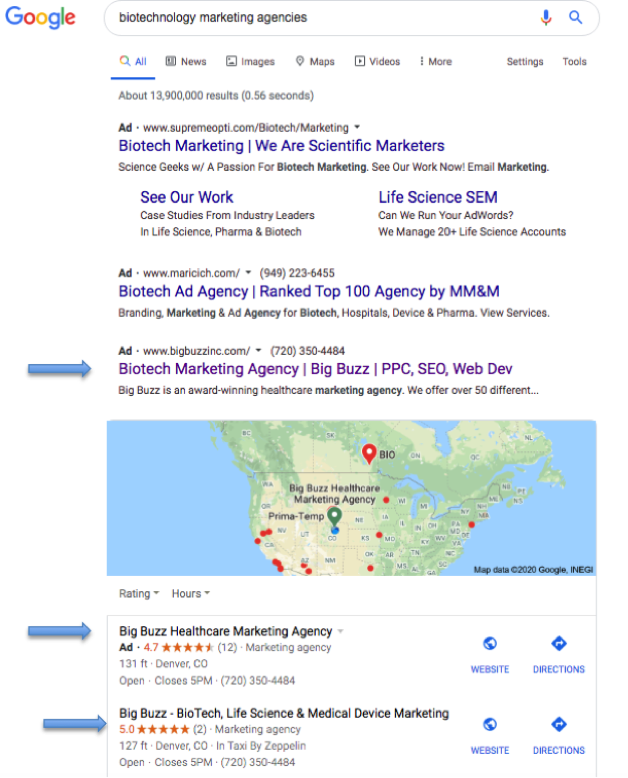 Display advertising carries a more aesthetic component and tends to be less expensive if the intention is to build brand awareness. Selecting keywords, placements and topics can help to narrow the areas in which display ads are shown, but Big Buzz is of the opinion that remarketing and retargeting tactics tend to work best for display ads. These tactics allow B2B healthcare companies to target customers who have already shown interest in their product or service with targeted display ads.
Advertising Content via Social Media
While social media has never been touted as a consistent or effective lead generation tool for products and services, it can be very effective as a platform to promote gated content (content that requires users to fill out a form in order to access). Unlike search ads, which largely target intent, most people are on social media out of routine, or in search of social connection, news or current events. Thus, social media is more about influencing the user based on their current state. If an individual was using social media to see what their friends and colleagues were up to, you need to consider if the ad fit naturally into their feed or social interests? If they are checking on what others are saying about a current event, is the ad relevant to that event? If they are online out of boredom, does the listing incentivize engagement or activity?
Similarly to SEM, Facebook uses a Pixel code to target customers or prospects that have already shown some level of interest but haven't yet converted. This combination can create a seamless, comprehensive lead generation across multiple channels and platforms.
***
While case studies and drip campaigns still hold weight in nurturing and converting leads to customers, B2B healthcare companies will see lead generation take a hit in light of coronavirus fears and the resulting trend of widespread event cancellation. Fortunately, these losses can be recouped with strategic marketing.
Get Your Complimentary
Marketing Strategy Session
Simply share a little info with us, and we will get your scheduled
for a free one-hour strategy session with our experts.