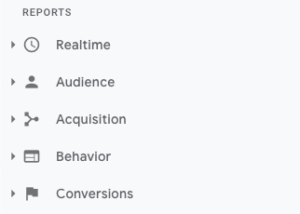 Google Analytics can provide invaluable marketing insights when properly used. There is a litany of functions, and only a few offer the high-level view you need to make great business decisions. In part 1 of this series, we reviewed how to create a Google Analytics account and connect your website(s) to the platform to start tracking metrics and performance. In this follow-up entry, we will break down the various reports on the menu in your dashboard (pictured on right) and explain the purpose of each. This literacy can be quite useful in determining which areas are performing well and which could benefit from additional attention and resources.
Realtime
Realtime reports allow you to gauge what is happening on your website at the very moment at which you are viewing your dashboard. This tool can tell you how many active visitors are currently browsing your website and whether they are accessing it from a desktop or mobile device (Overview), where the site is being accessed (Location), how they arrived at the website (Traffic Sources), which pages they are viewing (Content) and what actions they are taking (Events & Conversions). This can be useful for monitoring the initial performance of new pages, posts or changes to the website.
Audience
These reports provide valuable insights into the people who are visiting your site. The Overview section provides a big-picture look for whichever you choose (this can be adjusted by clicking the date range in the upper-right corner). The Overview includes metrics like the number of both new and returning visitors, pageviews, pages per session, length of time on site, bounce rate and more. It also informs you of their language, country and city, what kind of device they used and even their operating systems and service providers. It also provides valuable data such as their interests (e.g., travel, technology, shopping, etc.) and online behaviors, all of which can be extremely useful for defining ad audiences and tweaking content for more engagement.
Acquisition
Acquisition reports help you determine how people are arriving at your website. For example, Organic Search indicates which visitors found your site naturally through a search engine without any paid ads, while Paid Search tracks visitors who arrived through Google Ads or search engine advertising. The former reflects the strength of your website's search engine optimization while the latter tells you how well your search engine ads are performing. Acquisition Reports also inform you of how many users reached your site through other channels such as social media, display ads, links from other sites and even direct traffic (those who typed your URL directly into their address bar). All of this information will tell you which digital marketing strategies are working and which need to be adjusted.
Behavior
Behavior Reports dive deep into how visitors are accessing the website and how they are spending their time. For example, you will be able to see which pages they are spending the most time on, which they are leaving quickly, how many pages they are visiting, which search terms they are using to reach your site and more. These reports are helpful in determining which pages could be built out, updated or refreshed. For example, a page with a high bounce rate indicates people are instantly exiting before reading or taking action. To remedy this, you may wish to restructure the page; for instance, add new imagery or videos or create a more compelling headline.
Conversions
Conversion reports track the conversions or actions on your website. These can often be visitors filling out a form, clicking a call to action button, clicking a phone number to call you from their mobile device, or using a tool such as a cost calculator. You can also enter goals for each conversion location for benchmarking purposes.
Do you want to learn more about how your metrics can guide your overall marketing strategy? Big Buzz CEO Wendy O'Donovan Phillips offers free strategy sessions. Why is the session free? Because Wendy is passionate about being of service in her industry. This session allows you to get to know her team and vice versa. You can make sure the partnership is a good fit before you even shake hands, a mutually beneficial step that many agencies overlook. Grab your slot here!
 Big Buzz is an agency solving complex marketing problems for the people in senior living, dentistry and healthcare by focusing on what matters most. CEO Wendy O'Donovan Phillips is the author of two books available on Amazon, has been published in Forbes and many healthcare journals and has been quoted in The Washington Post, ABC News and Chicago Tribune. She regularly lectures for healthcare organizations and associations in front of audiences ranging from 25 to 5,000 attendees. She sits on the board of AllHealth Network, which has provided mental health and substance use counseling to people across Denver since 1955. Agency awards and accolades include recognition for excellence by the American Marketing Association, Best Advertising Agency and Best Web Developer in Denver by Expertise, and Top Advertising and Marketing Agency by Clutch.