Effective leadership these days is a feat that takes incredible self-awareness, an understanding of world events and a balanced amount of faith that everything will work out in the end. In that spirit, I have developed a series of 10 blogs that I hope capture more of the clarity than the chaos of these times for us leaders in business. Indeed, with fortitude we can see clearly the path ahead. I hope this helps. Here's the fifth of 10:
Quick, finish this sentence: Our internal marketing team will finish 2020…
Strong and ready for more.
Relieved.
A bit tired and disappointed
Feeling exhausted and defeated.
An answer of 1 or 2 may indicate your team has successfully pivoted and is already looking long into a potentially strong 2021. If you answered 3 or 4, you as their leader, may be rethinking a few things.
It can be extremely difficult from within the team to pinpoint trouble areas.
After 13 years advising thousands of healthcare organizations nationwide, here are a few symptoms of distress we see prevalent in teams like yours. Identify the symptoms that seem most familiar then see the corresponding suggested remedy. As you explore, keep in mind you want a solid plan for hitting or exceeding high-level financial goals, not just a rapid pivot or new leads.
Familiar Symptom
Suggested Remedy
Marketers seem unclear on priorities, expectations or desired outcomes.
A Big Important Goal (or BIG) aligns the vision statement and the highest-level financial goal to serve as a collective compass for the team. The BIG states clearly why the team does what it does and the biggest impact it has on its organization. Make the BIG the first topic of conversation at every weekly team meeting and explore how it elevates inputs and outcomes over time.

The team has myriad goals or key performance indicators, but they seem unclear on where they are headed as a team and how to get there.
The Strategic Planning Model is a one-page document shared once weekly with the entire team and any involved owners/executives to show:

The vision and highest financial goal that all marketing efforts are meant to produce
No more than three objectives, or destinations, that the marketing department has yet to reach and that, when reached, will have them achieve the vision and highest financial goal
No more than five strategies, or actions, that the marketing team can take to achieve each objective (15 strategies in total)
The corresponding measure (quantifiable short-term micro-action) and goal (quantifiable desired long-term outcome) for each strategy

A weekly team meeting focused on this single document readily empowers marketers to see where they are going, why it's important, how to get there and what immediate impact individual action has on the organization. This is empowerment at its finest.

Marketers are working from dated brand messaging standards or are not working from universal messaging standards at all.
Consider this straightforward approach to a brand refresh:

Survey the 2-5% of current patients/customers whom the organization most wants to replicate, asking particularly what the organization does that cannot be found elsewhere
Conduct competitor research to ensure common responses from the survey truly differentiate the brand
Based upon research outcomes, articulate in writing the brand personality that most suits your organization
From common responses from the surveys, articulate in writing the brand promise that most accurately describes what you can deliver that no competitor can
From commonalities in the survey data, write down three differentiators, or supporting points to the brand promise

When the internal marketing team has a part in conducting the research and developing the brand messaging, they will be far more likely to embrace long-term adoption.

There are breakdowns between marketing and owners/executives on data reporting successes.
Train marketers to share top-line metrics for the owners/executive team. For example, answers and corresponding reporting related to these three top-level topics were delivered to the executive team in a monthly email:

How many new visitors came to the website?
How many new leads contacted the organization?
Did the team reach the budgeted revenue from marketing efforts forecasted for the month? If not, what was learned and what will be done differently next month?

The marketing department and executives agreed together on these three buckets, so expectations were aligned, and analysis paralysis eliminated.
Are you in the pivot, or are you looking long? If you would like an honest conversation about how you might expand your vision and results, I am willing to do that for you for free. You can call or text me at 303-284-4414 or send me an email at wendy@bigbuzzinc.com.
– Wendy O'Donovan Phillips, CEO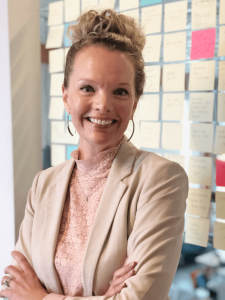 Start with a complimentary 15-minute call with me.
Text 'CEO Insights' now to 303-284-4414.
Your Enhanced Inbox Awaits
Join the 13,000+ healthcare professionals who already receive our weekly marketing tips, case studies, survey data and more!
Sign Up For The Latest In Healthcare Insights Delivered Straight To Your Inbox!