So you started your practice's Facebook page and you are now looking at a daunting, blank business page with zero "likes." There is no "Field of Dreams" moment here; just because you built it, doesn't mean they will come.
Here are a first few things you can do to start getting some "likes."
The lowest hanging fruit is your office staff.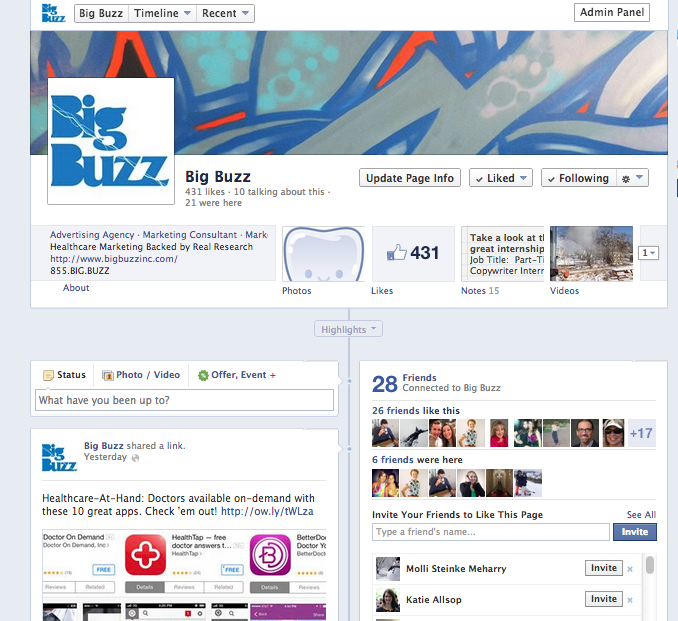 Step 1: Have each staff member like the page.
Step 2: Then have them invite their local friends to like the page.
This can be done once they like the page. There is a window on the right hand side of the profile that will allow them to do this. It states: "Invite your friends to like this page."
Make it your goal to get about 30 "likes" in the next week or two.
Step 3: Start posting before you get patients to "like" you. Would you walk into an empty restaurant?
Step 4: Be transparent! Mix in photos of you, your staff, patients, etc. to get engagement. Your patients already know they need to "only floss the teeth they want to keep."
Step 5: Offer a check-in or "like" prize. Advertise at the reception desk that you will give them a prize for checking into your practice on Facebook (this is not an official office check-in, just an announcement on Facebook that they are at your office.) Prizes can range from lip-balm to sunglasses and water bottles. Be creative and fun.
Why do all this?
Facebook is one of the best and cheapest ways to spark word-of-mouth. When one of your patients "likes" or checks-in to your page all of their friends on Facebook can see that.
Building your Facebook following takes time so stay patient and consistent. The best thing you can do is assign a staff member to own it and post consistently.
Or, contact Big Buzz to see how we can help get you to the social media cocktail party!