Effective leadership these days is a feat that takes incredible self-awareness, an understanding of world events and a balanced amount of faith that everything will work out in the end. In that spirit, I have developed a series of 10 blogs that I hope capture more of the clarity than the chaos of these times for us leaders in business. Indeed, with fortitude we can see clearly the path ahead. I hope this helps. Here's the second of 10:
We have had over 5,000 people attend our educational webinars in the last 12 weeks, and we have completed almost 300 free marketing strategy sessions to be of service to our industries in a time of need. In those conversations, we heard your fears and frustrations. We watched as you pulled yourself up by your bootstraps and got on with things. And we stood by while you stepped into the sheer chaos of the Season of Reopening.
Here are just a few of the comments we are hearing over and over:
"I can't find PPE, it's all sold out."
"We are overwhelmed instating new protocols to protect those we currently serve."
"Sales came to a grinding halt, and we just don't know where to begin now."
"We can only admit half the number of people, and we need time to get used to that."
"There are so many unknowns that I don't want to decide on anything right now."
I have been there as a business owner and leader: I started my first business out on the West Coast right between the Dot Bomb and 9/11. I started Big Buzz in the midst of the Great Recession. And now here I am, once again, in the lifeboat right alongside you.
The knee-jerk reaction to the marketplace contracting is for us to play smaller, too. Cut back. Scale down. Slash budgets. Yes, this is smart business. We must get right-sized.
At the same time, as I told my leadership team just last week, we must also have the courage to sensibly reinvest for growth before we feel ready. The key word there is sensibly. My team and I worked together to select, from a list of 12 opportunities vetted and researched by each of us, the top three we agreed would propel the company forward and help meet our adjusted 2020 goal. Yes, we adjusted down the topline revenue goal and the supporting budget. No, the three opportunities we selected are not in that budget. Yes, we have a short-term borrowing plan to bring those three to fruition. What were the three?
Quadruple online advertising spend. Yes, you read that right. We are investing four times as much into online ads as we did in 2019. We are recommending increased online ad spend to our clients, too. When done right, it's one of the fastest and easiest paths to course correction.
Pay to attend one virtual event. We have attended and sponsored this particular live event in the past, we trust the brand and we have lots of contacts who we will "see" there. If you have past marketing investments that have paid off well, reinvest in their reinvented format. Step into the new normal, if even on a small scale to test the waters.
Accept the invitation to join the Forbes Agency Council. As a specialized marketing agency that has exceeded $1 million in revenues and regularly produces high-quality content, Forbes Magazine recently invited us to the join the 1.4% of our peers to be regular contributors to their publication. It's more an investment of time than money, but an investment nonetheless. Anything that sharpens your position as an expert will help you stand out in this economy.
Here's what I know today as I enter my third recession as a business owner: to wait is to slowly die. When I postpone reinvestment in the company, I only prolong the pain of not producing enough to support the business.
On what growth opportunities will you take the risk now? Need help getting clarity?
– Wendy O'Donovan Phillips, CEO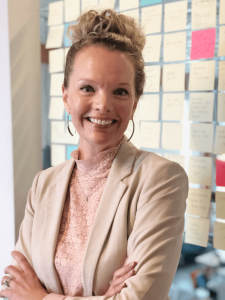 Start with a complimentary 15-minute call with me.
Text 'CEO Insights' now to 303-284-4414.
Your Enhanced Inbox Awaits
Join the 13,000+ healthcare professionals who already receive our weekly marketing tips, case studies, survey data and more!
Sign Up For The Latest In Healthcare Insights Delivered Straight To Your Inbox!