We often hear from dentists and teams that they have a hard time seeing where their marketing dollars are going, and if their marketing efforts are providing a return. Dentists don't have clarity on the new patient inquiries coming into the practice, and dental teams don't see how they are progressing towards annual production goals.
A personal online dashboard can help with all of that. Personal marke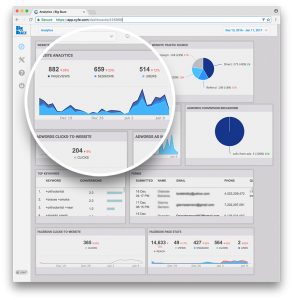 ting dashboards accurately track results and allow all key players to see exactly how their marketing tactics are performing and where they are in terms of meeting the goal. This allows both your dental team and your marketing team to use actual data to make sound decisions about when to refine your marketing program, where to invest marketing dollars and how to get the very best results. Plus, your personal marketing dashboard updates in real time, meaning you can check the status of your marketing success 24/7, 365.
What should your team be measuring to make sure they're on the right track with marketing?
Revenue and production goals
New patients per month
Online advertising results
Online forms submitted
Website visits
Top keywords
Calls from direct mail
Social media statistics
Utilizing a custom dashboard to see how your marketing efforts impact your new patient numbers and move you towards your production goals can make or break your marketing plan's success. Interested in learning more?
SCHEDULE A DEMO