The popularity of virtual tours has seen a meteoric rise as of late, for many prospects replacing the in-person tour as their preferred method of exploring senior living communities. For this reason, it is imperative that senior living operators offer a detailed and easily navigated virtual tour on the websites of each of its communities. This not only improves the prospect journey, but can lead to increased occupancies even during times of heightened public health concerns. It also offers other benefits for operators, many of which they may not have considered.
Big Buzz has worked closely with senior living operators for well over a decade and is quick to adapt to emergent marketing tactics such as this. We are proud to facilitate the creation and implementation of virtual tours for senior living communities of all sizes guided by our robust experience in the senior living marketing.
Why is a virtual tour important?
In recent years, we have seen an unprecedented heightening of public health and safety concerns the world over. This has led to a complete paradigm shift in business operations as a whole, but especially in the senior living industry, an area whose clientele is considerably more at risk than other populations. Regardless of the increased caution and concern on the part of residents and their families, people still need senior living, and as an operator, you need them. The key now is to bridge this gap of concern through informative and valuable marketing efforts; namely, the availability of a quality virtual tour. These are quickly becoming an industry standard, and those that fail to offer the option are almost certain to competitors that do.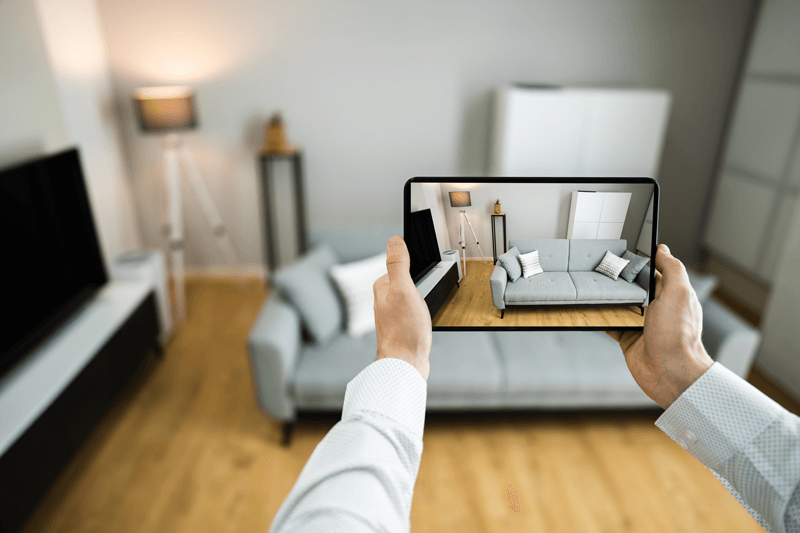 What are the benefits of virtual tours?
Increased safety and peace of mind. For prospects who may be uncomfortable about excessive in-person contact, virtual tours allow them a way to familiarize themselves with your community and everything you offer from the safety of their home as opposed to an in-person tour. They still need your services, but without equipping them with a safe way to learn more, you are not likely to stay on their list of contenders for very long. They also provide protection for your invaluable residents and employees, reducing foot traffic and the risk of outside illnesses penetrating your walls.
Mutual convenience. Health and safety are not the only reasons to implement a virtual tour, which is why they don't appear to be going anywhere even in more stable times. Prospects are also adult children with jobs and families who can easily become overwhelmed by the senior living research process. By maximizing the convenience of getting to know your organization, it becomes easier to drive them down the sales funnel. An in-person tour can create an inconvenient obligation for them, especially if they are deciding between several options. Virtual tours save them the stress of scheduling and travel, for which they will be grateful.
A chance for prospects to forge a deeper connection. As prospects learn more about your organization and its offerings, they become more closely attached to it because it will occupy a larger part of their mind. It also allows them to more easily picture themselves or their loved ones residing in your community. Reading web copy is helpful, but it can start to feel monotonous after researching multiple options, and can become less impactful as their research process continues. By giving them a look into life in your community and specific areas like dining rooms, community spaces, various room layouts, outdoor spaces and more, they will become more comfortable and familiar with you.
A powerful marketing asset. The value of a virtual tour goes far beyond a simple visual representation of your community. It can be used to highlight all of the programming, perks and amenities enjoyed by your current resident in a way that naturally complements the tour. It can also be integrated easily into other marketing materials, creating additional opportunities for returns on the initial investment. For example, you will have the opportunity to "gate" your virtual tour across the board or through digital ads, meaning that potential prospects will need to exchange personal information like their name, email address or phone number in order to access it, thus building your database.
Facilitation of indoor virtual tours. These are extensive walkthroughs of your community, and showcase the various spaces from common and dining areas to room layouts, recreation areas, fitness centers, technology rooms and more.
Facilitation of exterior virtual tours. Walk your prospects around the grounds of your campus, including courtyards, walking paths and more. This can help them visualize the external environment in which they or their loved one will live and create a more holistic mental picture of what life at your community is like.
Educational augmentation. What this means is that the visual experience of the tour can be supplemented with educational information, such as explanations of areas and the amenities available therein, highlighting must-see areas that set your community apart or other important pieces of information that could help guide their decision. These can come in the form of photos, text or videos.
Drone and ground photography options. Professional photographs of your ground can bring the vibrancy of your community to life and make them feel more connected even if they cannot visit in person. Drone photos and footage provide a big-picture view of your campus and its surroundings while providing a "wow" factor for prospects that your competitors may not feature in their websites and virtual tours.
Big Buzz will use our proven process for defining marketing strategies to help you determine which options will be most beneficial to you and will work closely with our trusted professional vendors to create a virtual tour that will drive ROI and give your marketing a significant advantage.
If you wish to learn more about our virtual tour services, please call (720) 350-4484 or contact us online today.