Effective leadership these days is a feat that takes incredible self-awareness, an understanding of world events and a balanced amount of faith that everything will work out in the end. In that spirit, I have developed a series of 10 blogs that I hope capture more of the clarity than the chaos of these times for us leaders in business. Indeed, with fortitude we can see clearly the path ahead. I hope this helps. Here's the nineth of 10:
In any downturn, strategic investing is key rather than cutting off supply. You may have reduced marketing budgets to safeguard your organization, but now is the time to hyper-focus marketing efforts to finish as strongly as possible by year's end. Here's an easy way forward:
1. Assemble your marketing leadership team. This may include the head of your marketing agency, the owner/CEO, internal marketing executives and select leaders on the front lines of your organization.
2. Get together for a one-hour meeting with this agenda:
Agree on a year-end high-level financial goal. For example, "Our goal is to grow from $1.2 million in year-to-date revenue to $3 million in revenue by December 31, 2020."
Identify all of your organization's marketing strengths, weaknesses, opportunities and threats with a particular focus on opportunities now through the end of the year. Remember strengths and weaknesses are internal and opportunities and threats are external. Fill in a matrix like this one to keep everyone focused and engaged:
3. Work together to prioritize the opportunities, selecting just 3 that will most readily get the organization to the goal. Be sure all chosen opportunities are strategies, not tactics. Strategies are high-level actions while tactics are individual marketing tasks. For example, "Develop a plan to increase referrals from current patients/clients" is a strategy while "Increase ad buy on Google Ads" is an individual marketing task.
4. Agree who on the marketing leadership team will build out the strategy for each of the top 3. Each of those leaders is warranted to delegate related tasks that funnel up to those strategies. (Leaders do not have to execute alone.)
This process is best led by a third party, an objective and expert marketer. My team and I are willing to do that for your team for free. To get scheduled, call or text me at 303-284-4414 or send me an email at wendy@bigbuzzinc.com. Get the focus you need to finish strong.
– Wendy O'Donovan Phillips, CEO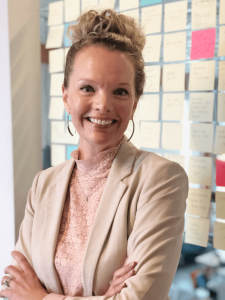 Big Buzz is an agency delivering focused marketing efforts for executives and teams nationwide. CEO Wendy O'Donovan Phillips is the author of two books available on Amazon, has been published in many healthcare journals and has been quoted in Forbes, The Washington Post, ABC News and Chicago Tribune. She regularly lectures for healthcare organizations and associations in front of audiences ranging from 25 to 5,000 attendees. Agency awards and accolades include recognition for excellence by the American Marketing Association, Best Advertising Agency and Best Web Developer in Denver by Expertise, and Top Advertising and Marketing Agency by Clutch. www.bigbuzzinc.com
Start with a complimentary 15-minute call with me.
Text 'CEO Insights' now to 303-284-4414.
Your Enhanced Inbox Awaits
Join the 13,000+ healthcare professionals who already receive our weekly marketing tips, case studies, survey data and more!
Sign Up For The Latest In Healthcare Insights Delivered Straight To Your Inbox!