Effective leadership these days is a feat that takes incredible self-awareness, an understanding of world events and a balanced amount of faith that everything will work out in the end. In that spirit, I have developed a series of 10 blogs that I hope capture more of the clarity than the chaos of these times for us leaders in business. Indeed, with fortitude we can see clearly the path ahead. I hope this helps. Here's the first of 10:
For 13 years now, 90% of the time when our phone rings, the person on the other end says they've been "burned" by marketing. As they say in the South where I was raised, "Ain't nobody got time for that." Especially now.
Here's the ugly truth: marketing firms are in an unregulated industry. In the words of David C. Baker, who has advised thousands of marketing agencies and gathered data on tens of thousands of them, "Why does my state require 500 hours of supervised instruction and a written exam before you can do massage therapy work…but has zero requirements for being a [marketer]?"
What this means is that you may have inadvertently hired under-qualified outsourced marketing help. Too many healthcare organizations hire marketing firms based on price, which may mean they are sorting down to the bottom of the barrel.
Don't get me wrong – I started my firm more than a dozen years ago under some of these conditions. It makes sense to hire such partners if you have a strong internal marketing team that can make up for the difference. For example, an internal Director of Digital Marketing might farm out SEO to a contractor, or a VP of Marketing may work closely with a seasoned design freelancer on overflow work.
This is not, however, the time to totally outsource marketing to an unqualified partner. And those underdeveloped firms are everywhere.
Ever wonder why your online ads don't produce the results you want? They probably weren't set up properly in the first place. Ask me how – I can show you in 3 quick slides.
Ever feel frustrated that your marketer can't seem to keep things moving swiftly? They are likely missing the project management function, which is all about staying on time and on budget, thereby producing solid returns.
Are you ever confounded as to how your marketer can't show proven results over time? They are likely missing the client services function. (In my long tenure hiring marketing talent, I have met very few solo copywriters, graphic designers or digital marketers who even like having regular client contact, let alone have the skills to develop and share palatable reporting on results. They are out there, but most are employed on larger, more developed teams.)
Have a hard look at your marketing results from the past 6-12 months. Are you delighted?
If not, it's time to find a new partner to help you close the revenue gap created by the recent slowdown. While you cannot control the latter, you are absolutely in the driver's seat on the former.
– Wendy O'Donovan Phillips, CEO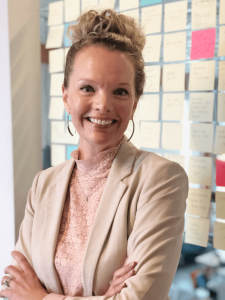 Start with a complimentary 15-minute call with me.
Text 'CEO Insights' now to 303-284-4414.
Your Enhanced Inbox Awaits
Join the 13,000+ healthcare professionals who already receive our weekly marketing tips, case studies, survey data and more!
Sign Up For The Latest In Healthcare Insights Delivered Straight To Your Inbox!