by Wendy O'Donovan Phillips
Of the 7 major steps in the lifecycle to increasing brand awareness, many of your competitors are only focused on a little over half.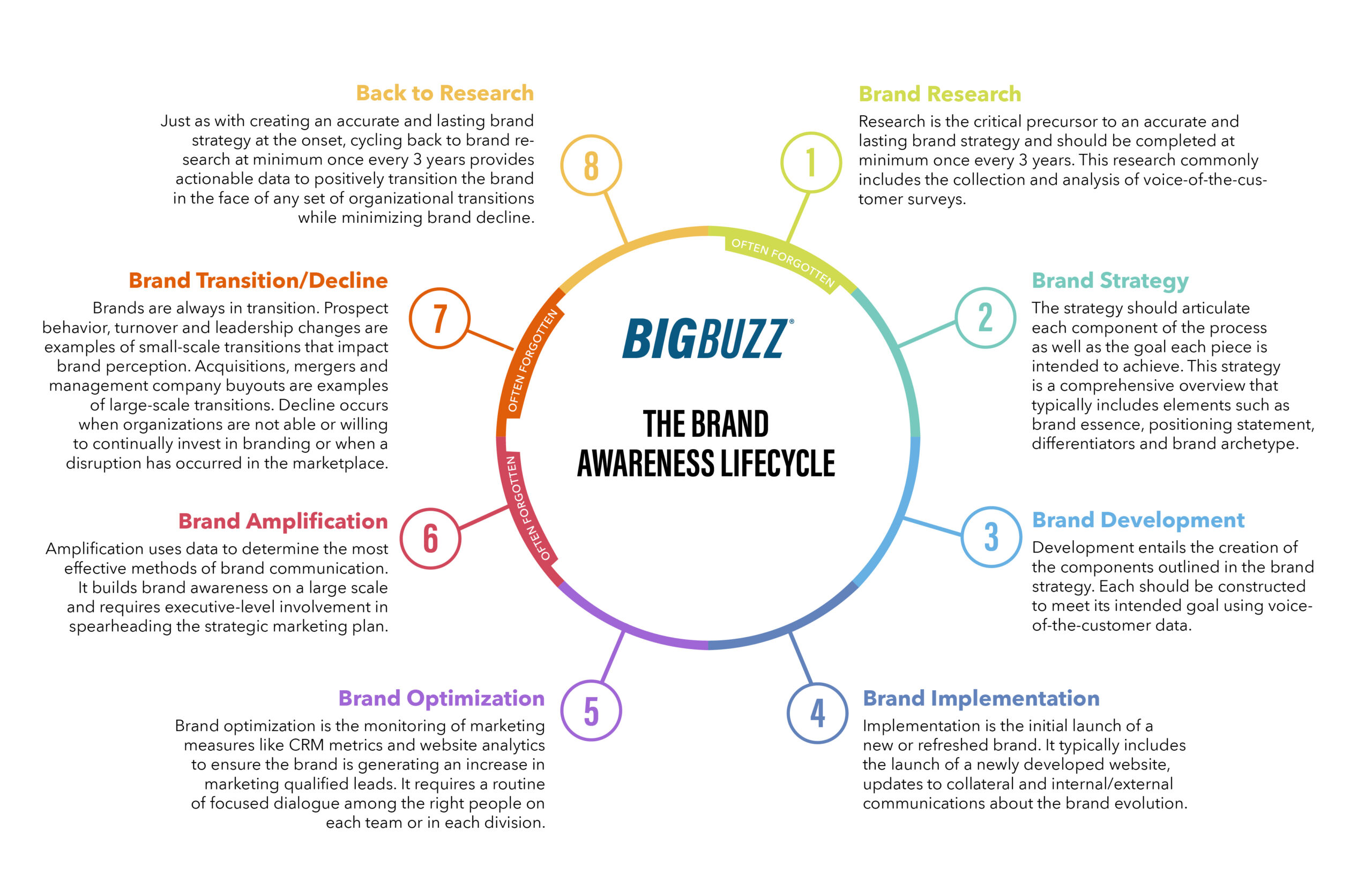 Research
While many of your competitors spend time thinking critically about their brand, most only do so in siloed meetings with internal executives. This negates that brand comes from those served rather than those in service to the organization. Research is the critical precursor to an accurate and lasting brand strategy and should be completed at minimum once every 3 years to provide actionable data to inform each component of the brand lifecycle. This research commonly includes the collection and analysis of voice-of-the-customer surveys.
What is the difference between voice-of-the-customer (VOC) surveys and customer satisfaction (CSAT) surveys as far as outcomes and overall value to the organization?
VOC surveys and CSAT surveys are often confused. VOC surveys tell the story of how the organization is perceived and the value it provides, and CSAT surveys indicate how well the organization is performing and where it can further improve. A VOC survey is a market research tool that provides in-depth data to identify preferences, expectations, how the organization provides value, what makes the organization unique and how residents, family members or patients initially became involved with the organization. VOC surveys provide information related to what those served value most about the organization, providing the foundation from which a brand can solidly be built. VOC data also provides an overall view of who those served believe the organization to be, how it has changed their lives, what it does best and what needs to be communicated to prospects to attract them to the organization.
CSAT surveys take place throughout the customer journey and are more reactive. They identify the perceptions of, and emotions related to, events that are currently in progress or have already occurred. They allow teams to go back and identify areas that need to be adjusted to improve CSAT scores moving forward. CSAT surveys are great for identifying what the organization is doing well and revealing any weak spots that need to be addressed.
Other common brand research mechanisms include the development of a brand archetype and the completion of competitor research. The brand archetype connects the brand personality with the appropriate target persona; without it, brands risk slipping into stale corporate speak, hyperbolic marketing jargon or, even worse, talking to everyone and thus talking to no one. Competitor research ensures that the messaging and graphical mood as directed by the VOC survey data are genuinely different than competing entities; without this critical last step in brand research, marketing efforts get lost in a sea of sameness.
Target audiences don't buy brands. People enjoy connection with other people who bring new ideas to life. This is the job of every good brand – to embody that person-to-person connection.
Brand Amplification
Even the strongest organizations often diligently move through the first 5 phases of the lifecycle (research, strategy, development, implementation, optimization) only to neglect regularly amplifying the brand. Namely, they stop at implementation and optimization.
Implementation is the initial launch of a new or refreshed brand. Implementation typically includes the launch of a newly developed website, updates to collateral and internal/external communications about the brand evolution. Most organizations stop short after brand implementation, which means they more quickly hit the last phase in the life cycle: brand transition/decline.
Optimization is, of course, monitoring marketing measures like CRM and Google Analytics to ensure the brand is impacting an increase in marketing qualified leads. More than that, optimization requires a routine of focused dialogue among the right people on the marketing team, executive team and agency team to ensure those measures properly reflect what frontline employees experience. (What technology reports as a marketing qualified lead who clicked and opened a content article might have actually been an unqualified lead once an employee spoke with them.) Beyond implementation and optimization, amplification makes use of all that rich data to shout the brand message from all the right rooftops over time. This builds brand awareness on a large scale.
Amplification requires executive-level involvement in spearheading the strategic marketing plan, which is also often missing in your competitor's organization. In most cases, low-level marketing tactics are assigned to marketing coordinators or contractors. This means executives come up short of having reached brand awareness goals, and thus growth and scaling goals. To overcome this, the executive team's responsibility is to oversee the 5 components of brand amplification:
Strategic Brand Amplification Plan – Build an extension of the organization's standard plan with a deeper focus on what will be done differently now versus in the past to amplify the brand, grow awareness and scale the organization.
Creative Direction Strategy – Brainstorm quarterly with all members of the creative team ways to visually amplify the brand. Using the established brand guidebook as a foundation, encourage the team to explore creative campaign directions that align with the brand while breaking industry norms to truly stand out in the marketplace.
Content Marketing Strategy – Notate the desired process for who on the team:
• Creates content
• Shares content across the right distribution channels
• Performs quality assurance on right messaging for each piece of content coming out of the organization
• Ensures proper use of the CRM and CSM are maximized and integrated
• Leads quarterly team brainstorms to proactively develop an editorial calendar of on-brand topics.These functions are likely spearheaded by several different roles on the marketing team.
Social Media Strategy – Communicate the rules of social media engagement for the organization, agree on what social channels the team shall use to post, ensure optimum use of distribution technology like Hootsuite or SocialPilot and brainstorm on-brand post topics for quarterly social media planning calendars.
Online Marketing Strategy – Audit all existing online marketing creative assets like the website, ads and landing pages to ensure on-brand look, feel and messaging. Review analytics from online marketing tactics like Google Ads, Facebook ads and SEO to ensure performance measures are being hit. Communicate to the marketing team any needed adjustments to further amplify the brand.
With VOC data, analytics and any other relevant market research in hand, articulate these 5 strategies in writing, regularly share them with the marketing team and inspire them to create and deploy the marketing assets that will definitively impact the top line.
Brand Transition/Decline
Brands are always in transition. Prospects' continually refined expectations, employee turnover, changes in leadership – these are just a few small-scale transitions that impact brand perception. Acquisitions, mergers and management company buyouts are examples of large-scale transitions. Brands face decline when organizations are not able or willing to continually invest in branding or when a disruption has occurred in the marketplace, such as a large competitor emerging to encroach on market share.
Just as with creating an accurate and lasting brand strategy at the onset, cycling back to brand research at minimum once every 3 years provides actionable data to positively transition the brand in the face of any set of organizational transitions and minimize brand decline.
Which of the 7 major steps in the lifecycle to increasing brand awareness has your organization mastered? Which need more focus? Big Buzz offers a free SWOT analysis to get you the insights you need to make the next right marketing move. Why is the session free? Because we are passionate about solving complex marketing problems. Get your free analysis here.
Big Buzz is a marketing agency delivering a steady stream of move-in-ready leads to teams serving the senior living industry. For more than 15 years, Big Buzz has helped senior living marketing and sales teams nurture leads to increase occupancy, grow and scale. CEO Wendy O'Donovan Phillips is the author of the book Flourish!: The Method Used by Aging Services Organizations for the Ultimate Marketing Results, has been published in McKnight's, has been a regular contributor to Forbes, and has been quoted in The Washington Post, ABC News and Chicago Tribune. The Big Buzz leadership team regularly lectures in front of audiences ranging from 25 to 3,000 attendees, including at Argentum and various LeadingAge chapters. Agency awards and accolades include recognition for excellence by the American Marketing Association, Gold Key Award Winner by the Business Marketing Association, HubSpot Academy Inbound Marketing Certification, and Top Advertising and Marketing Agency by Clutch.
by Wendy O'Donovan Phillips
Share
Join the 13,000+ care professionals who read our weekly insights.
Get actionable learnings to apply now to attract warmer leads.