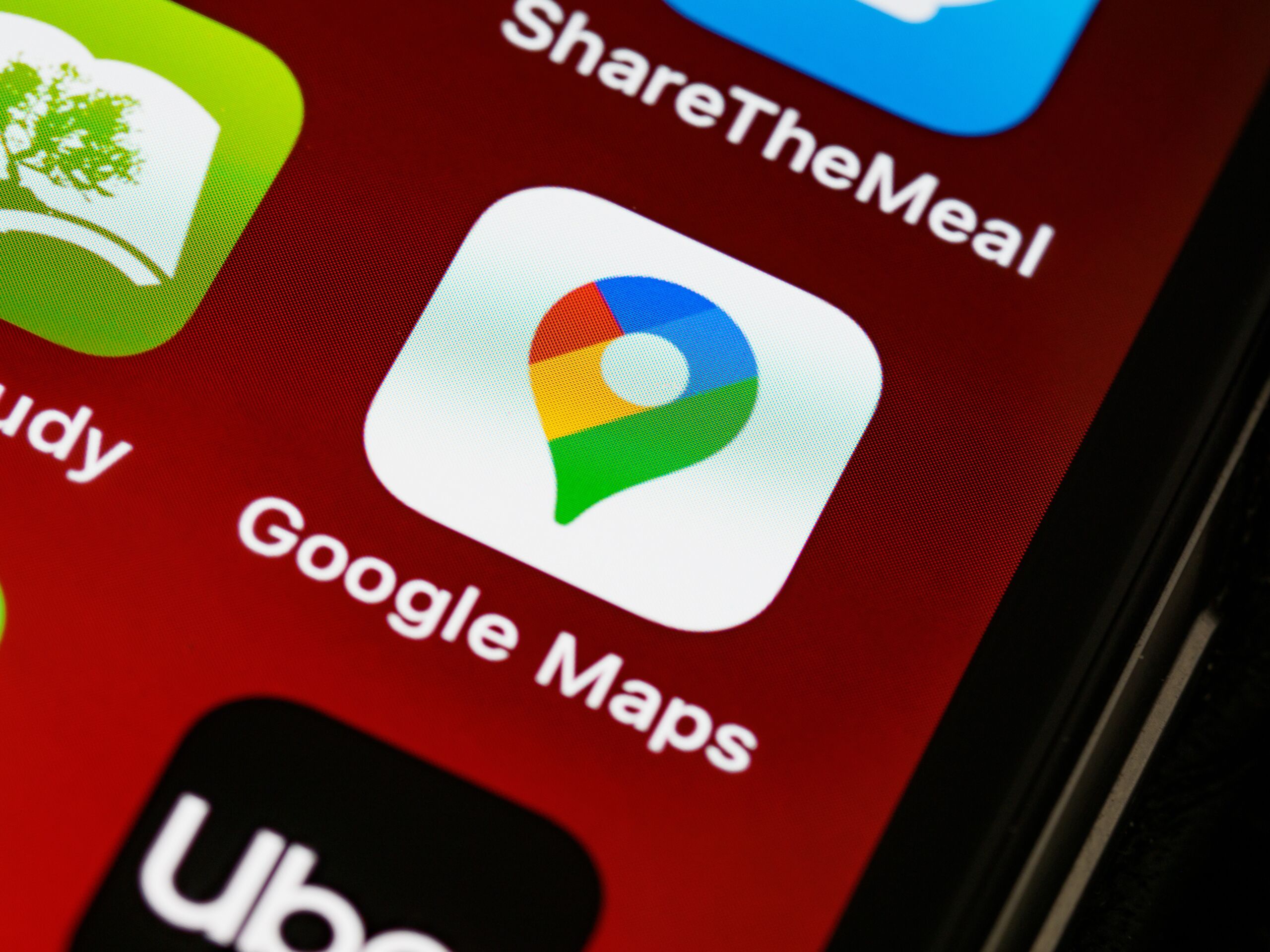 One of the greatest things about marketing is how it can manifest in subtle yet effective ways that many would not think of as "marketing" in the traditional sense. For instance, have you ever looked up a local business on Google, clicked the "directions" icon to bring up Google Maps to see if it's nearby, then ultimately patronized that business? That's marketing at work! Many people envision digital marketers as virtual carnival barkers – trying to shout the loudest over the crowd in order to command attention – but, at least for quality marketing, this simply isn't true. The goal of quality marketing is to make prospects' lives easier while connecting them to truly beneficial businesses or services.
While the core function of Google Maps is a mobile GPS system to navigate users from here to there, it has become quite a formidable marketing tool in recent years, especially considering it is nearly six times as popular as competing GPS applications. That's a whole lot of potential eyes on your community, many of which are likely in search of next steps for themselves or their aging loved ones.
So, how can your community leverage this powerful asset to "drive" more interest in your community? It's easier than you might think.
Google Maps works hand-in-hand with Google My Business, a tool Big Buzz covered in a recent blog. By using these tools in confluence with each other, prospects can easily look up your location after finding you on a search engine. Additionally, they can easily see your business information and attributes if they are looking for nearby senior living communities while using the Google Maps app itself. If you have not set up a free Google My Business account for your community, we highly recommend reading the aforementioned article and doing so. Using Google My Business will allow you to fill out valuable information about your community, especially the location, which will allow users to locate it via search results.
One of the greatest advantages of doing so is harnessing the power of Google's Local 3-Pack.
What is the Local 3-Pack?
If you've ever conducted a Google search along the lines of "Greek food near me" you've likely seen the map with your location and pins for a few nearby Greek restaurants, with prominent listings of those restaurants directly beneath. Here's an example: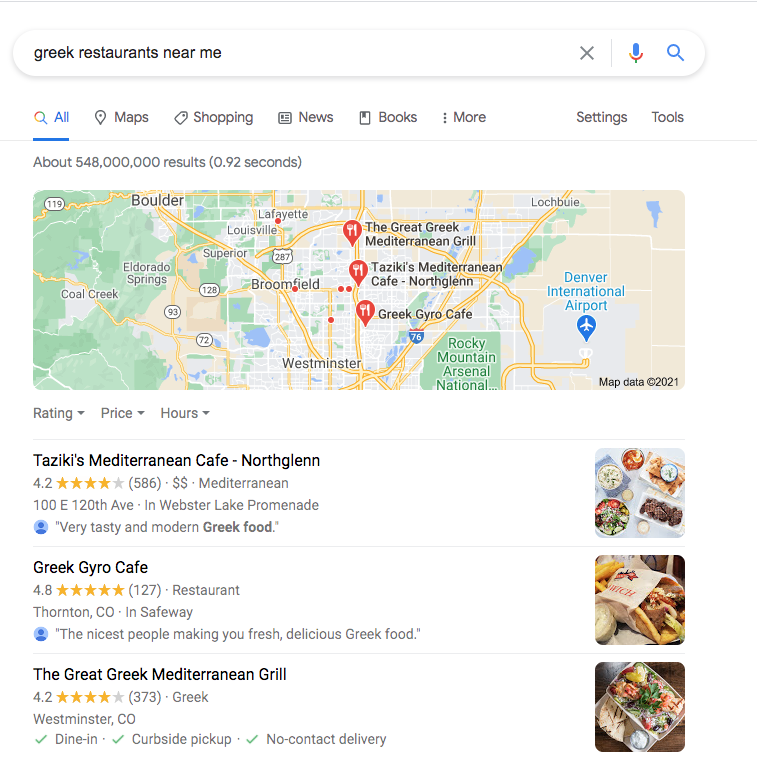 Notice how the restaurants in the Local 3-Pack are accompanied by images, hours, reviews and other useful information. This makes them stand out among the results. By adding your location and attributes to your Google My Business page, as well as earning favorable reviews, Google's algorithm will detect that it is in relative proximity to the prospect making the search and will be more likely to list your community among these prominent results. Top rankings also require a strong pool of reviews, so be sure you are staying on top of asking for reviews from satisfied residents or their families. Not only will good reviews help you achieve an optimal ranking, but they will also be displayed to prospects and function as free marketing.
Local Search Ads
Using your Google My Business page with Google Maps is free, but if you wish to drive more results and it is within your budget, you can create a local search ad campaign that will guarantee top placement and inclusion in the 3-Pack, as well as more convenient ways for users to locate or call you. Notice how the listings in the image above do not have the "Call" or "Directions" buttons – this is because they are not running local search ads through Google, which favors businesses that advertise with them and helps create an even easier experience for prospects. Below are some examples of local search ads.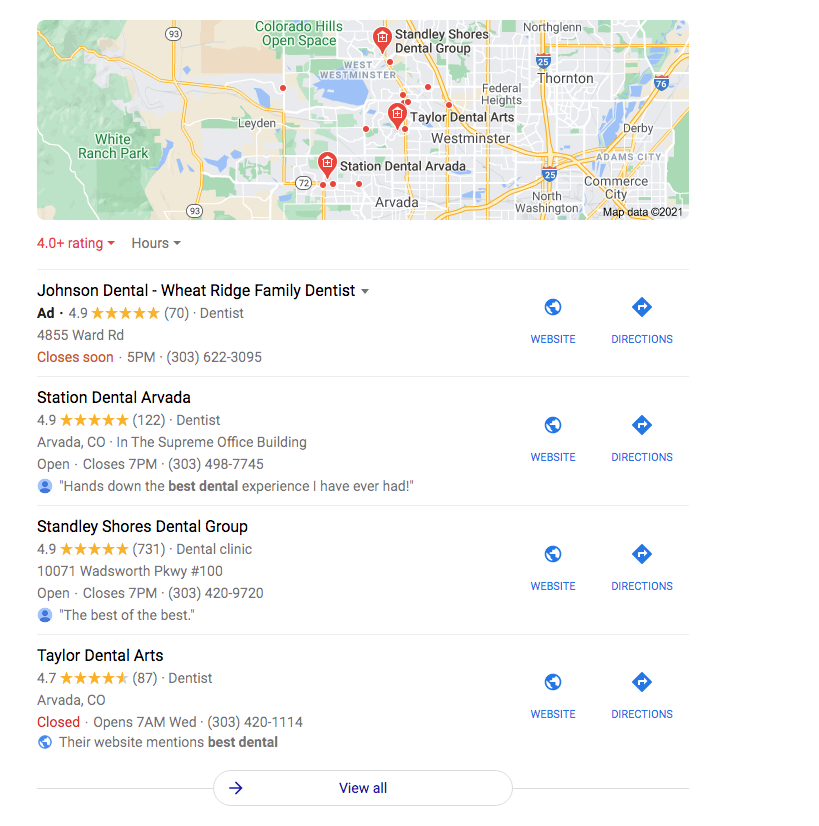 Google has become quite an effective resource for marketing and using its tools can not only shine a brighter spotlight on your community, but it can also simplify the long and stressful process of researching senior living options for the people who matter most, your prospects and their loved ones.
If you'd like to learn more or get a free, no-obligation assessment of your current marketing strategy and how to optimize it to drive occupancies, contact Big Buzz today to get scheduled.
Big Buzz is a marketing agency delivering a steady stream of move-in-ready leads to teams serving the senior living industry. For more than 15 years, Big Buzz has helped senior living marketing and sales teams nurture leads to increase occupancy, grow and scale. CEO Wendy O'Donovan Phillips is the author of the book Flourish!: The Method Used by Aging Services Organizations for the Ultimate Marketing Results, has been published in McKnight's, has been a regular contributor to Forbes, and has been quoted in The Washington Post, ABC News and Chicago Tribune. The Big Buzz leadership team regularly lectures in front of audiences ranging from 25 to 3,000 attendees, including at Argentum and various LeadingAge chapters. Agency awards and accolades include recognition for excellence by the American Marketing Association, Gold Key Award Winner by the Business Marketing Association, HubSpot Academy Inbound Marketing Certification, and Top Advertising and Marketing Agency by Clutch. 
Join the 13,000+ care professionals who read our weekly insights.
Get actionable learnings to apply now to attract warmer leads.