by Wendy O'Donovan Phillips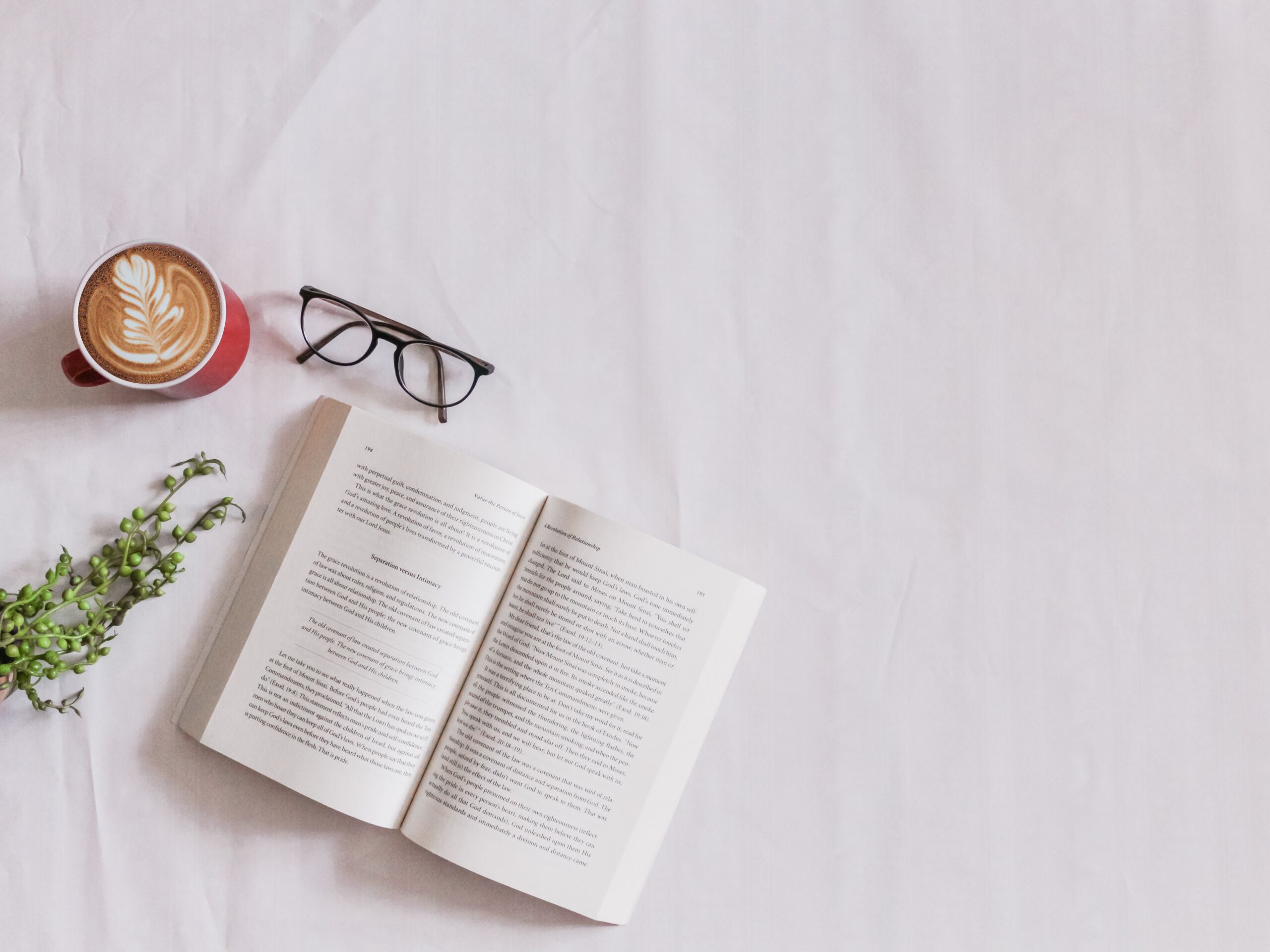 This entry is an excerpt from Big Buzz's 13-page "Complete Data-Driven eBook to Storytelling Marketing." To download the full version, click this link. While the data was culled from senior living professionals, our findings have applications across the spectrum of healthcare marketing.
In any story, there is an arch from beginning to climax to resolution. Jennifer Bonhomme, MD of Insights & Strategy at VMLY&R, shared in Medium a simple narrative arch, over which Big Buzz has overlaid the various stops on the marketing storytelling roadmap. Herein, we illustrate the opportunity to tell a cohesive story across the full experience of the resident and family journey into your community. At each point, we detail how to expand on that story at various points in the journey.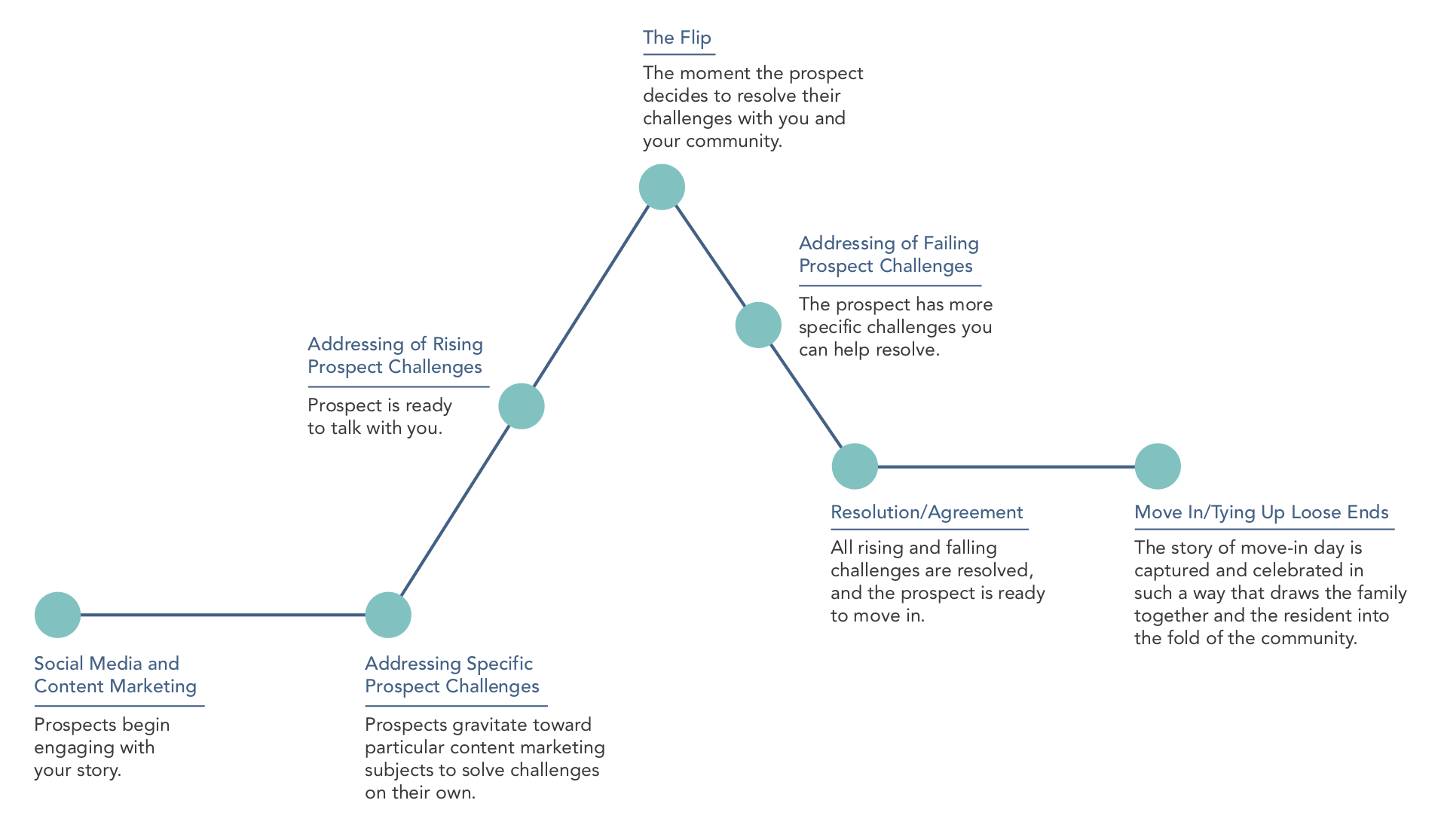 Let's Explore each point on the marketing storytelling arch in more detail.
Social Media + Content Marketing
Prospects begin engaging with your story through social media and content marketing.
More than half of our survey respondents said 60-100% of their leads came from social media. Social media is like an open house for your community. Share stories across social media to position your brand as different and beneficial to the prospect. Social media marketing leads are top-of-the-funnel leads. Engaging social media stories invite the prospect to check out your content, moving them to the middle of the funnel.
Nearly three-quarters of our survey respondents said that 30-100% of their leads came from content marketing. Share stories across content to nurture prospects to understand you can solve general challenges. Here are some example content titles:
Helping Parents with Money: A Fable on Family Finances
Rosie and Sally Put Sisterly Differences Aside to Assist Dad
Preserving Peter's Pride: One Family's Journey in Senior Care
Content marketing leads are middle-of-the-funnel leads. Engaging content marketing stories show folks you are the expert, help them see they need support and demonstrate your community can be trusted to deliver that support. Gated content allows the prospect to share contact information in exchange for your expertise.
Both social media and content marketing are fueled by voice-of-the-customer data. 72% of our respondents said, excluding required customer satisfaction surveys, they regularly survey residents and families to learn how the organization has impacted their lives.
Here are survey questions that can be used to gather data that will inform stories for social media marketing:
What are we doing best?
Why did you choose us?
What is different about us?
And here are survey questions that can be used to gather data that will inform stories for content marketing:
What challenges did you face before moving in with us?
What fears did you face before moving in with us?
What hopes did you have before moving in with us?
As prospects move from the top of the funnel to the middle of the funnel, there arises an opportunity to further develop the story and engage people.
Social media is like an open house for your community. Share stories across social media to position your brand as different and beneficial to the prospect.
Addressing Specific Prospect Challenges

It is appropriate at this phase to reach out to the prospect using contact information gathered from gated content and ask for a call or meeting. Here's how:
Prospects gravitate toward particular content marketing subjects to solve challenges on their own. A marketing automation solution can show you what they are reading. In the words of Jana Bienz, Digital Marketing Manager at ActiveDEMAND, marketing automation can "support more custom personalized messaging that better touches on these relationships."
This is where the story can be developed to address specific prospect challenges. It is a unique opportunity to invite the prospect to move from the middle of the funnel to the bottom of the funnel. As an example, here are some storytelling-inspired conversation starters for a prospect consuming content about dementia:
Address Rising Prospect Challenges
Prospects who are ready to talk with you have arrived at the bottom of the funnel. Call or meet with the prospect and get a full list of the issues they are facing. The first issue they talk about is usually not the core issue troubling them. In reviewing this sample issues list conversation, note how the team member deepens and develops the story to address prospect challenges as they arise:

Asking, "Why is that important to you?" invites the prospect to become part of the story. She lets down her guard and tells the truth because you have built trust throughout the storytelling process. This gives way to the flip.
The Flip
Sales expert Blair Enns of Win Without Pitching describes "the flip" as the moment you move in the mind of the prospect from salesperson to "expert practitioner." Enns says you will witness changes in body language, tone and attention. The flip can happen anytime leading up to this moment: while the prospect engages with you on social media, as they are consuming your content, while you are addressing specific challenges or as you are addressing rising prospect challenges.
The flip is the turning point, the moment the prospect decides to resolve their challenges with you and your community. It's an ideal time to introduce them to other prospects and families, allowing them to share their stories to further engage in your community.
Addressing Falling Prospect Challenges
At this phase, the prospect has more specific challenges you can help resolve:
How many of my belongings can I bring with me?
Will my family want to visit me?
What happens if I don't like it?
The webinar The Art of Engagement: Strategies That Convert Hesitant Prospects Into Happy Residents, by Sherpa and OneDay, explores what makes for stronger connections with your prospective residents at this phase.
Resolution/Agreement
All rising and falling challenges are resolved, and the prospect is ready to move in. Go beyond the agreement signing and continue the conversation, ensuring every fear and hope have been addressed. Every great story ends with a deeply satisfying feeling of resolution.
Move-In/Tying Up Loose Ends
The French word denouement refers to the final part of a story in which the elements of the plot are woven together. Ideally, the story of move-in day is captured and celebrated in such a way that draws the family together and the resident into the fold of the community.
As Carter Stevens from One Day says in The Power of Storytelling in Sales and Marketing, storytelling is all about "taking the prospect along for the ride and allowing them to imagine themselves living in your community."
Now, how will we know storytelling efforts are successful?
Big Buzz is a marketing agency delivering a steady stream of move-in-ready leads to teams serving the senior living industry. For more than 15 years, Big Buzz has helped senior living marketing and sales teams nurture leads to increase occupancy, grow and scale. CEO Wendy O'Donovan Phillips is the author of the book Flourish!: The Method Used by Aging Services Organizations for the Ultimate Marketing Results, has been published in McKnight's, has been a regular contributor to Forbes, and has been quoted in The Washington Post, ABC News and Chicago Tribune. The Big Buzz leadership team regularly lectures in front of audiences ranging from 25 to 3,000 attendees, including at Argentum and various LeadingAge chapters. Agency awards and accolades include recognition for excellence by the American Marketing Association, Gold Key Award Winner by the Business Marketing Association, HubSpot Academy Inbound Marketing Certification, and Top Advertising and Marketing Agency by Clutch. 
by Wendy O'Donovan Phillips
Share
Join the 13,000+ care professionals who read our weekly insights.
Get actionable learnings to apply now to attract warmer leads.