by Wendy O'Donovan Phillips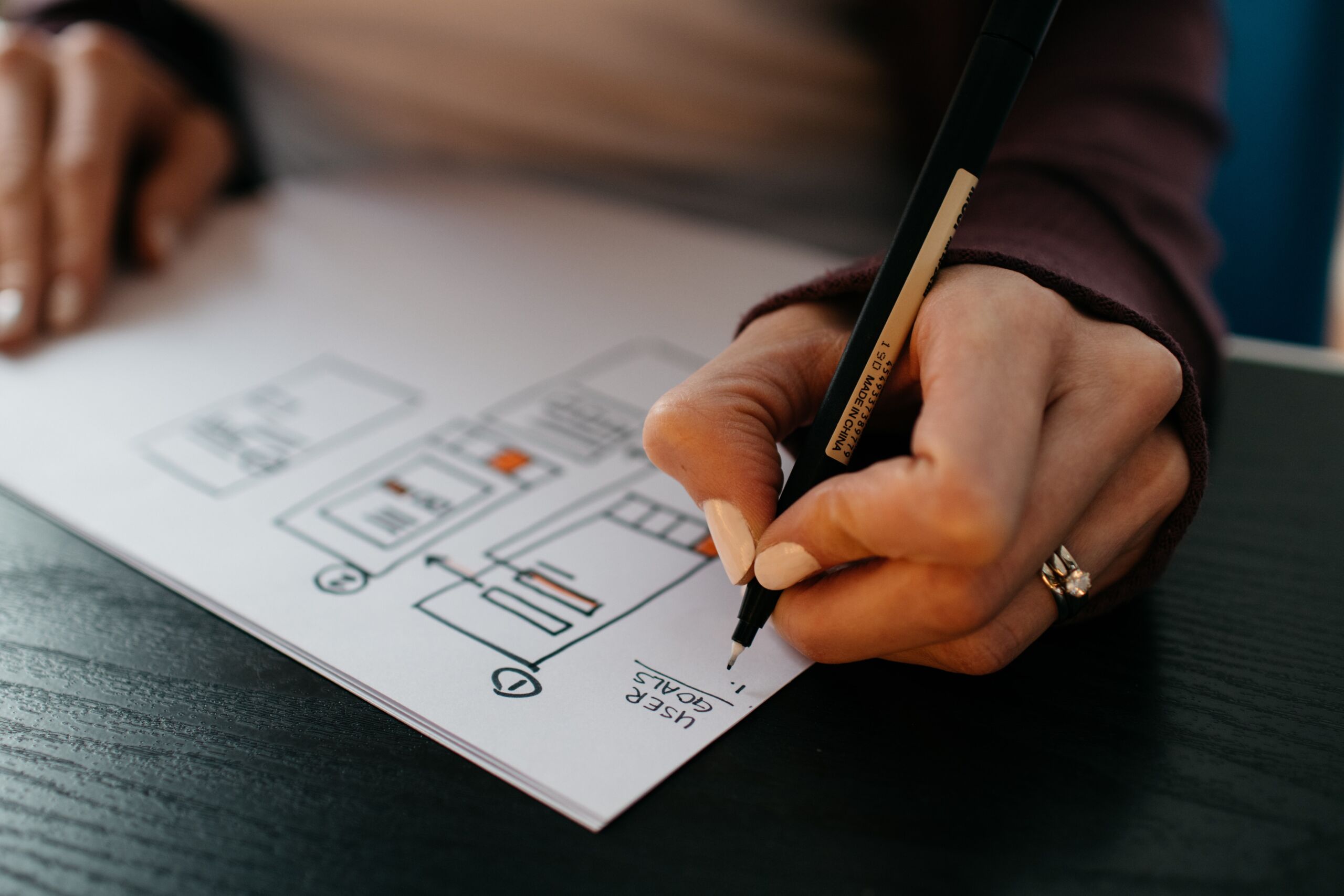 Every year-end brings a flurry of wrap-up presentations and celebrations as well as budgeting and marketing planning for the upcoming year. The real trick is to knit all that busyness together in a way that inspires and leads the team and organization forward to new growth opportunities.
Here is your 3-step guide to launching kick-butt marketing in the coming year.
1. Review 2021 marketing.
You cannot get to where you are going without first understanding where you have been. A thorough review will offer up keen insights into what worked well in the past, what to replicate, what to adjust and how to build a stronger marketing machine. Empower each of your key people to complete various parts of the review: marketing executives, owners/operators, investors, marketing team members and marketing agency team members. Ask those folks to compile these tools:
The appropriate marketing executive or owner/operator compiles documentation of the positioning, or differentiation from competitors, typically articulated in a brand messaging document or guide. This will help facilitate a critical conversation – are we truly differentiated, or do we need to evolve our position?
The design team or agency assembles a visual audit or a collage of images representing all marketing initiatives from the past year. This will give everyone in the review meeting a clear picture of the continuity of the marketing tactics already in play.
The marketing team or agency brings a results audit, or a high-level view of marketing measures achieved in the past year. These might include increases in website traffic, increases in email campaign opens or clicks, increases in the number of inquiries and increases in the number of new patients or move-ins – all between December of the year prior and December of the current year. This will provide clarity on what's working best, what to replicate and where to invest more for even stronger results.
The operations team or office manager brings an overview of the goal versus the actual budget with a particular focus on marketing. This offers insight into how marketing return on investment is earned.
The financial team or accountant brings a snapshot of increased revenue or profitability – the highest financial indicators of marketing success. This aligns the team on reaching the biggest, most important marketing goal rather than frustrating, seemingly evasive measures like "more new patients" or "increased occupancy." (When the whole team continuously takes right action toward one big, important marketing goal, more new patients and residents naturally come.)
2. Hold the marketing planning session.
Review the past year's marketing. Encourage your key team members and agency leaders to share the insights they gathered before the session. Ask all participants to note wins, challenges and possible new solutions throughout the review. This process will ignite thought-provoking conversations and solid decision-making throughout the next agenda items.
Align on a vision for the coming year. What's your big why? Why does the team wake up wanting to come to work every day? Root marketing in long-term vision to inspire big thinking and bold action toward goals.
Agree on one big, important goal for the coming year. The highest-level financial goal is best. For example, "We will increase revenue from ___ to ___ by ___." This is the clearest way to show all team members how financial success is measured.
Agree on 3 destinations. Brainstorm all the possible destinations your organization must reach together to bring the vision and goal into reality. Work together to whittle all ideas down to 3 clear destinations for the coming year. These are places you have never been together as a team. Is it to become known for a particular differentiator? To achieve rapid growth by acquisition? To sustain a secure organization for years to come? By demarking destinations, you make it easier for everyone to see how to act and think differently to reach the big important goal and achieve the vision.
List all possible marketing strategies. First, define the most pressing pain points that you faced as a group this year. Here are a few examples:

Lack of clarity of marketing results or low marketing results
Unclear differentiation from competitors
Unclear prioritization of marketing initiatives and/or budget allotted to each
Fear of the unknown, playing a small marketing game as a result
Lack of continuity on mission-critical marketing efforts, too many marketing initiatives without a defined leader
Next, agree on which of these pain points will hold you back from reaching your desired destinations unless addressed and solved. From the vantage point of being aware of where you are coming from, you can more clearly see the future. Each of these pain points can be reframed as marketing strategies for the new year:
Increase clarity on marketing results or achieve high marketing results
Increase differentiation from competitors
Clarify prioritization of marketing initiatives and/or budget allotted to each
Embrace the unknown, playing a big marketing game as a result
Gain continuity on mission-critical marketing efforts, launch marketing initiatives under a defined leader
Last, appoint one person to compile the full list of possible strategies. This list will inform the final one-page marketing plan.
Celebrate! Have lunch delivered, take the team out to dinner, throw confetti, dance together to loud music. Regardless of what your team prefers, take time to celebrate all you have accomplished.
3. Build the one-page marketing plan.
You now have all the building blocks for a solid marketing plan. You, your Director of Marketing or the main contact of your marketing agency should assemble the vision statement, big important goal (BIG) and destinations (or objectives) into one matrix like this one:
VISION: 
Our why is _____.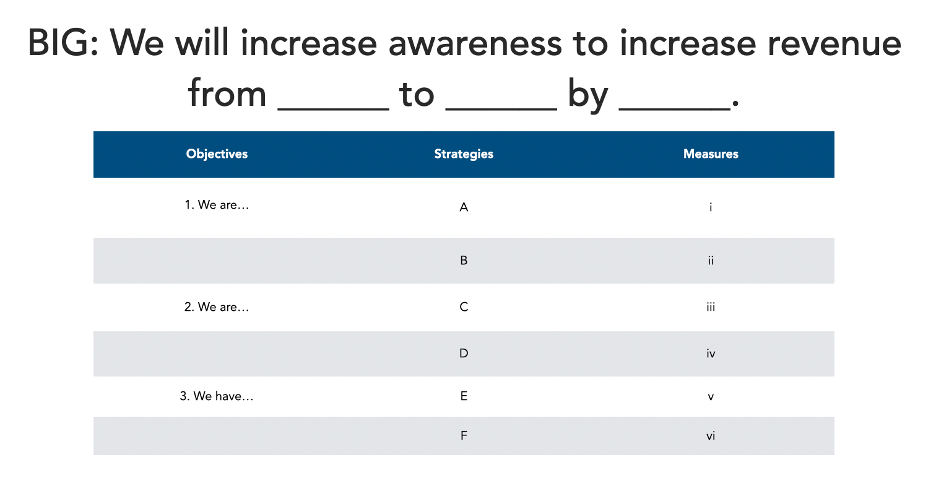 From there, they review the list of possible strategies and fill in the appropriate ones next to each destination or objective, asking, "Will this action, or strategy, help us reach one of these destinations?" They add any strategies from the previous year that have been determined to continue in the coming year after the review.
Next, they add a measure or two in the right column, ways they suggest the larger team measures marketing success after strategies are complete. Examples of measures include: "Increase awareness as measured by website traffic from ___ to ___," or, "Increase number of treatment plans/tours completed from ___ to ___." Then they work with the appropriate people to vet the projected cost of each marketing strategy against next year's proposed budget, adjusting as needed.
Finally, they gain signed approval of the plan from each executive and marketer involved in building it – and they launch the plan.
Here's to your ultimate success in 2022!
Still feeling overwhelmed by marketing planning? Need some extra support? Big Buzz CEO Wendy O'Donovan Phillips offers a free SWOT analysis to help you on your way. Why is the session free? Because Wendy is passionate about solving complex marketing problems. Get your free analysis here!
Big Buzz is a marketing agency delivering a steady stream of move-in-ready leads to teams serving the senior living industry. For more than 15 years, Big Buzz has helped senior living marketing and sales teams nurture leads to increase occupancy, grow and scale. CEO Wendy O'Donovan Phillips is the author of the book Flourish!: The Method Used by Aging Services Organizations for the Ultimate Marketing Results, has been published in McKnight's, has been a regular contributor to Forbes, and has been quoted in The Washington Post, ABC News and Chicago Tribune. The Big Buzz leadership team regularly lectures in front of audiences ranging from 25 to 3,000 attendees, including at Argentum and various LeadingAge chapters. Agency awards and accolades include recognition for excellence by the American Marketing Association, Gold Key Award Winner by the Business Marketing Association, HubSpot Academy Inbound Marketing Certification, and Top Advertising and Marketing Agency by Clutch. 
by Wendy O'Donovan Phillips
Share
Join the 13,000+ care professionals who read our weekly insights.
Get actionable learnings to apply now to attract warmer leads.