Branding Strategy and Brand Identity Development for the Senior Living Industry
At Big Buzz®, we believe no one tells your brand's story better than those whose lives have been transformed by your services: residents, families and employees. With this philosophy in mind, Big Buzz's expert brand and identity strategy always starts with research, including reviewing existing data, deploying surveys, performing audits and conducting competitive analyses. This objective data gives way to superior marketing results.
Senior Living Branding Strategies:
Brand messaging
Differentiators
Value proposition
Mission, vision and values
Internal culture
Mood board creation
Brand naming
Logo and identity development
Graphic standards guide development
Audit and refinement of existing marketing materials (offline and online)
Development of new marketing materials (offline and online)
Rebrand/relaunch strategy
Packaging design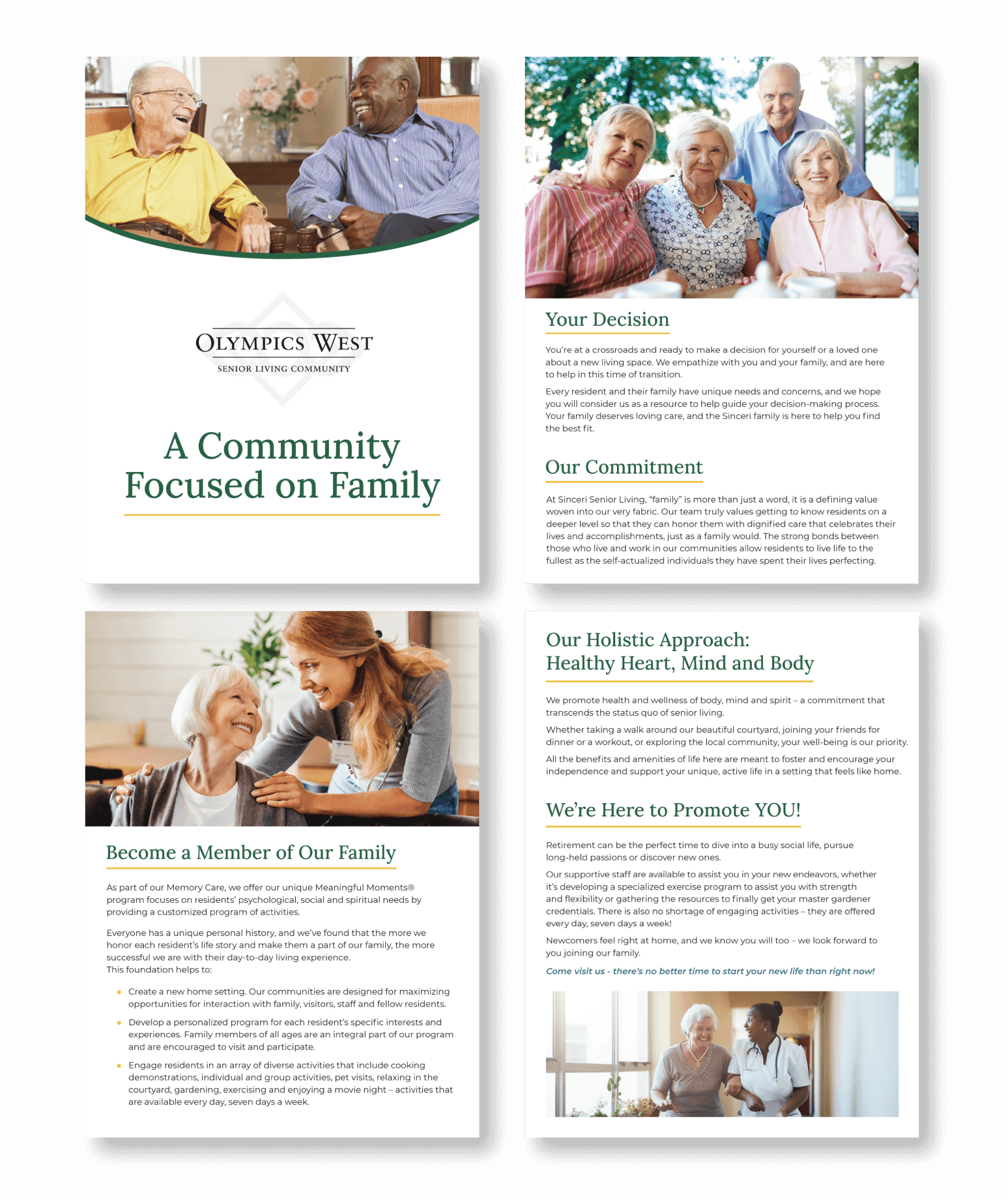 The Value of Branding
Big Buzz has helped organizations across the spectrum of senior living refine their existing brands or develop new ones based on our proven, research-driven process. Your brand is the culmination of so many disparate elements that make your organization stand out. Proper branding creates a powerful basis for all of your marketing and communications, yielding focused and articulate results that resonate with prospects and keep you top of mind.
Seniors and families in search of senior living solutions come across dozens or even hundreds of options during their search. Your organization may provide the care or services that would benefit them most during this stressful and confusing juncture in their lives; however, without proper branding, you risk getting lost in the crowd. Big Buzz uses proven processes like voice-of-the-customer (VOC) data to determine what your organization's biggest fans value most about you and what makes your organization stand out. Discovering these key differentiating factors helps elevate the connection between your brand and the residents and families you most wish to serve.
Why invest in branding?
Branding builds recognition.
Branding builds trust.
Branding supports advertising.
Branding creates financial value.
Branding can bring in new business.