The Complete Data-Driven eBook: The Dubious Data on Differentiation in the Senior Living Industry
The Data Behind Brand Differentiation
Your marketing team rampantly launches efforts to make your senior living organization visible. Your web traffic is strong, and your click-through rates are above industry average. But the sales team keeps saying the leads aren't qualified, and occupancy is still not at 100%. They are running ragged sifting through hundreds of leads and feeling defeated after not meeting occupancy goals month after month. Could insufficient brand differentiation be the root cause?
Let's unpack the data to explore how senior living organizations can resolve these five deeper issues, authentically differentiate themselves and attract the warm leads needed to meet census, grow and scale. Namely, we will explore:
Correct Definition
Accurate Data
Correct Decision Makers
Strong Process
Strong Value Proposition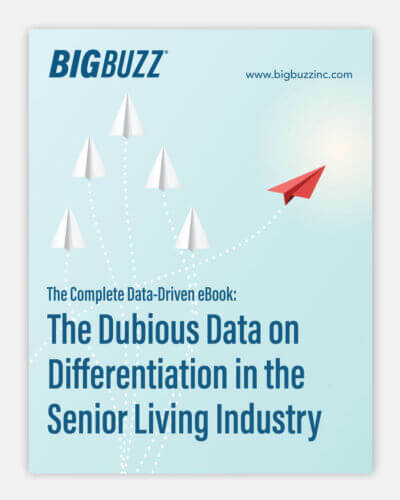 Complete the form below to download the ebook.
I'd like to opt-in to receive educational insights from Big Buzz®.