About Avitus Group
Avitus Group is a worldwide company that simplifies, strengthens and grows businesses by providing administrative support (Payroll, accounting, taxes, HR and much more). When a business uses Avitus Group, all of the necessary yet burdensome functions of the business become Avitus Group's responsibility, so the business can focus on what it does best. Avitus Group serves clients nationwide through regional office locations from coast to coast. Avitus Group has an Anchorage Operations Center and a Fairbanks Regional Office. The company also serves international clients through partner locations in Europe, Canada, China, England, India, Japan and Singapore.
Big Buzz's Approach
Big Buzz began working with Avitus Group in 2017 after the launch of Avitus Dental Management Support (ADMS). This new division was created to provide dental practices with virtual billing services and support in learning how to manage the business side of the practice. The corporation engaged Big Buzz to spearhead a strategic marketing plan for reaching tens of thousands of dentists nationwide in order to convert them to paying ADMS clients.
Research
Together in a 4-hour session, ADMS and Big Buzz worked strategically to:
Define objectives and key performance indicators (KPIs)
Discuss past/current marketing performance
Prioritize marketing tactics
Establish an accurate marketing spend based on cost-per-acquisition
Clarify and/or define roles and responsibilities across both teams
Strategy
From that initial session, ADMS and Big Buzz mapped out a SWOT analysis chart to pinpoint the strengths, weaknesses, opportunities and threats facing the organization. Big Buzz then worked with ADMS to convert the SWOT chart into a TOWS chart, which is a method of analyzing the connections between each quadrant of a SWOT chart.  This allowed all parties to derive actionable strategies from the SWOT analysis. The core strategies were broken up as follows:
Strength — Opportunities: Using internal strengths to maximize external opportunities
Strength — Threats: Using internal strengths to minimize external threats
Weaknesses — Opportunities: Improve internal weaknesses by leveraging external opportunities
Weaknesses — Threats: Eliminate internal weaknesses and avoid external threats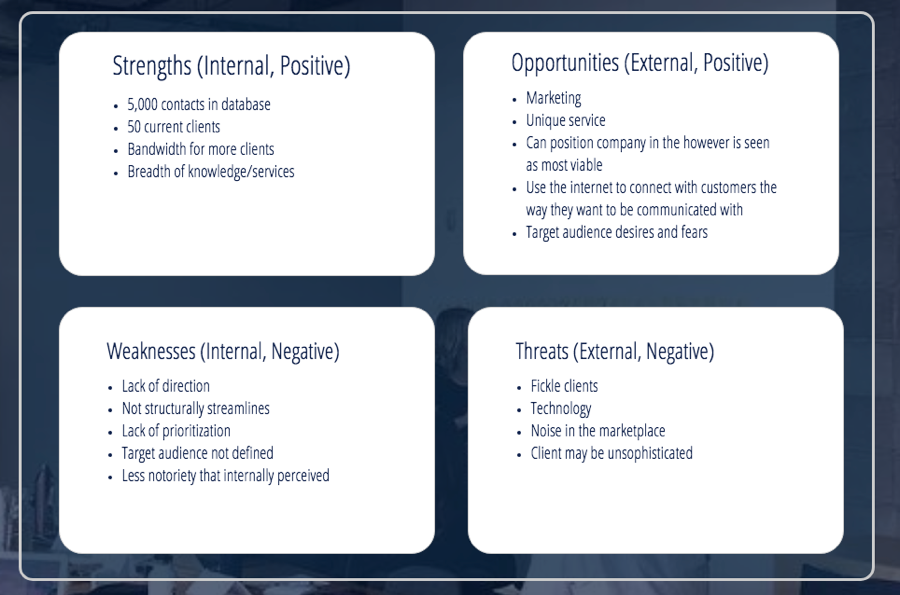 Once the team established a SWOT, it was then converted into actionable strategies with a TOWS analysis.
TOWS Analysis: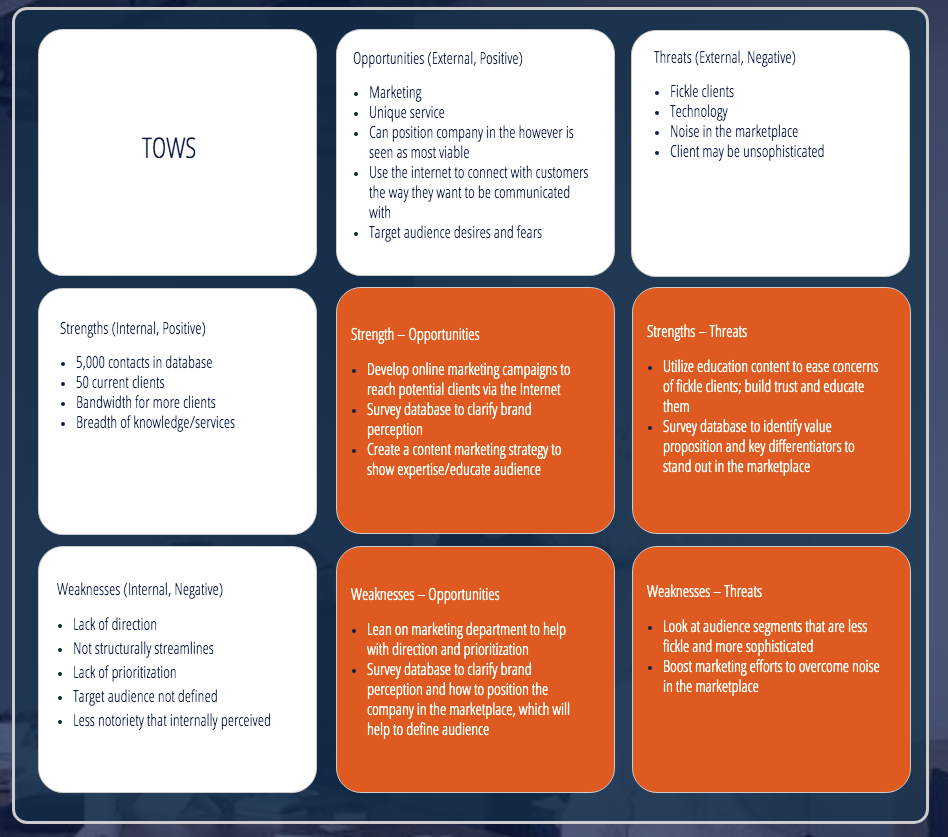 Results: 
Big Buzz took the strengths, weaknesses, opportunities and threats identified by the ADMS leadership team and converted them into actionable marketing strategies as part of a robust 12-month marketing plan. The marketing plan included a social media strategy, review strategy, content marketing strategy, among others.
"This [strategy from Big Buzz] is so helpful that I'm speechless."
–Kim McCleskey, Director of Sales, Avitus Dental Management Solutions 
As a result of Big Buzz's marketing efforts, ADMS has exceeded its monthly goal for acquiring new clients.