About Avitus Group
Avitus Group is a worldwide company that simplifies, strengthens and grows businesses by providing companies with administrative support (payroll, accounting, taxes, HR and much more). Avitus Group helps clients with the necessary and sometimes burdensome functions of business operations, so clients can focus on what they do best. Avitus Group, headquartered in Billings, Montana, works nationwide as well as internationally through partner locations in Europe, Canada, China, England, India, Japan and Singapore.
Big Buzz's Approach
Big Buzz began working with Avitus Group in 2017 after the launch of Avitus Dental. This new division was created to provide dental practices with virtual billing services and support in learning how to manage the business side of the practice. The company engaged Big Buzz to spear-head a strategic marketing plan for reaching tens of thousands of dentists nationwide in order to convert them to paying Avitus Dental clients. They chose Big Buzz due to its extensive experience in health-care marketing, its deep understanding of dentistry and similar specialty clinics and its documented, systematic marketing methodology.

Research
Together in a 4-hour session, ADMS and Big Buzz worked strategically to:
Define objectives and key performance indicators (KPIs)
Discuss past/current marketing performance
Prioritize marketing tactics
Establish an accurate marketing spend based on cost-per-acquisition
Clarify and/or define roles and responsibilities across both teams
Strategy
From that initial session, Avitus Dental and Big Buzz mapped out a SWOT analysis chart to pinpoint the strengths, weaknesses, opportunities and threats facing the organization. This chart also provided both parties with an in-depth, 3-dimensional vantage point of where ADMS excelled and where they could branch out or improve. Big Buzz then worked with ADMS to convert the SWOT chart into a TOWS chart, which is a method of analyzing the connections between each quadrant of a SWOT chart. This allowed all parties to derive action-able strategies from the SWOT analysis. The core strategies were broken up as follows:
Strength and Opportunities: How to use internal strengths to maximize external opportunities
Strength and Threats: How to use internal strengths to minimize external threats
Weaknesses and Opportunities: How to improve internal weaknesses by leveraging external opportunities
Weaknesses and Threats: How to eliminate internal weaknesses and avoid external threats
SWOT Analysis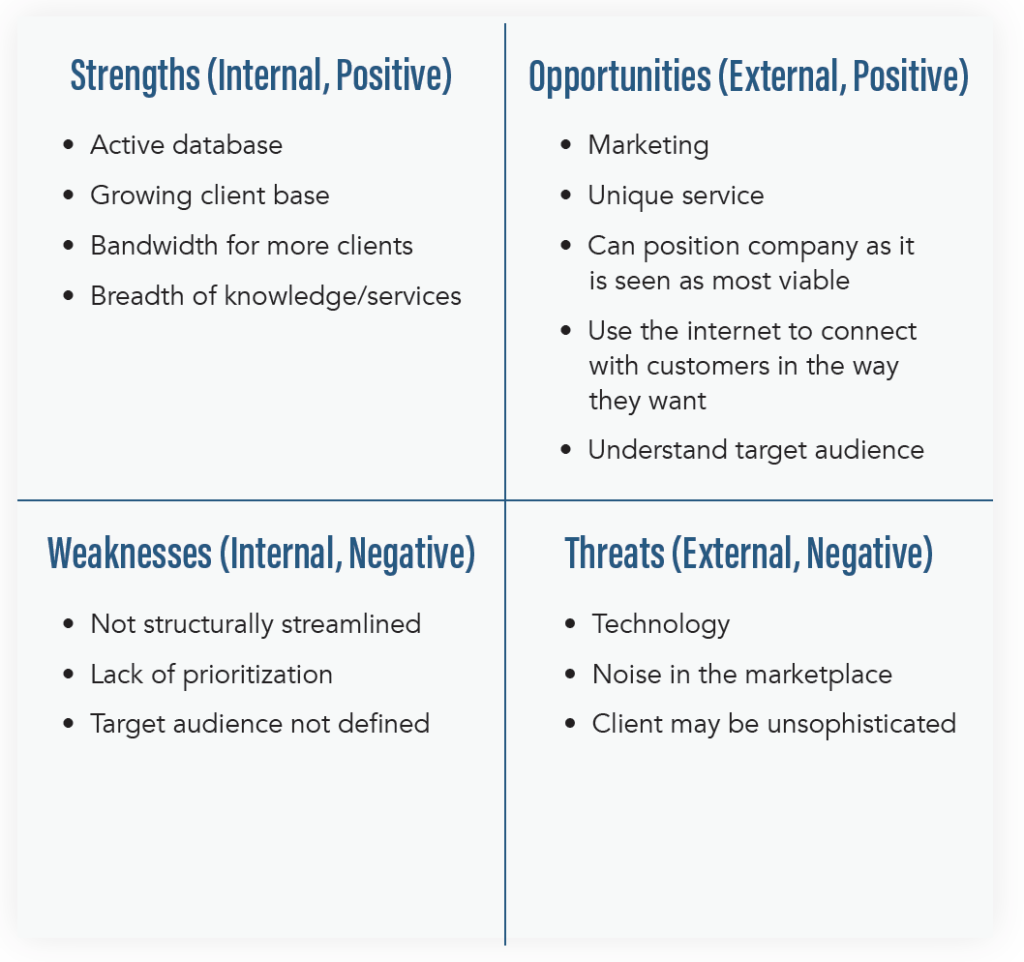 Once the team established a SWOT, it was then converted into actionable strategies with a TOWS analysis.
TOWS Analysis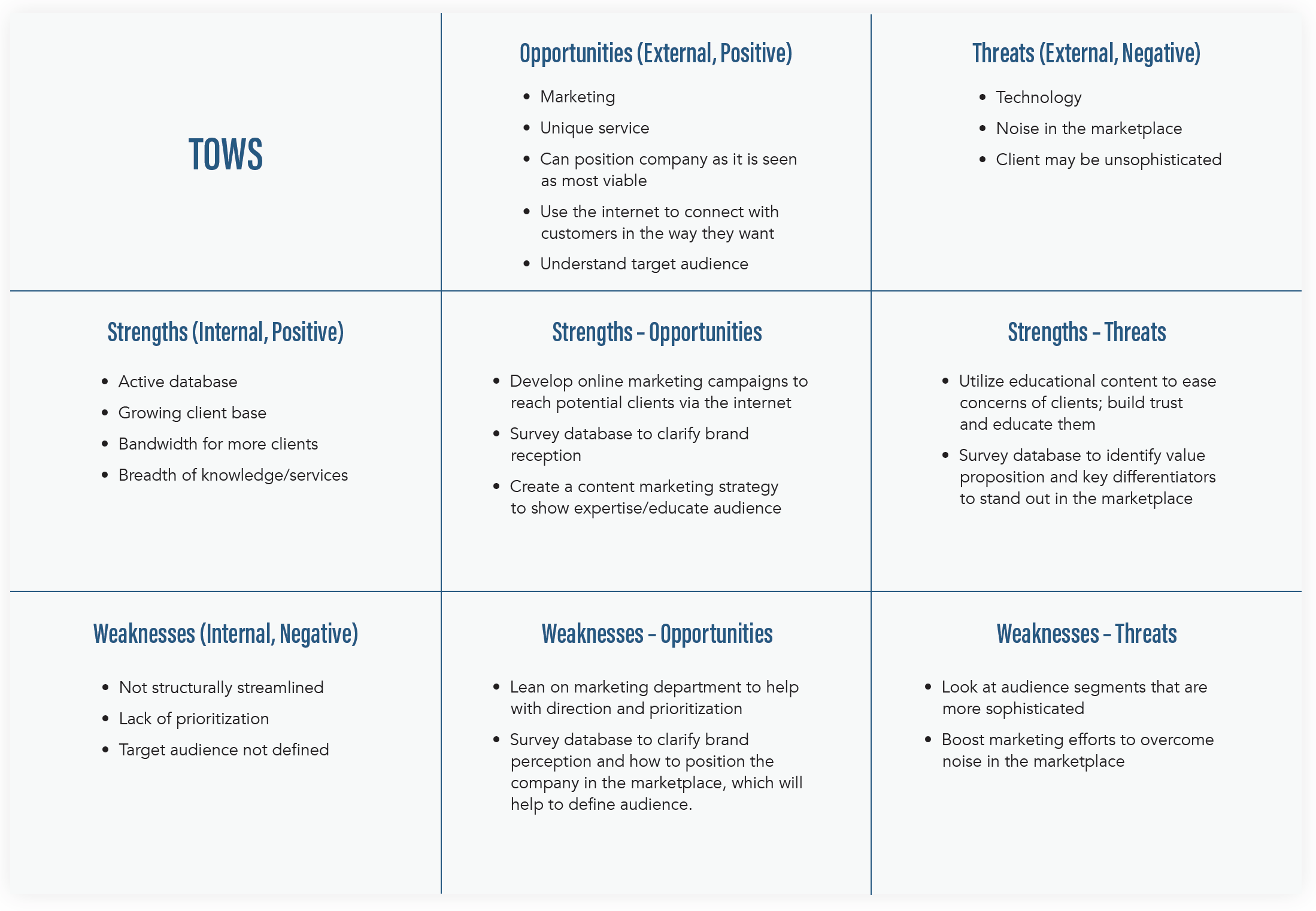 Results
Big Buzz took the strengths, weaknesses, opportunities and threats identified by the Avitus Dental leadership team and converted them into actionable marketing strategies as part of a robust 12-month marketing plan. The marketing plan included a social media strategy, review strategy, and content marketing strategy, among others. This work is helping the company to reach more members of the target audience and engage them with educational, relevant content while positioning Avitus Dental as a thought leader in the industries of virtual billing, dental consulting and practice management education. Since working with Big Buzz, Avitus Dental has exceeded its monthly goal for acquiring new clients.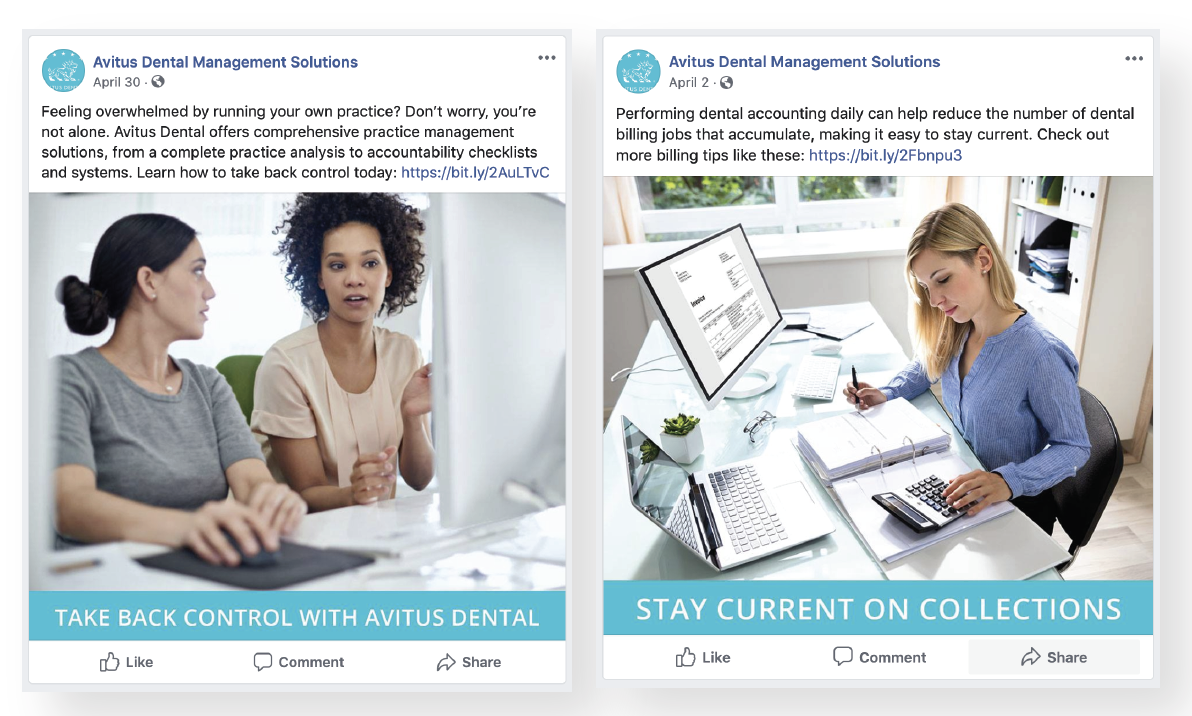 "This [strategy from Big Buzz] is so helpful that I'm speechless."

– Kim McCleskey, Director, Avitus Dental

Big Buzz offers healthcare organizations result-driven marketing that moves quickly and easily to market, all with top-notch customer service. We are relentless about our commitment to agility so that we can help each client organization attract its ideal patients or clients and become more readily productive, profitable and successful. For a complimentary initial marketing strategy session with our experts, visit www.bigbuzzinc.com/contact-us.
Your More Interesting Inbox Awaits
Join 10,000+ other healthcare professionals who get access to our weekly marketing tips, case studies, survey data and more!
Sign Up For The Latest In Healthcare Insights Delivered Straight To Your Inbox!