Effective leadership these days is a feat that takes incredible self-awareness, an understanding of world events and a balanced amount of faith that everything will work out in the end. In that spirit, I have developed a series of 10 blogs that I hope capture more of the clarity than the chaos of these times for us leaders in business. Indeed, with fortitude we can see clearly the path ahead. I hope this helps. Here's the sixth of 10:
I have long said there are only two self-help books one ever really needs: one to help make money, and the other to help do great business.
I once read 25 wealth and business books in one year. It was mundane. Spanning my career, I have read hundreds. They are all the same. These two are key:
The Law of Success by Napoleon Hill. Yes, it was written in 1925. Yes, it's more than 700 pages long. And yes, it's more than worth it: it draws upon interviews with over 100 American millionaires, including Henry Ford, J.P. Morgan, John D. Rockefeller, Alexander Graham Bell and Thomas Edison. A modern-day version would include insights from a more diverse set of millionaires.
7 Habits of Highly Effective People. Yes, it first came out in the 80's. And, in the words of Franklin-Covey, it "continues to be a best seller for the simple reason that it ignores trends and pop psychology and focuses on timeless principles of fairness, integrity, honesty, and human dignity."
Indeed, the fundamental principles in both texts are both timeless and transformational. And like with any good principles, the reader always has opportunities to grow and make progress with them.
Same goes for conversations. I have had my fair share of conversations about how to make more money and do business smarter, and here's how I know I'm having the right conversation:
The person I am speaking with is asking me open-ended questions and listening to me.
We are discussing high-level vision, ideas and strategies, or "thinking big" together.
I have at least one light-bulb moment, or new insight.
I feel I am collaborating with a peer.
I'm left wanting more.
And here's how I know I'm having the wrong conversation:
The person I am speaking with is pushing their agenda.
We are discussing projects, tactics or to-dos, or "thinking small".
I'm thinking, "Right, I already knew that."
I feel this person is not on the same level with me.
I'm eager to get off the phone/out of the meeting.
What type of conversation is your current marketing firm having with you?
If you would like an honest conversation about what's working and what's not in your current marketing strategy, I am willing to do that for you for free. You can call or text me at 303-284-4414 or send me an email at wendy@bigbuzzinc.com.
– Wendy O'Donovan Phillips, CEO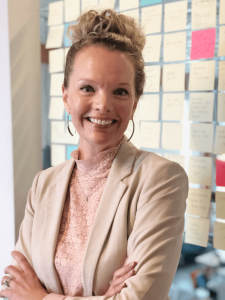 Start with a complimentary 15-minute call with me.
Text 'CEO Insights' now to 303-284-4414.
Your Enhanced Inbox Awaits
Join the 13,000+ healthcare professionals who already receive our weekly marketing tips, case studies, survey data and more!
Sign Up For The Latest In Healthcare Insights Delivered Straight To Your Inbox!