Effective leadership these days is a feat that takes incredible self-awareness, an understanding of world events and a balanced amount of faith that everything will work out in the end. In that spirit, I have developed a series of 10 blogs that I hope capture more of the clarity than the chaos of these times for us leaders in business. Indeed, with fortitude we can see clearly the path ahead. I hope this helps. Here's the last blog in the 10 part series:
Believe it or not, now may very well be your time to out run your competitors at last. They will be lost in the chaos of today: slashing marketing budgets, staying the course on marketing plans that won't work now, turning a blind eye to marketing solutions that no longer serve them.
You will rise above your competitors when you look long, even in the midst of a global crisis.
Here are a few simple steps to getting visionary again:
1. Begin with the end in mind and consider these questions:
When you are ready to transition away from your current position, what will it look like?
What will you have learned? What were the big aha moments?
What will your team have learned?
What will you have enjoyed most?
What will your team have enjoyed most?
How will your organization have changed lives?
What are you great at?
What is important to you in your personal life that you want your legacy to reflect?
2. Based upon your notes on the exercise above, write down three possible vision statements. A vision statement serves as your road map setting a distinct direction for growth. You might develop an organizational vision statement or a team vision statement that dovetails with the existing organizational vision statement. Your vision statement options should be short, simple and look far into the future. Examples include:
1. "To be the best place for care anywhere and the best place to work in healthcare." – Cleveland Clinic
2. "A world of difference makers." – Senior Star
3. "A world without Alzheimer's and all other dementia.™" – Alzheimer's Association
4. "To create stunning smiles, instill life-long confidence and start ripple effects of positivity." – Orthoroks Orthodontics
3. Work together with your marketing leadership team to agree on the winning vision statement for your organization or team.
4. Relentlessly share the vision with the whole team, at least once weekly, in written and verbal communications. Watch how it becomes the litmus test for all marketing activities. If it will readily help you reach your vision, act upon it. If not, scratch it.
Vision work is best guided by an objective and expert third party. I am willing to do that for you for free. To get scheduled, call or text me at 303-284-4414 or send me an email at wendy@bigbuzzinc.com. Get what you need today to rise up, look long and get back on track.
– Wendy O'Donovan Phillips, CEO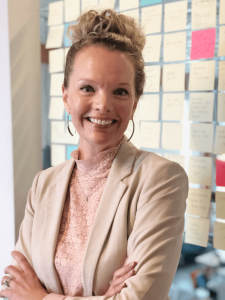 Big Buzz is an agency delivering focused marketing efforts for executives and teams nationwide. CEO Wendy O'Donovan Phillips is the author of two books available on Amazon, has been published in many healthcare journals and has been quoted in Forbes, The Washington Post, ABC News and Chicago Tribune. She regularly lectures for healthcare organizations and associations in front of audiences ranging from 25 to 5,000 attendees. Agency awards and accolades include recognition for excellence by the American Marketing Association, Best Advertising Agency and Best Web Developer in Denver by Expertise, and Top Advertising and Marketing Agency by Clutch. www.bigbuzzinc.com
Start with a complimentary 15-minute call with me.
Text 'CEO Insights' now to 303-284-4414.