What is Nextdoor?
Nextdoor is a private social networking program specifically designed to leverage the wealth of knowledge that exists in a local community to improve the lives of neighbors.
Some of the reasons local neighborhoods and communities use the Nextdoor app is to:
Quickly inform others of a safety concern or break in
Organize groups and activities within the local community
Find a family dentist that other neighbors trust
Find out who the best handyman in town is
Ask for help keeping an eye out for a lost dog
Selling your old lawn mower
Finally, call that nice man down the street with the community garden by his first name
The Nextdoor app offers a wide range of benefits for you, your neighbors and your community and it's completely free to use.
Here are some 2018 statistics for Nextdoor: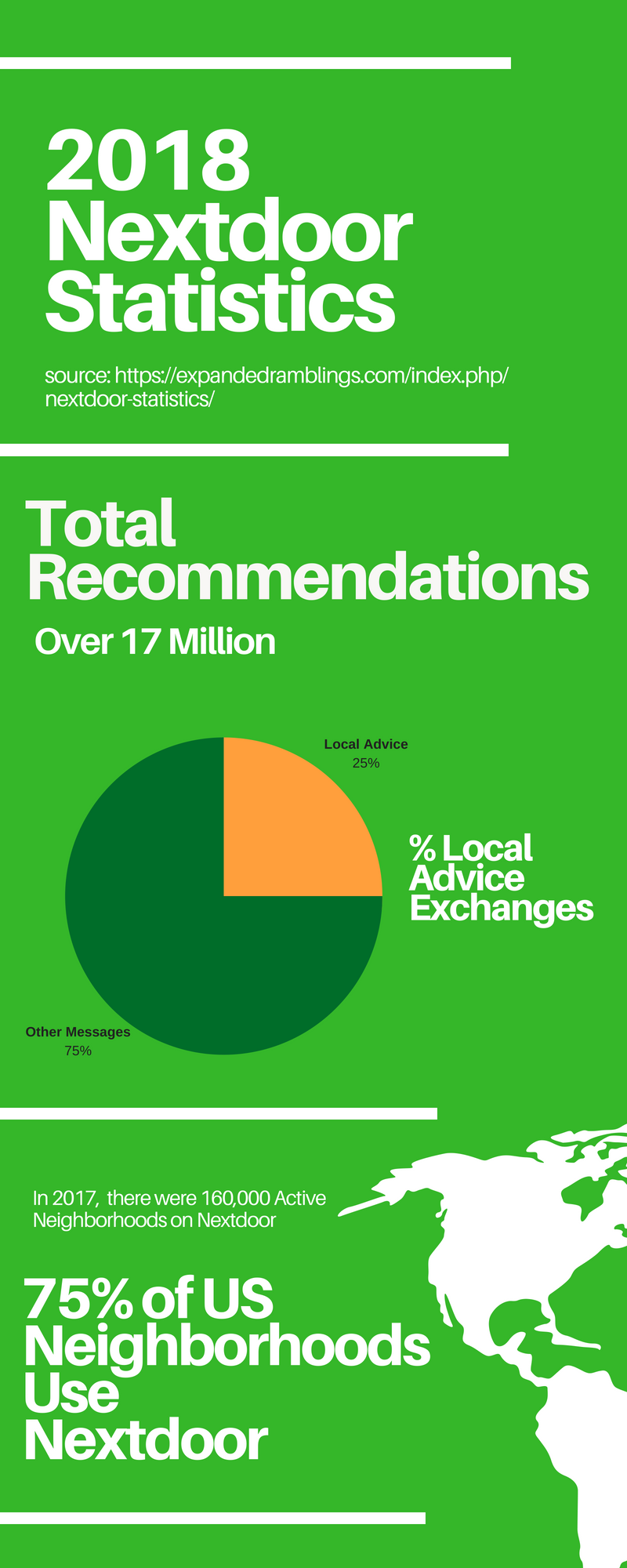 Share this Image On Your Site
Please include attribution to www.bigbuzzinc.com with this graphic.
How Can I Use Nextdoor For My Medical Practice?
On Nextdoor, local neighbors can post suggestions or recommendations to a message board in their community and get feedback from other individuals in their local area.  A business account on Nextdoor turns previous or current happy customers into trusted referrers for your business.
How Do I Set Up A Business Account on Nextdoor?
Step 1: Create your account
Setting up a business listing on Nextdoor is easy.  Simply navigate to the business page setup and select the business option seen below.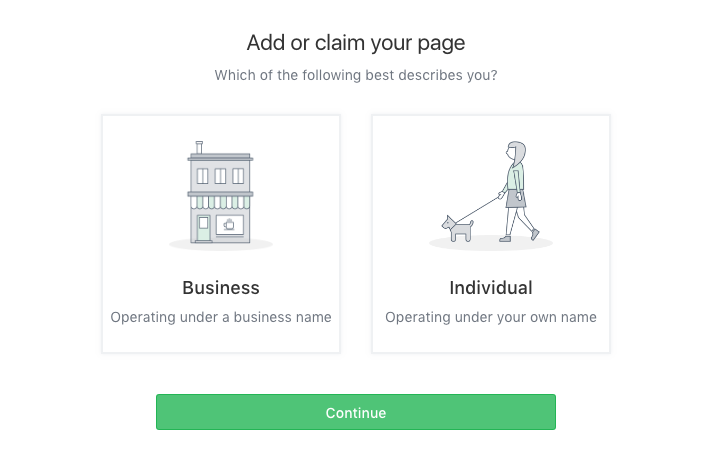 From there, search for your business listing by entering the name of your business and the city, state or zip code. If you see your business listing appear, claim it by clicking on the claim button. If you do not see your business, you can set up a new listing from scratch at the bottom of the results page; again, very simple to do.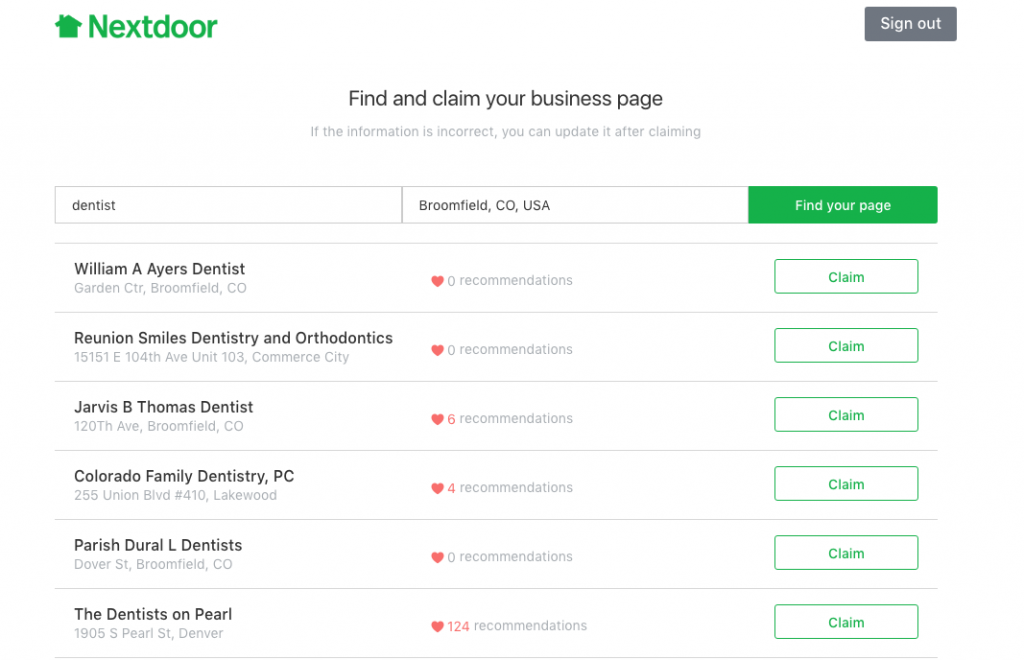 Whether you have a business listing or not, you will still have to either log into your personal Nextdoor account or fill out the name, email address and password to create a new Nextdoor account. If you use your personal account you can switch between business and personal accounts via the picture in the top right area of the screen.
Step 2: Confirm Your Listing
Once you confirm your listing, you will be prompted with a confirmation number. Nextdoor will send an automated call to the business phone number.  Simply enter in the confirmation number to verify the account and continue on to setting up your business profile.
Step 3: Add Your Business Information
Similar to a business page on Facebook or Twitter, you will only have to enter your information once and requires just a few items about your business.  The first item is your business logo. A 512 x 512 square fits perfectly. The next area is your message. It is important for those visiting your page that you avoid using sales language. Just be warm, honest and welcoming.
Be sure to enter in all the information requested so that potential customers can reach out to you via their preferred method of contact. You can see in the picture below the information requested when creating your Nextdoor business listing. All of this information will be viewable to a potential customer or existing customer for the purpose of recommendations and/or contact information.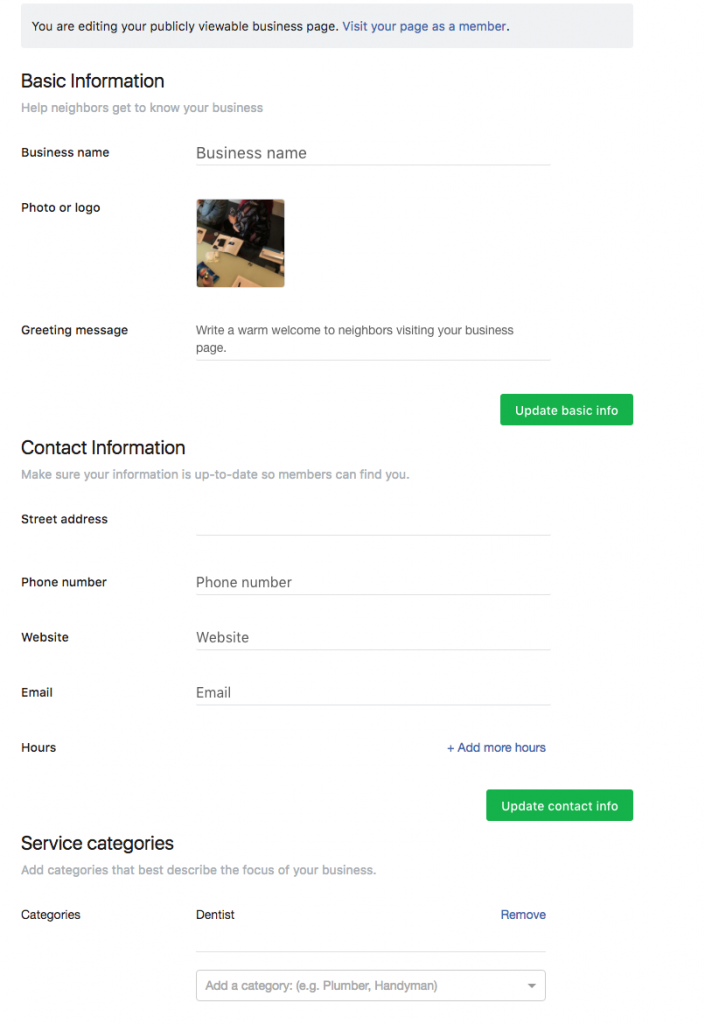 Congratulations! You are all set with your Nextdoor local business account. Next, we'll discuss how to manage your Nextdoor business account to boost local awareness.
How Do I Manage My Business Account on Nextdoor?
Getting Started With Recommendations
Your business dashboard will provide you with a few insights on how to effectively manage your business listing. The first option is your reputation. This is an overview of all recommendations tagged associated with your company page. This includes total recommendations, neighborhood reach, and individuals reached within those neighborhoods. The reputation page also provides you with a few links to push awareness outside of Nextdoor. Since you will most likely be starting with little or no recommendations, you will need to put in a little work at the start to get the ball rolling.
To start, reach out to previous happy customers or existing customers to see if they would mind taking a few moments to recommend you on Nextdoor. You can use our free email template for getting more recommendations. Use the buttons listed under "To be seen in neighborhoods, share your page to get recommendations" section under your recommendations information.
Once your business profile is complete, post from your individual accounts to your local communities informing them that your business is open and that you want to post information that only benefits the local community. You can use our free initial post template for getting more recommendations,
Respond to Comments and Direct Messages
Nextdoor provides an easy place to monitor comments and respond to those who recommend your business. Simply go to the Neighborhood comments section in your dashboard to view a list of all the individuals who have made a recommendation for your business. The comments will have information about the user who recommended you including the location, their first and last name and their message. You will see something similar to the comment listed here.

Take this opportunity to respond with a kind message thanking the individual for recommending your business. Individuals will sometimes send direct messages that will appear in your inbox. Again, be sure to respond in a kind and timely manner.
That's it! You're all set with your local business listing on Nextdoor. For additional information, Nextdoor provides a help page including graphics, walk-throughs and tips on how to increase your exposure on Nextdoor.
Conclusion
Nextdoor is a great place to get recommendations for your local healthcare business. The more you get the word out about your business, the more referrals you will get. To ensure that you are maximizing your online exposure, take advantage of our FREE ASSESSMENT AND REPORT.
Your More Interesting Inbox Awaits
Join 10,000+ other healthcare professionals who get access to our weekly marketing tips, case studies, survey data and more!
Sign Up For The Latest In Healthcare Insights Delivered Straight To Your Inbox!