by Wendy O'Donovan Phillips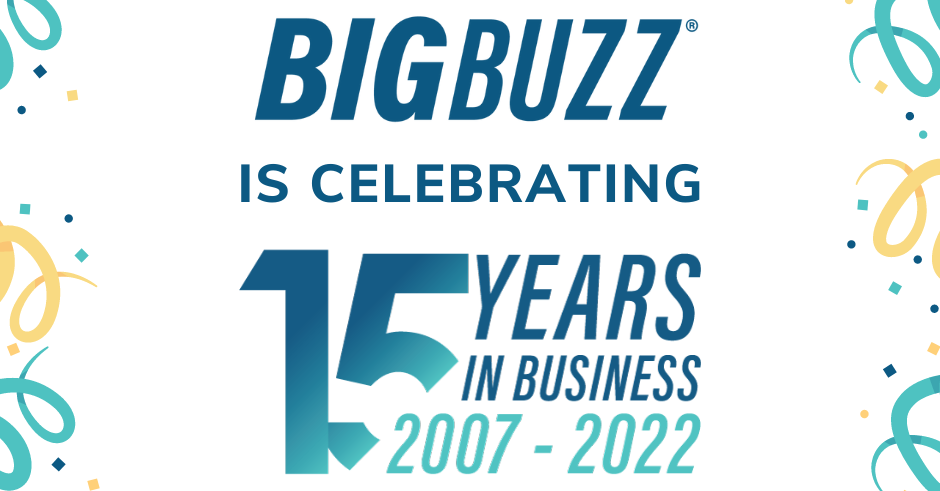 In celebration of Big Buzz's 15th birthday, CEO Wendy O'Donovan Phillips shares the top 15 biggest lessons she has learned in business over the years.
Honor thy team
From the very start, I made taking care of my team my number one priority. Together, we have walked over coals, climbed mountains and we have done a very good job of taking care of each other through it all. As a direct result, they care for my company and those we serve as much as I do. One of the things we love the most is teaching our clients to build and maintain a strong team as we do.
The key to all of it is communication!
Cultivate a beginner's mind
Over the years, I have read hundreds of business books and I've been active in the rooms of recovery for many years to ensure I am my best self as a leader. I regularly work with a business coach, and often have my team involved in receiving professional coaching. Most importantly, I have learned to listen to my intuition, trust my gut and to have faith.
We do our best work with clients who are equally open and willing to learn. Y'all know who you are.
Growth and scaling are equally important
There was a time in my career when I thought scaling was more fun or glamorous than growth. Fact is, a long-term scaling plan and the everyday growth plan are equally important. My favorite clients are the ones who have aligned their whole team on monitoring and accelerating both areas.
It's incredible to witness what they achieve together.
The right investors have shared values
Like many of the senior care organizations we serve, Big Buzz has raised investor capital to scale. Maybe I watched too many episodes of Shark Tank, but at first, the proposition of taking on investors petrified me. My dear friend Alicia Marie, of People Biz, Inc., reminded me that I could turn down any investor that didn't share my values. Today, we are supported by just the right investors who truly believe in the Big Buzz vision and values. I wish the same for you all.
An aligned leadership team can accomplish everything
Big Buzz has healthy and smart systems to operate at maximum effectiveness while gaining traction to achieve our desired future. Our leadership team has a 90-minute meeting each week to identify, discuss and solve all issues. This alignment allows us to quickly resolve challenges and realize goals. We have consulted with many senior living organizations to impart these approaches. A happy, productive team makes life better for those in their service.
Tight positioning is the first key to true differentiation
Over the years, we have worked with many organizations that had been falling into the sea of sameness before coming to us. The great delight of my career is bringing the voices of happy residents and family members into the branding and marketing conversation for truly differentiating messaging. I've even had a couple of different CEOs cry tears of joy upon the reveal of their organizations' data-driven messaging.
True differentiation is a refreshing change for the audience
Often when we share our approach with a newer client, they grow concerned that papering the world with their same unique message over and over will bore their potential residents and families. On the contrary, people need to see the same message ten times before they even notice it. Only data-driven messaging unique to that organization rises above the rest and truly piques folks' interest.
Attraction first, then invitation. Never promotion
People take action when we ask them to take action, and I've learned that the best call to action in senior care marketing is an invitation, not a promotion. We have data from senior care providers all over the nation that shows inviting folks to "an initial conversation in which you can get clarity on your current situation and suggestions on how you can immediately improve daily life" is one of the best ways to inspire connection and eventually move-in. Sure beats, "Schedule a tour now!"
Marketing is about people, not analytics
One of the things I am proudest of is that Big Buzz puts the people back into marketing. Algorithms, analytics and occupancy rates sapped the human aspect right out of senior care. We see a world where one-to-one connections between people working and living in your communities are what keep employee satisfaction, customer satisfaction and census high.
A cadence of accountability is key to traction
There is such power in getting the right people into one room, asking the right questions, openly exploring possible solutions then deciding on a path forward together. We do this quarterly with our clients, and we have watched them exceed big important goals, reach once-far-off objectives, take action on the right strategies and propel their organizations forward as they envision. Good stuff.
Creative folks' voices can be softer yet deeply influential
When aligning teams on marketing direction and processes, the loudest voices tend to be the executives. The quietest are often the creative folks: the writers, ad developers and designers. Creatives mull over ideas, carefully craft contributions and – when they pipe up at last – are often the ones to deliver the groundbreaking clarity everyone has been seeking. Listen carefully.
Service before self-interest
Every morning I pray for guidance of my thoughts, words and actions. I ask that I might put aside selfish needs and be of service to all with whom I come into contact. When I train client sales teams, I challenge them to approach each conversation with a spirit of service. In my experience, this approach results in a more fulfilling and fruitful exchange. Every time.
The clarity break is the in-office shower
The best ideas emerge in the shower. How to recreate that in the office? The clarity break. Whether it's a hike by the creek behind my neighborhood, 15 minutes of sitting meditation or a morning on my paddleboard, some of my best work and ideas happen away from my desk with a clear mind. I encourage you to take a short break today and do nothing. Just see what ignites in your mind!
"Change Your Thoughts with T-BEAR."
Our thoughts create our realities. At least, that's the short story. One of Big Buzz's favorite coaches, Julia Pimsleur, expanded it: "Change your thoughts to get new results. Thoughts become Beliefs with Emotions attached to them, which leads to Actions (or lack of) which produces Results (T-BEAR)." When faced with challenges, this fun acronym helps our team slow down, recalibrate our thoughts, realign with our values and continue to produce great results. Perhaps it will be useful to you, too.
Nothing is more important than family
I said it when Big Buzz turned 10, and I'll say it again now: I have never worked more than 50 hours per week at Big Buzz, and I very rarely worked more than 40. I saw my daughter take her first steps, listened as she said her first word and remain present as she needs extra guidance as a teen these days. I take at least three family trips every year. I enjoy fabulous dates with my husband. Big Buzz is woman owned, women led and does what's right for women. Including me. For that I am grateful.
Thank you to everyone who made this birthday possible for Big Buzz. It's an honor and privilege to serve all y'all amazing, crazy folks in the senior care industry. Here's to you!
Yes, I want a complimentary strategy session with a Big Buzz nurture marketing expert today so I can get:
✅ Clarity on the root causes of current lead issues we face
✅ Research and industry intel that will help eradicate lead issues for good
✅ A clearer vision for reaching the organization's desired state this year, 3 years and 5 years from now
✅ A free initial nurture marketing plan to invite warm leads to move in now
Big Buzz is a marketing agency delivering a steady stream of move-in-ready leads to teams serving the senior living industry. For more than 15 years, Big Buzz has helped senior living marketing and sales teams nurture leads to increase occupancy, grow and scale. CEO Wendy O'Donovan Phillips is the author of the book Flourish!: The Method Used by Aging Services Organizations for the Ultimate Marketing Results, has been published in McKnight's, has been a regular contributor to Forbes, and has been quoted in The Washington Post, ABC News and Chicago Tribune. The Big Buzz leadership team regularly lectures in front of audiences ranging from 25 to 3,000 attendees, including at Argentum and various LeadingAge chapters. Agency awards and accolades include recognition for excellence by the American Marketing Association, Gold Key Award Winner by the Business Marketing Association, HubSpot Academy Inbound Marketing Certification, and Top Advertising and Marketing Agency by Clutch.
by Wendy O'Donovan Phillips
Share
Join the 13,000+ care professionals who read our weekly insights.
Get actionable learnings to apply now to attract warmer leads.