[vc_row][vc_column][vc_column_text]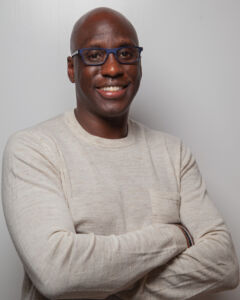 Big Buzz had the privilege of talking with Kaakpema Yelpaala, founder of international patient engagement company
access.mobile
, to learn more about his mission and how the company was created.
Tell us a little bit about who you are and how access.mobile came to be.
My name is Kaakpema Yelpaala, although I go by KP. Both my parents are from Ghana, and I was born here in the US, making me a first-generation American. I had always been passionate about healthcare growing up, and particularly about ensuring people without access to care are able to receive quality health services. My entire extended family lives in Ghana and growing up I had exposure to relatives getting sick and dying from preventable or treatable conditions because access to basic care wasn't always available.
Fast forward to early in my career, I trained in public health at Yale and was one of the early employees of President Clinton's foundation working on HIV/AIDS treatment access in several African countries. I also founded a nonprofit organization that worked on rural health access in Ghana and Tanzania as an undergraduate student, which had a small office in Accra, the capital of Ghana. For several years in the early 2000s, I lived in both West and East Africa working on decreasing various barriers to care and increases to health access. When I was living on the continent, I found that no matter which African city I was working in, people had access to a mobile phone, even in the most rural areas. That seeded an idea for me – how could I use mobile devices to improve access to health information and services? That was the genesis of access.mobile, which I founded in 2011.
You've been in the healthcare industry for a long time and have seen the evolution of many trends. Did the rise of smartphones give way to the idea for access.mobile?
No. Our mission is to increase access and as such, we aim for our solution to be accessible and easy for everyone. Our solution can be used on feature phones or smartphones. That was important when we started in East Africa and remains essential today to enable us to reach traditionally underserved populations and leverage preferred mobile channels.
In 2011, when I started access.mobile, there was a proliferation of smartphones in the US and the field was excited about app-based innovations. At the same time, in African countries, there was not as much digital infrastructure and smartphone penetration was low while feature phone penetration was high. In most parts of Sub-Saharan Africa, there was the opportunity to leapfrog from analog to digital with mobile devices.
In the US, nowadays there is app fatigue. Texting remains the most used feature on smartphones and we live in a "notification-based culture." The question now becomes: how do we get people the right info at the right time via a preferred channel and connect them to the services they need?
What does "multicultural" mean to you in the US, in comparison to the global market?
Our company is truly cross-cultural, working with diverse populations globally. The trajectory of the company echoes many populations in the US with origins or ties to other countries and cultures. But the US isn't alone with a diverse and multicultural population. No matter where you work globally, populations are diverse. When we talk about cultural awareness, it isn't just about the language, but ways to connect to people that they'll relate to, understand and trust. That holds in the US and the global context.
Building a company and a solution to meet the needs of populations across the world while being well-suited for the essential differences of those within the same neighborhood meant developing an adaptable solution. We work against implicit bias in the technology, approach and communication. As such, the messaging strategy and content can change based upon what we learn from how people react to messages. We continually leverage our cross-cultural expertise and experience to develop our technology and our services.
What is the biggest deterrent for general messaging? If you take three disparate cultures and send them the same messaging, what's not resonating with one that may resonate with the other?
If content isn't personalized it's less likely that someone will engage. Creating different messages requires a bit more sophistication than just sending everyone the same content, even to those who identify within the same culture. Language and vernacular are important, but it goes beyond that to adapting to people's preferences and behavioral profiles. With our knowledge and experience, we then adapt these learnings into scalable technology.
How do privacy laws and regulations play into the work that access.mobile is doing?
We comply with HIPAA and TCPA in the U.S., and POPIA in South Africa. Each jurisdiction has its own regulatory frameworks, and these are each evolving, especially recently in the context of the public health emergency of COVID-19. While the specifics vary in each location (even California is also governed by the California Consumer Protection Act, which is the state version of TCPA), many of the tenets remain. As mentioned before, our solution readily adapts, and this allows us to localize. We also have a great global counsel and local partners in each market, and we have all become regulatory experts in our own right.
How do you see the use of mobile devices for healthcare evolving in the future? What is the best-case scenario for what we can anticipate even 20 years down the line?
In the US, connecting with people that are outside of the clinical setting (also known as remote connection) is key, and the importance is growing in the context of COVID-19. It is critical to work with people along their health journey, not simply episodically at their point of care, but beyond – linking them to information, resources and services they need at the right time.
While there's a great focus on telehealth visits, the connection to people before and after those consultations remains a challenge for many health organizations, similar to the way they interact in a brick-and-mortar scenario. I think mobile health will evolve, in step with value-based care models, to provide ongoing personalized support and communication pathways.
For those traditionally underserved by technology as well as healthcare, it is essential to keep in mind the digital divide. Discussions are often centered around those that already have access to healthcare, telehealth and many other digital health innovations. But what about all those people that already struggled to obtain health care? For those with barriers to care, or without a primary care provider, or who don't
trust
healthcare institutions, what will happen when health moves more digital? Innovations need to consider these populations. What innovations reduce health equity? I believe communicating regularly in a familiar and accessible way can help build trust and a bridge to increase access to services and health information.
access.mobile is on a mission to improve health access and outcomes. The company believes mobile engagement can solve access challenges globally and drive health outcomes and have been working since 2011 to enable health providers, payers, and systems to easily and effectively engage and support patients. For details, visit
https://www.accessmobile.io/about-us
[/vc_column_text][/vc_column][/vc_row]
by Melinda Gisbert, M.S
Share
Join the 13,000+ care professionals who read our weekly insights.
Get actionable learnings to apply now to attract warmer leads.