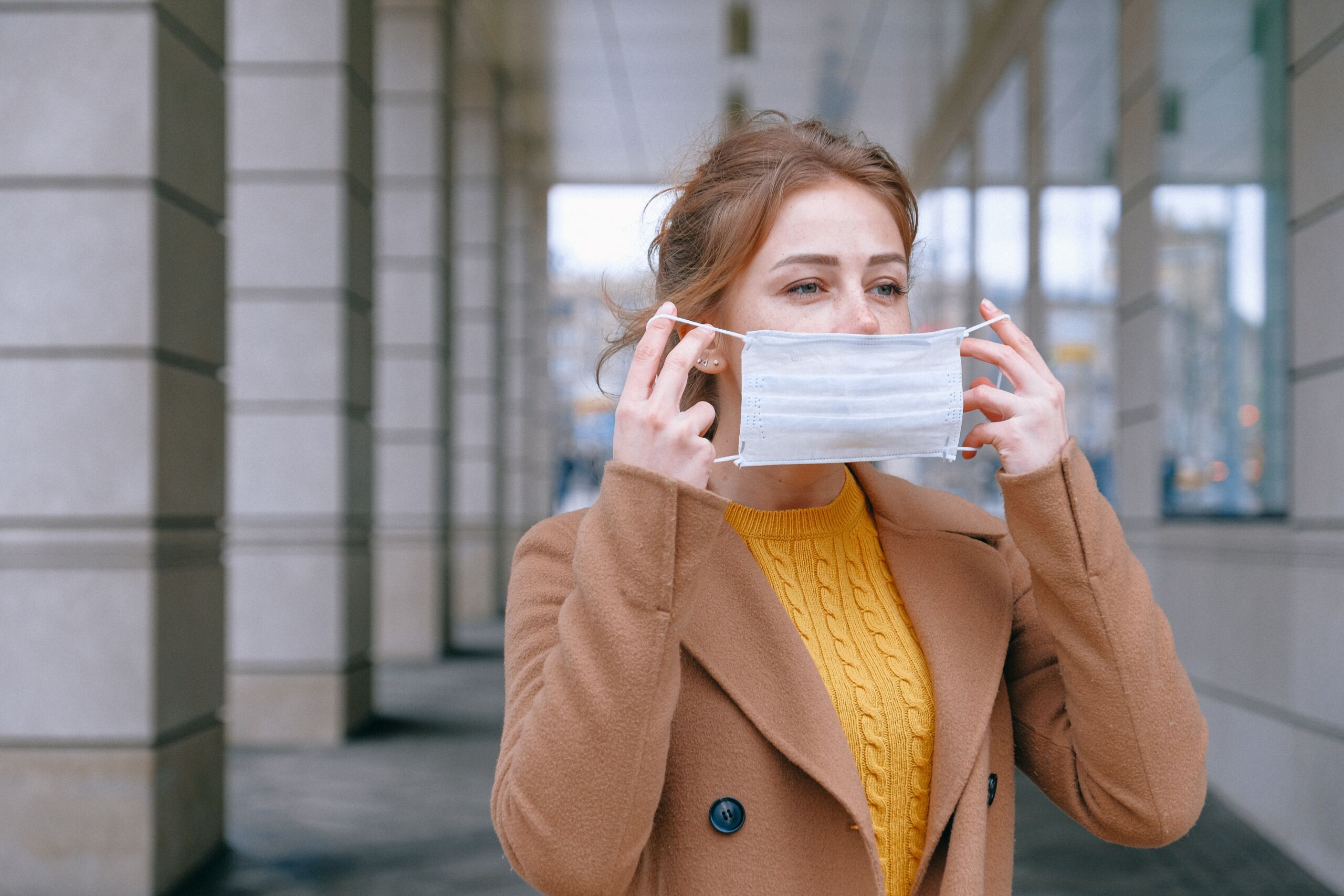 During the last few months, you have likely had an inbox full of very similar emails from every brand under the sun – and while this language (think "uncertain times," "we're all in this together," etc.) comes from a good place, it can become so formulaic that it loses meaning, becoming simply noise. This poses an issue since one of the cornerstones of marketing is rising above the noise. As evidenced by this deluge of echoed platitudes, it can be difficult for even the most prominent marketing teams to find the right words to suit a global event such as the COVID-19 pandemic.
Where to start?
First, use voice-of-the-customer data to rise above COVID clichés
"As the COVID-19 pandemic wreaks havoc on our health and economies, businesses, governments and not-for-profits are struggling to keep pace with circumstances that are changing day-to-day, if not hour-to-hour. While organizations try to find their operational and financial footings, many activities are being put on hold. Decision-makers are struggling with the question – should we be doing any market research now, when our customers, partners and stakeholders are likewise trying to adapt?"[1]
–  Michael Dolenko, partner at Phase 5
Short answer: yes. Even when business norms are in flux, it's important to stay focused on the needs of the audiences you serve. Keeping your finger on the pulse of these needs allows your organization to identify which products and services to offer and promote. More importantly, that data can help you confidently readjust and pivot. Competitors who wait for the dust to settle will instead spend their time offering platitudes via email that provide little real value to consumers.
One of the best ways to determine these market needs is by collecting voice-of-the-customer data. When you ask your target audience what matters most to them now, you gain the power to tailor your messaging to meet them where they are. Not only will this relevant messaging create more engagement between you and the reader, but it will also strengthen your brand in their eyes to help reinforce and prolong their relationship with your organization far beyond this crisis and into better times.
One of the best ways to gather this data is to employ programmatic surveys, which can easily and quickly put you in front of those you wish to survey. While you will need to craft unique questions to suit your particular industry, here are a few ideas for questions you might ask:
How have the effects of COVID-19 affected your spending habits?
When do you think this crisis will end?
How long do you think the current or impending economic downturn will last?
What is your greatest business concern?
What is your greatest personal concern?
What would make you feel safe visiting our office/practice/community?
How likely would you be to invest in [a particular] software/technology now?
These types of open-ended questions will help you collect a trove of data that is based on the words of the consumers themselves. We also recommend asking questions using a Likert scale.
For example, "How likely are you to have time to visit the doctor in 2020?"
Very likely
Somewhat likely
Unlikely
Very unlikely
This data will undoubtedly earn you a leg up over competitors who are stuck in the echo chamber of recycled phrases and unaware of their target audiences' behavior, needs and perceptions.
You can also use tools such as keyword tracking sites or Google Trends to learn the words or phrases people are searching for, which can help enhance your content and messaging to be useful and more easily found by those seeking out the services you provide. On the flip side, tools like BuzzSumo can show you competitors' content and social posts and Moat can provide examples of their campaigns.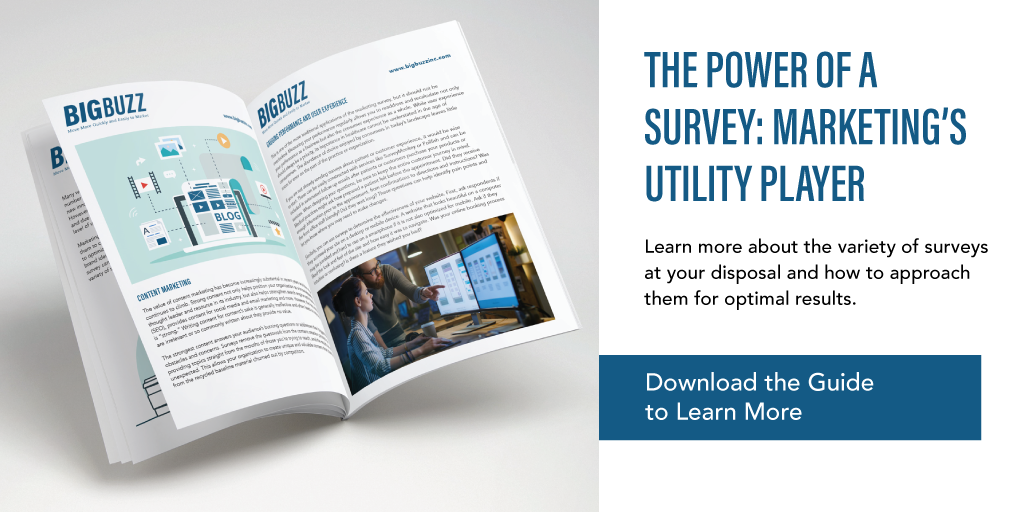 Next, realign mission, vision, values and brand messaging as needed
"Now is the ideal time for [healthcare] professionals to think about what they want to accomplish, to rediscover and redesign their strategies. For a … team to consistently love the practice and drive the positive patient experience that leads to increased business, there needs to be a common understanding of what is done and why it's done. That's why a mission statement and a vision statement are so essential."[2]
– Ricardo Mitrani, Spear Education 
Once you conduct survey-based market research to identify the needs of your consumers and how you might retool and reassess your offerings to provide the most value, you may see clearly it's time for an update to the mission, vision and values.
In April, we re-evaluated our vision statement, which read, "To help people create marketing, careers and lives they never dreamed possible," and seemed hyperbolic at best in this new climate. We adjusted it to read, "To help people create focused communications to overcome any obstacle," which we honestly believe we can do for the folks in our industries. This pivot helped us to renew our sense of purpose in all this madness, and makes clear to our clients, prospects and target audience that we have their best interest in mind and can help them through this.
If you ultimately do decide, based upon data gathered, to veer into offerings that are not the norm for your organization, reflect this change in your core messaging. This helps create consistency throughout all future messaging and helps keep your team focused on your organization's new normal.
Remember, while the pandemic might have been the catalyst, it does not need to be the focal point. Stick to brand.
Finally, reassess your content marketing strategy
"How much can we (or should we) deviate from our pre-COVID content marketing plans?
While the answer to this question can be tough, the best way to go about it is by following what we call the estimation and elimination strategy. Essentially, you lay down your pre-COVID plan and estimate what you'd need to invest, create, and do given the current scheme of things. Next, you eliminate anything that doesn't align with your business goals. If you have a brand that targets an audience that is suffering, you will likely need to invest some of your content budget in addressing their current needs, no matter how painful it might be to spend time re-working your strategy."[3]
– Prateek Keshari, SFGate
If you have adjusted your core messaging, it is likely that you will need to restructure your content marketing strategy.
Map out your content plan in advance, whether it's monthly or bimonthly. A thorough brainstorm based on the desires, needs and fears of your target persona can help you map out content for up to up to a year. (Target persona runs deeper than the target audience. For example, see #7 Content Marketing Strategy here.) If the topics slated for pre-March don't seem relevant for the times, consider adjusting them to be more reflective of the current situation or table them altogether. Brainstorm new topics that are relevant now. To make this unique to your readership, this is a great time to consult the data you compiled from the surveys and market research described earlier in this article. This heightens the relevancy of your content to those you serve. It will also help to strengthen your website's SEO, helping it climb rankings as more users search for answers to the burning questions on their minds.
It's important to note that under the current circumstances, it's impossible to predict what will be relevant to your audience in six months, so if you have constructed an editorial calendar reaching far into the future, put a hold on it. During a crisis like this, we recommend mapping out content quarterly and conducting new research every three months prior to creating the next batch of topics. This way, you can write hyper-specified content that remains relevant and of value.
We would love to better understand the burning questions on your mind. Share in the comments below or text Big Buzz CEO Wendy O'Donovan Phillips at 303-284-4414.

[1]
https://www.insightsassociation.org/article/covid-19-business-impact-time-market-research
[2]
https://www.speareducation.com/spear-review/2020/04/rewriting-mission-and-vision-statements-for-growth
[3]
https://marketing.sfgate.com/blog/content-marketing-during-covid-19-how-to-shift-your-strategy
Join the 13,000+ care professionals who read our weekly insights.
Get actionable learnings to apply now to attract warmer leads.