by Wendy O'Donovan Phillips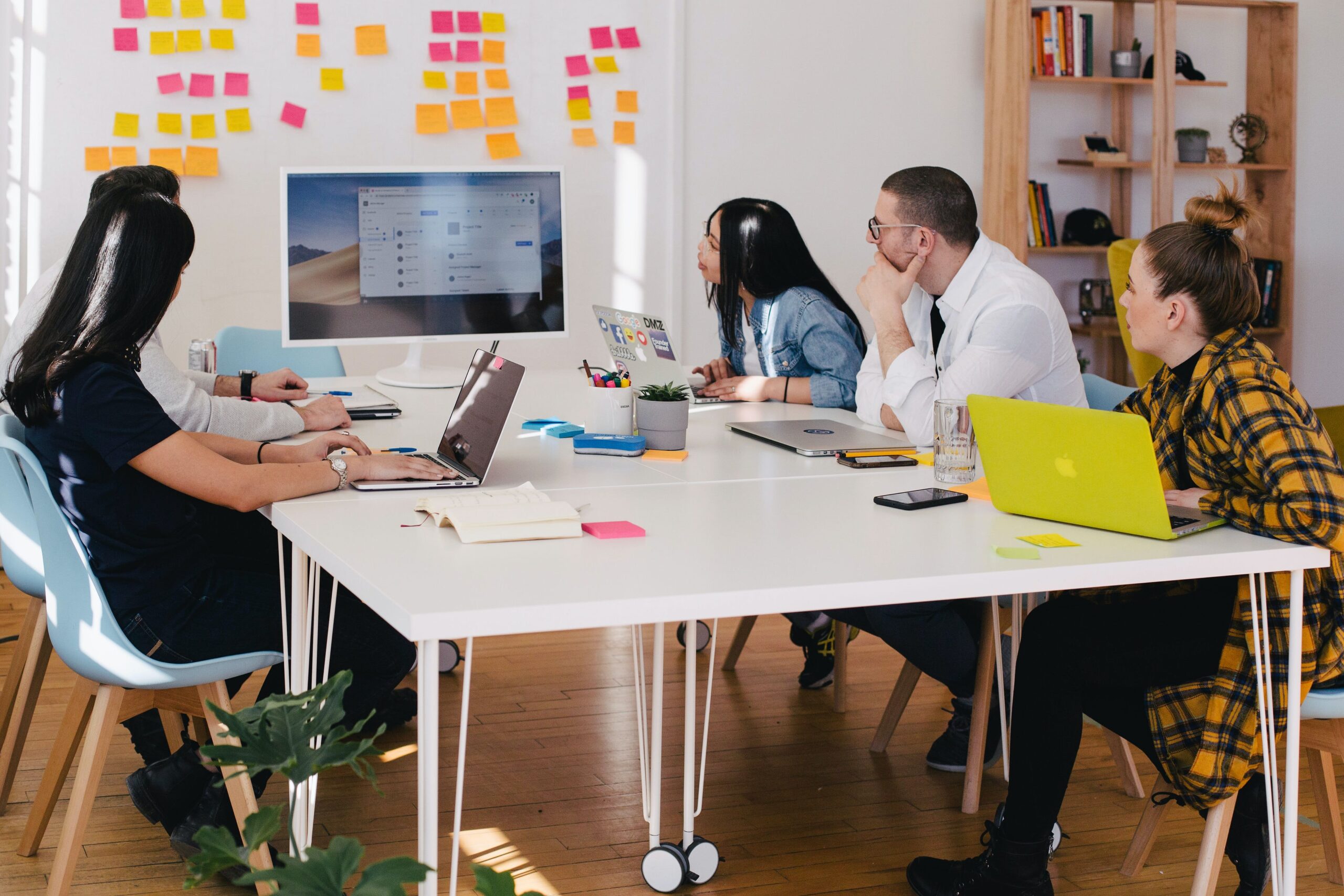 How do you align everyone on your team – from the corporate level to the front line and across multiple locations – on one easy-to-train sales and marketing approach that can be followed by all to ensure tours convert to move-ins?
For years, I did my best to answer this question based on industry data. But the industry didn't have a set standard. Then I decided to get the right data to inform the senior living industry on true best practices. I have dedicated my career to building tried-and-true processes backed by deep industry intel and insights to solve marketing and sales issues in the senior living industry.
In the end, what emerged were the 7 Concepts Sales and Marketing Training I have delivered to client organizations' sales teams since 2016 to support them in gaining more move-ins by building real relationships between real people.
Here are a few highlights from that training that you can apply right now to increase your organization's lead-to-move-in ratio:
Concept #1
Begin the relationship before the relationship begins.
In senior living, new residents are investing in relationships with your team and your current residents. That relationship starts long before they have a conversation with you. It begins with brand.
Did you know?
❌ Only 24% of your peers in senior living marketing correctly defined brand.
❌ Only 50% collect voice-of-the-customer data to back and amplify the brand.
❌ When your peers responded to our open-ended question, "How would you describe your organization's brand?", only 5% shared a strong value proposition.
What is brand? Brand is the singular value proposition that uniquely positions your organization in the marketplace, as shown by trends in differentiation from the perspective of your residents and families. Brand comes from the collective voice of those you serve, is timeless, is unforgettable and packs a Unique Value Proposition (UVP). Voice-of-the-customer (VOC) research is a methodology used to proactively uncover trends in residents' and families' perceptions, preferences and motivators in seeking support from your organization. This data defines the singular, value-based position in the marketplace that only your organization can own. This is brand differentiation.
Based upon VOC data, brand building blocks include:
• Positioning statement
• Differentiators
• Brand essence
• Mood board
• Graphic standards
The job of the brand is to build awareness of your differentiation, including why your solution is better than remaining at home, and it:
• Gives people a good feeling
• Connects with people, providing a feeling that they belong
• Provides guidance on the journey, opening people's minds to a new path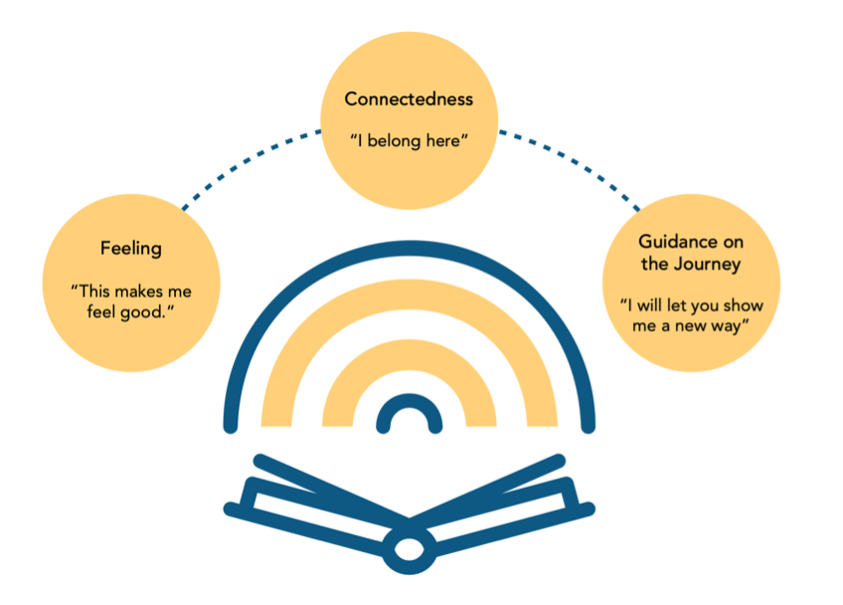 Once your team has accurately built a strong brand, ensure every member is aligned and trained on that messaging, using it accurately and consistently in every interaction (both internally and externally). This consistency builds brand equity and traction in capturing a steady stream of move-in-ready leads.
Concept #2
Begin the conversation before the conversation begins.
With a strong brand, your organization has begun to build a relationship. Before the first actual conversation, it's important to deepen and develop that sense of relatability.
Content marketing and social media marketing act as an ongoing conversation before prospects even call your sales team. Over time, both position your organization as the expert in your area of branded differentiation as evidenced by VOC surveys.
Here is the content marketing path that is most likely to drive engagement and inquiries: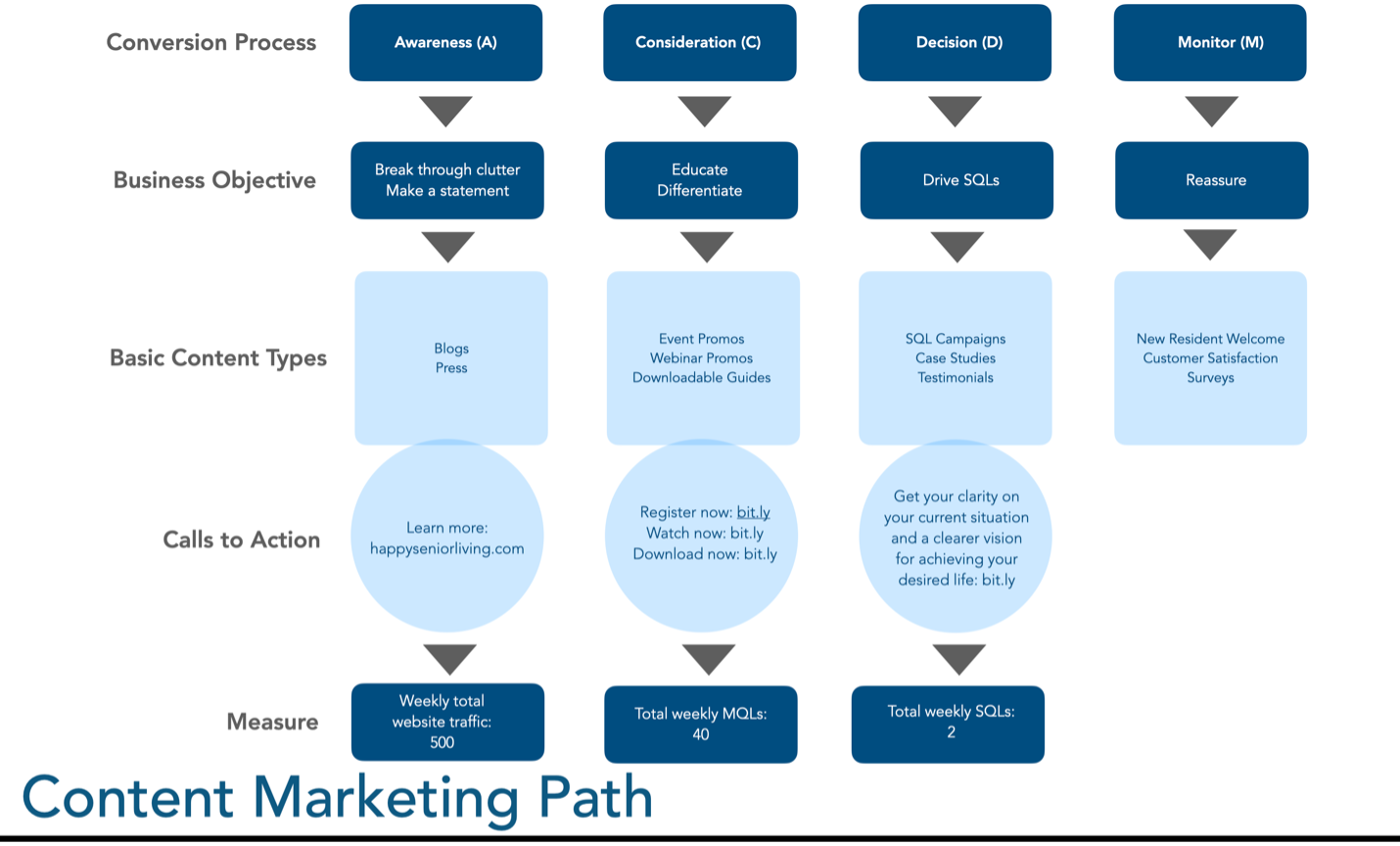 And here is the social media marketing path that is most likely to drive engagement and inquiries: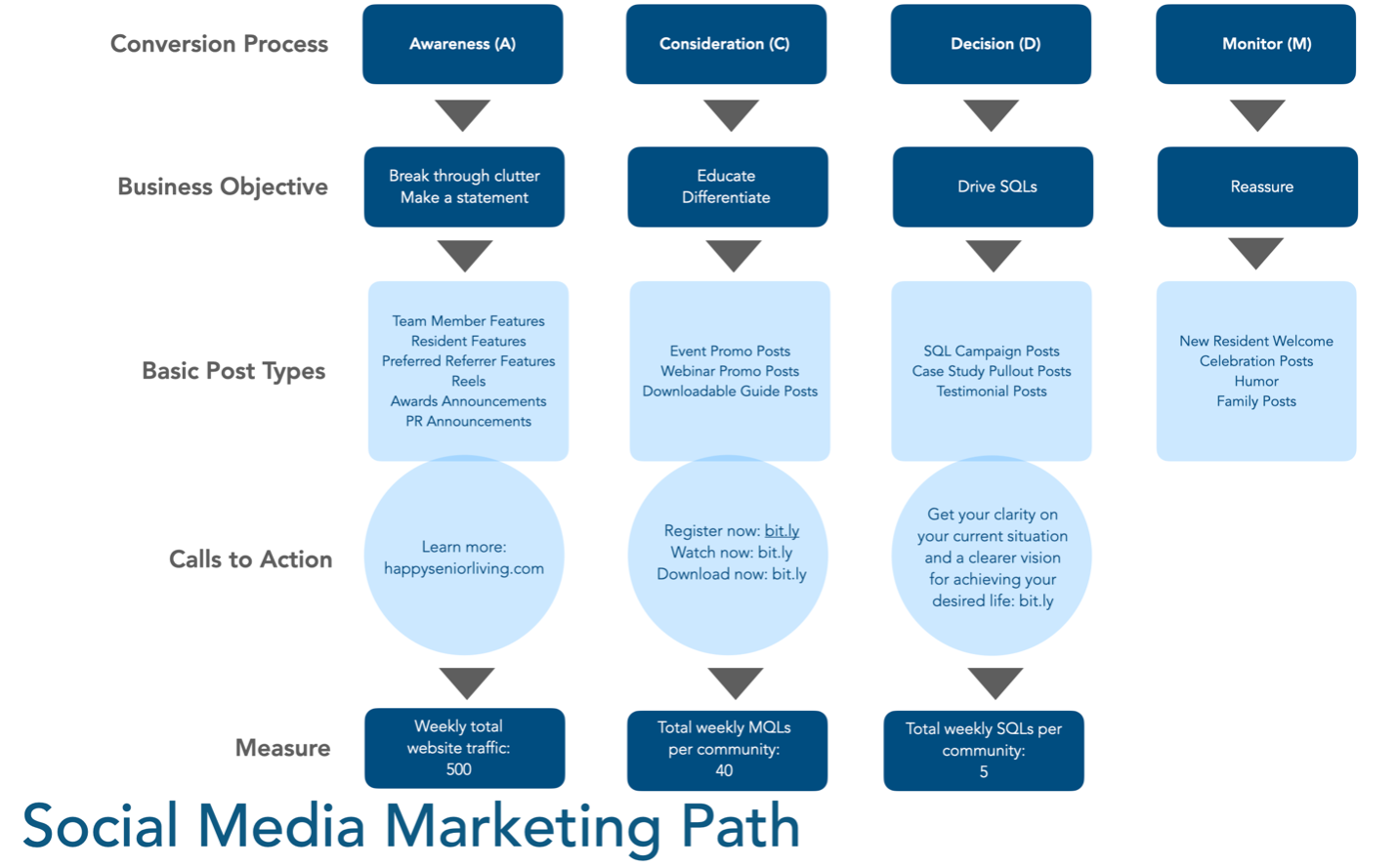 With consistent effort and messaging as based on the VOC-data-backed brand, content marketing and social media marketing efforts lead to a steady stream of warm leads arriving at your door.
Now it's time to connect.
Concept #3
Connect, remembering it's a conversation not presentation.
Think back to when you first met your best friend. Did you make a presentation? Likely not.
Here is a step-by-step path to connecting with prospective residents rather than presenting to them:
• Prepare. Send a preconditioning email before face-to-face contact, which includes:
o Purpose of the meeting
o Date, time and location of the meeting
o Length of time your team will be available for the meeting
o Who should attend the meeting
o Desired outcome of the meeting
• Connect. First, ask open-ended questions to get down to root issues:
o Get a quick list of all the facts, issues and needs, letting the prospect lead the conversation and favoring open-ended questions over leading questions
o Make sure the list is complete by asking, "Is there anything else?" several times.
o Recap the final list with the prospect, asking, "Which of these issues is most important to solve right now?"
o Go deeper with that more focused list of issues, asking, "What impact does this have on you and your family?"
o Summarize the final list with impact, asking, "Did I get it right? Did I leave anything out?"
Next, ask future-looking questions to move the prospect into a higher emotional state and to better understand what they want by asking:
o What do you want the future to look like?
o For each point shared, ask, "Why is that important to you?" to deepen and develop the emotion and connection in the conversation.
Third, share your organization's brand messaging, positioning and differentiators. This should take no more than five minutes. Here is an example: "CRISTA Senior Living exists to enrich lives through intergenerational community living, where our residents, their families and our staff encounter the love of Christ, allowing Him to enrich mind, body and soul."
Fourth, gauge viability by asking:
o Have we agreed on budget?
o Have we involved all decision makers, and are they aligned?
o Have we agreed that move-in is a necessity?
o Have we agreed on a timeline for move-in?
Last, suggest the next right action, such as:
o "Does it make sense for us to continue this conversation with your mother present?"
o "Should we look at three possible solutions together next time?"
• Secure agreement. Notice I didn't say close. Stop spending time trying to close, close, close cold leads with whom the relationship is not yet built. Focus on those older adults who are ready to look at solutions with you.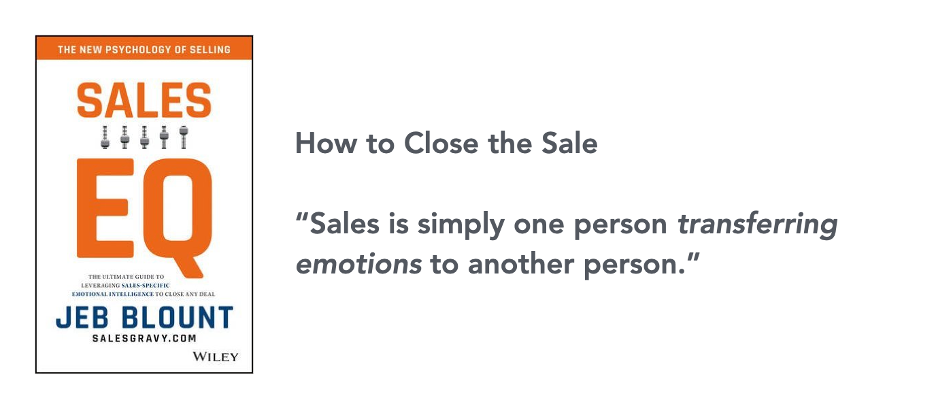 And here is a sneak peek at the last four concepts:
Concept #4
Gain referrals in every interaction.
Concept #5
Begin caring for the resident before the resident moves in.
Concept #6
Publicly celebrate every move-in and milestone.
Concept #7
Amplify.
Listen to how this training made an impact at CRISTA Senior Living.
Want to learn more about customized sales team alignment training just for your team? Get details now.
Yes, I want a complimentary strategy session with a Big Buzz today so I can get:
✅ Clarity on the root causes of current sales issues
✅ Research and industry intel that will help eradicate sales issues for good
✅ A clearer vision for aligning the whole sales team on reaching the organization's desired future state
✅ A free initial plan to invite warm leads to move in now
Big Buzz is a marketing agency delivering a steady stream of move-in-ready leads to teams serving the senior living industry. For more than 15 years, Big Buzz has helped senior living marketing and sales teams nurture leads to increase occupancy, grow and scale. CEO Wendy O'Donovan Phillips is the author of the book Flourish!: The Method Used by Aging Services Organizations for the Ultimate Marketing Results, has been published in McKnight's, has been a regular contributor to Forbes, and has been quoted in The Washington Post, ABC News and Chicago Tribune. The Big Buzz leadership team regularly lectures in front of audiences ranging from 25 to 3,000 attendees, including at Argentum and various LeadingAge chapters. Agency awards and accolades include recognition for excellence by the American Marketing Association, Gold Key Award Winner by the Business Marketing Association, HubSpot Academy Inbound Marketing Certification, and Top Advertising and Marketing Agency by Clutch.
by Wendy O'Donovan Phillips
Share
Join the 13,000+ care professionals who read our weekly insights.
Get actionable learnings to apply now to attract warmer leads.