Aligned Internal Marketing and Sales Teams on Messaging and Relationship-based Selling to Increase New Lead Move-ins 171%
About the Client
CRISTA Senior Living, a division of CRISTA Ministries, is home to seniors 55 and older, with two campuses located in the Puget Sound area and a variety of unique and innovative offerings and lifestyles. Since its founding in 1949, CRISTA's mission has been to transform lives with the Gospel of Jesus Christ through its sustainable, Biblical Christian ministries: CRISTA Media, King's Schools, CRISTA Senior Living, World Concern and CRISTA Camps.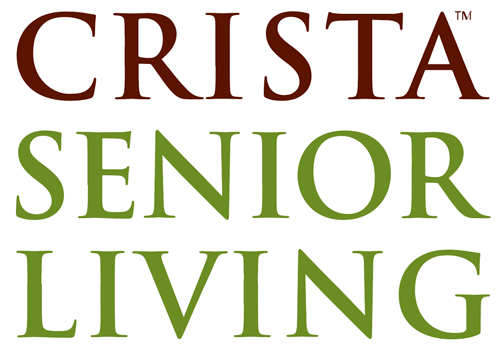 The Challenge
CRISTA Senior Living enlisted the help of Big Buzz® and Roobrik for a few key reasons. The organization was having trouble maintaining and increasing engagement and conversion rates on its website and faced challenges with boosting high-quality traffic to the site, i.e., traffic that was likely to convert into calls, tours and ultimately move-ins. There was also room for the organization to develop a deeper understanding of its prospects.
Doing so could help Big Buzz improve CRISTA's buyer's journey while honing the efficacy of its marketing materials, sales conversations and additional support measures included in its scope of work with the agency.
Collaborative Research with Roobrik
Big Buzz quickly got to work compiling rich and accurate data via the proven, proprietary processes employed by its partner Roobrik. This reliable data, which included insight into prospect perceptions, pain points and behaviors, formed a sturdy foundation upon which actionable and effective next steps could be built. For example, survey data revealed in greater detail why local prospects would seek CRISTA's services, including the challenges they sought to address and the fears that motivated them.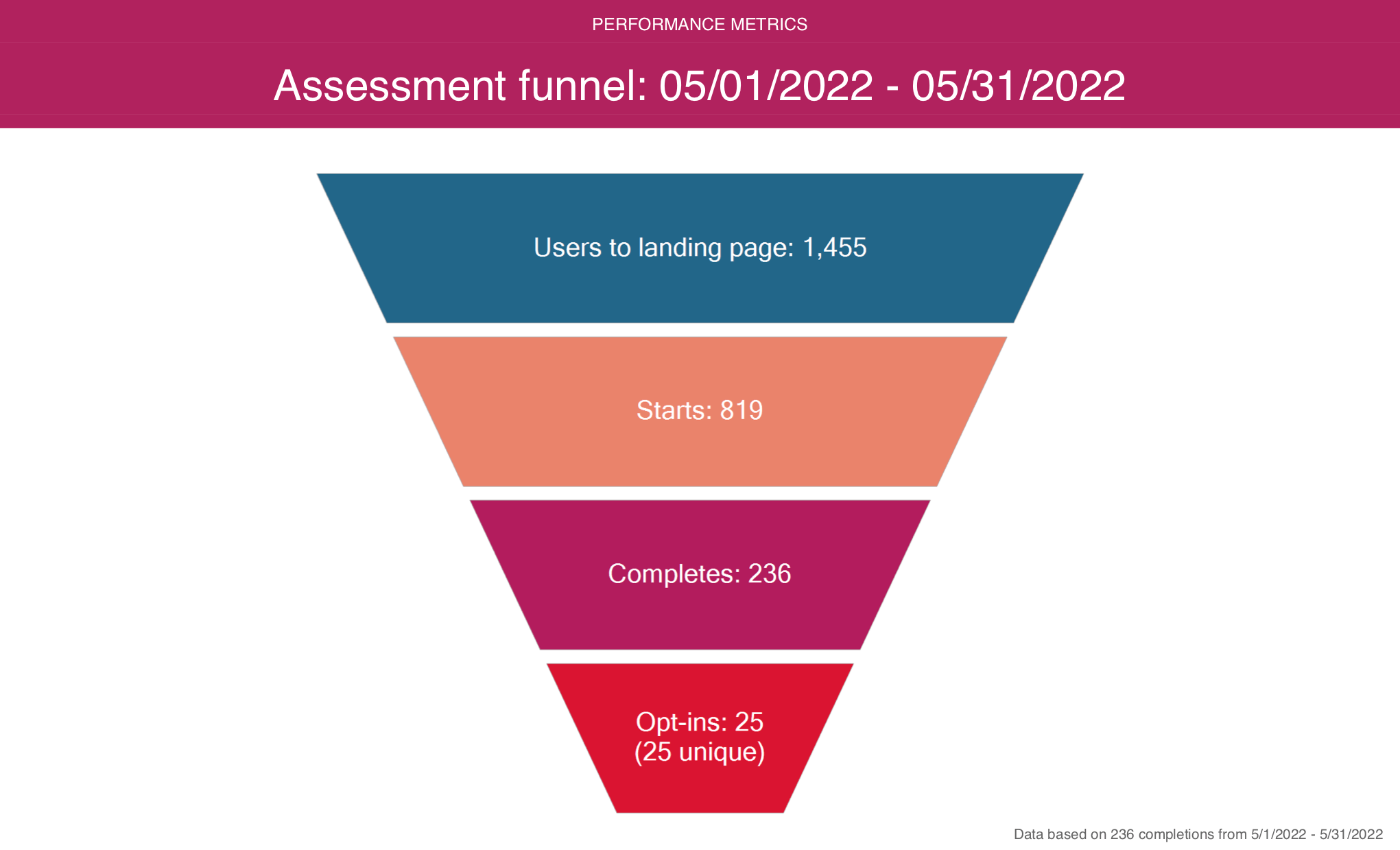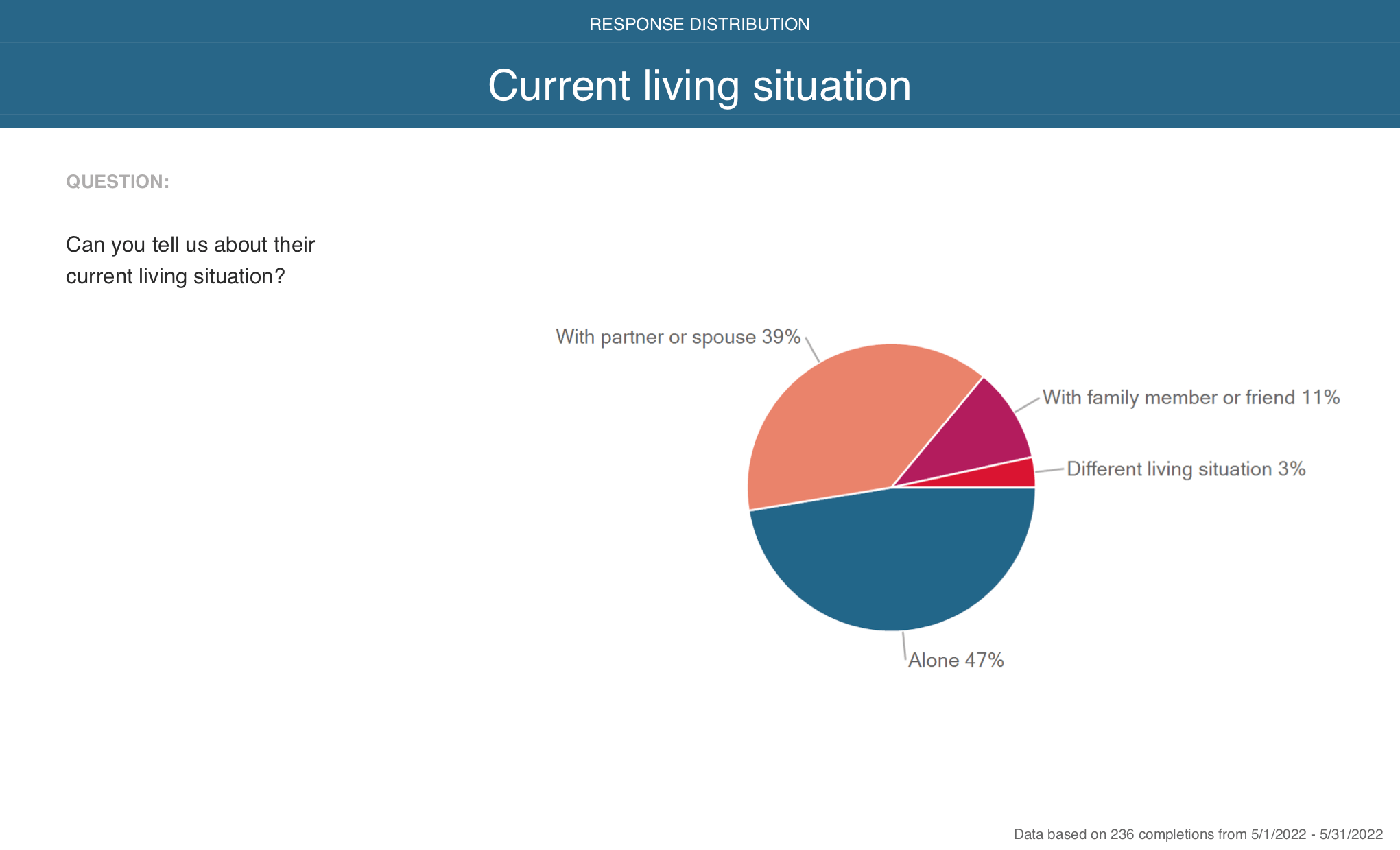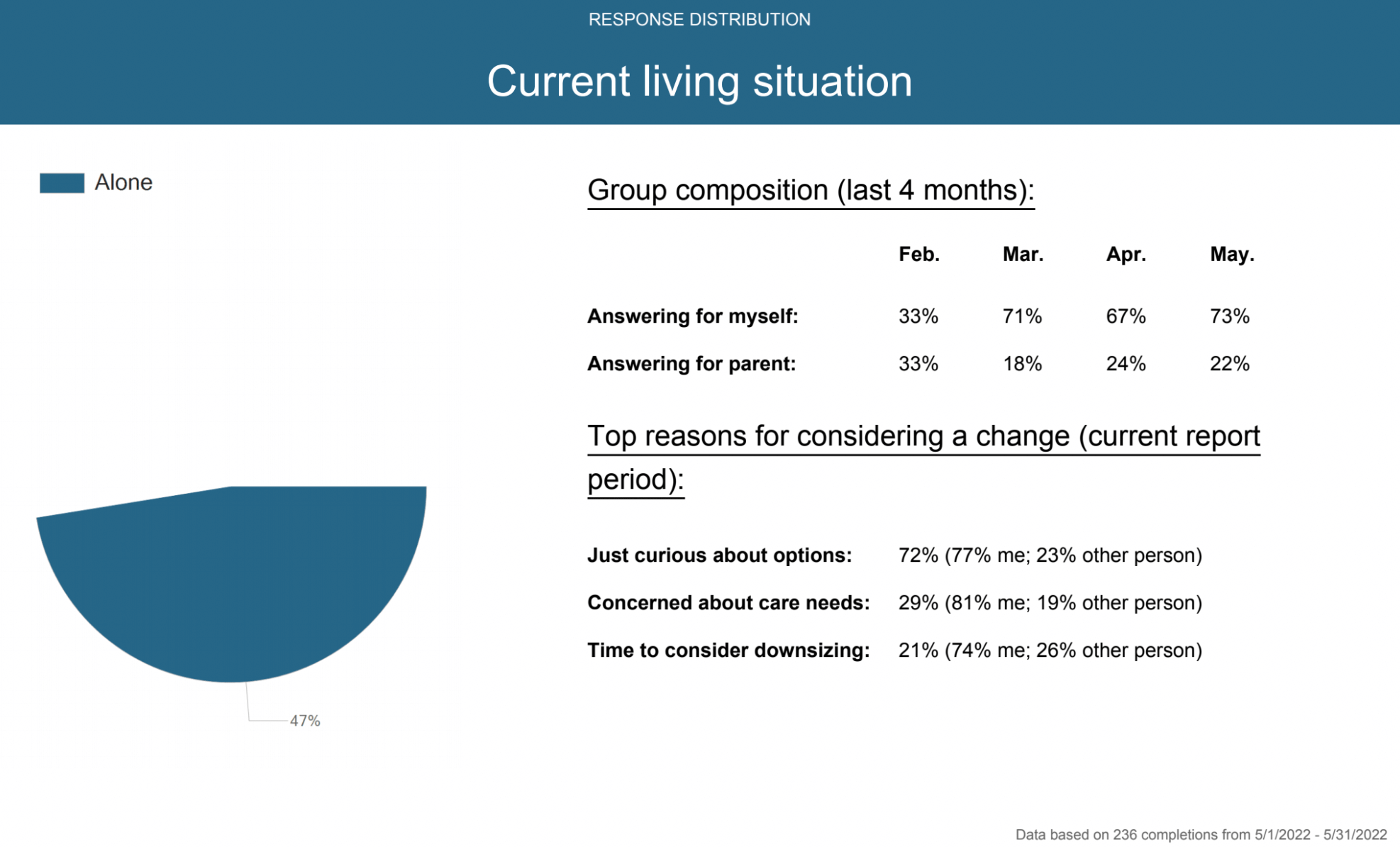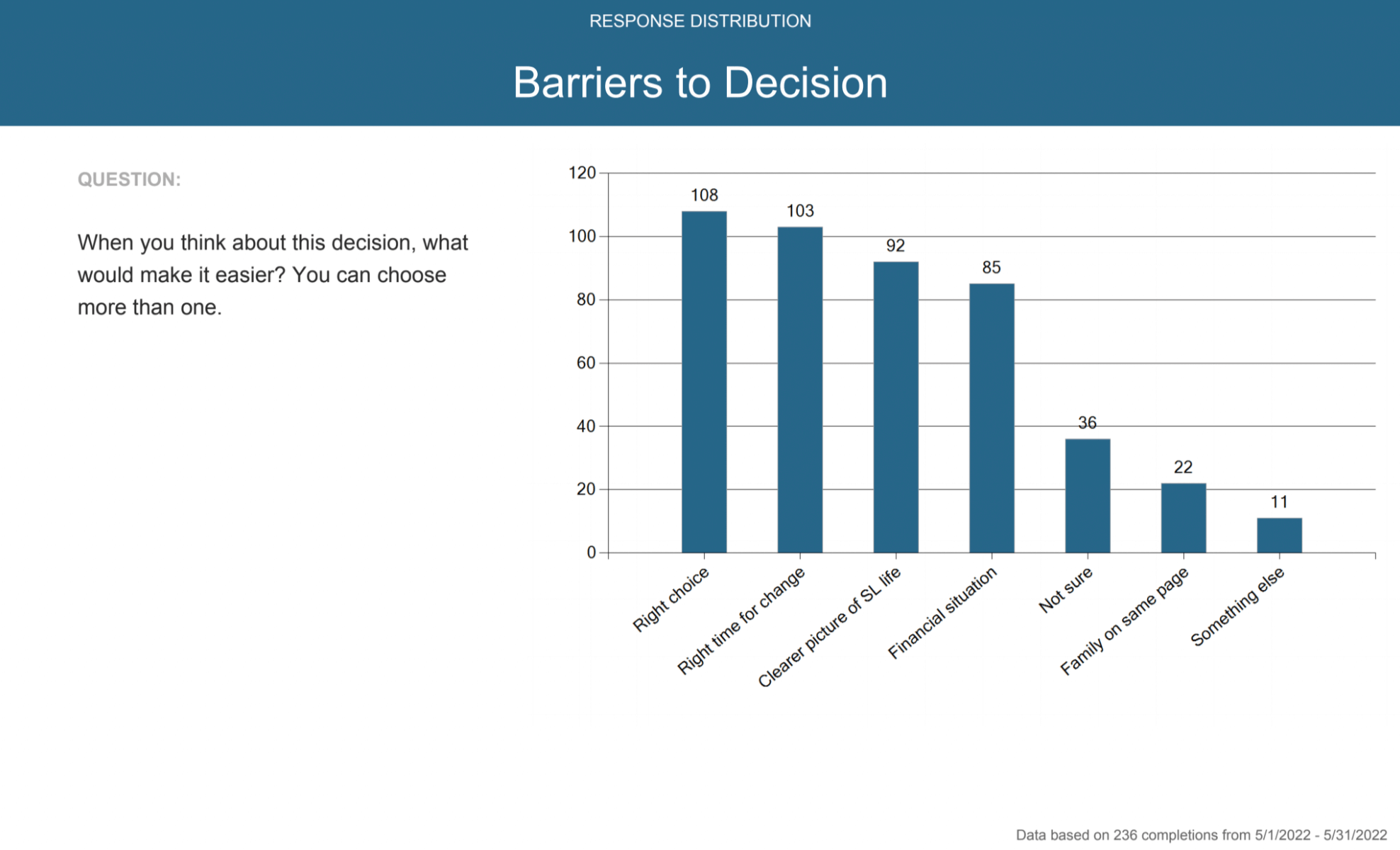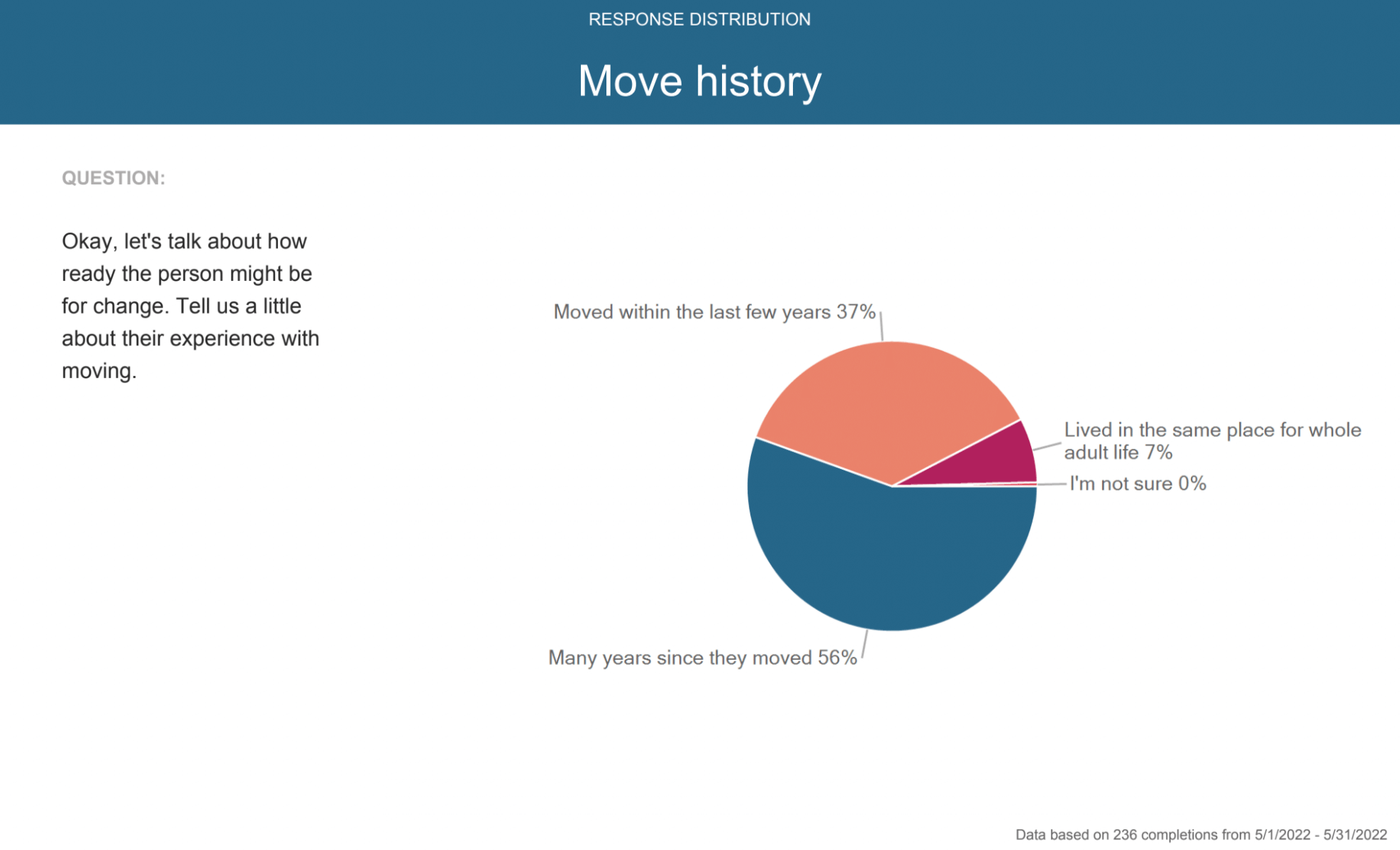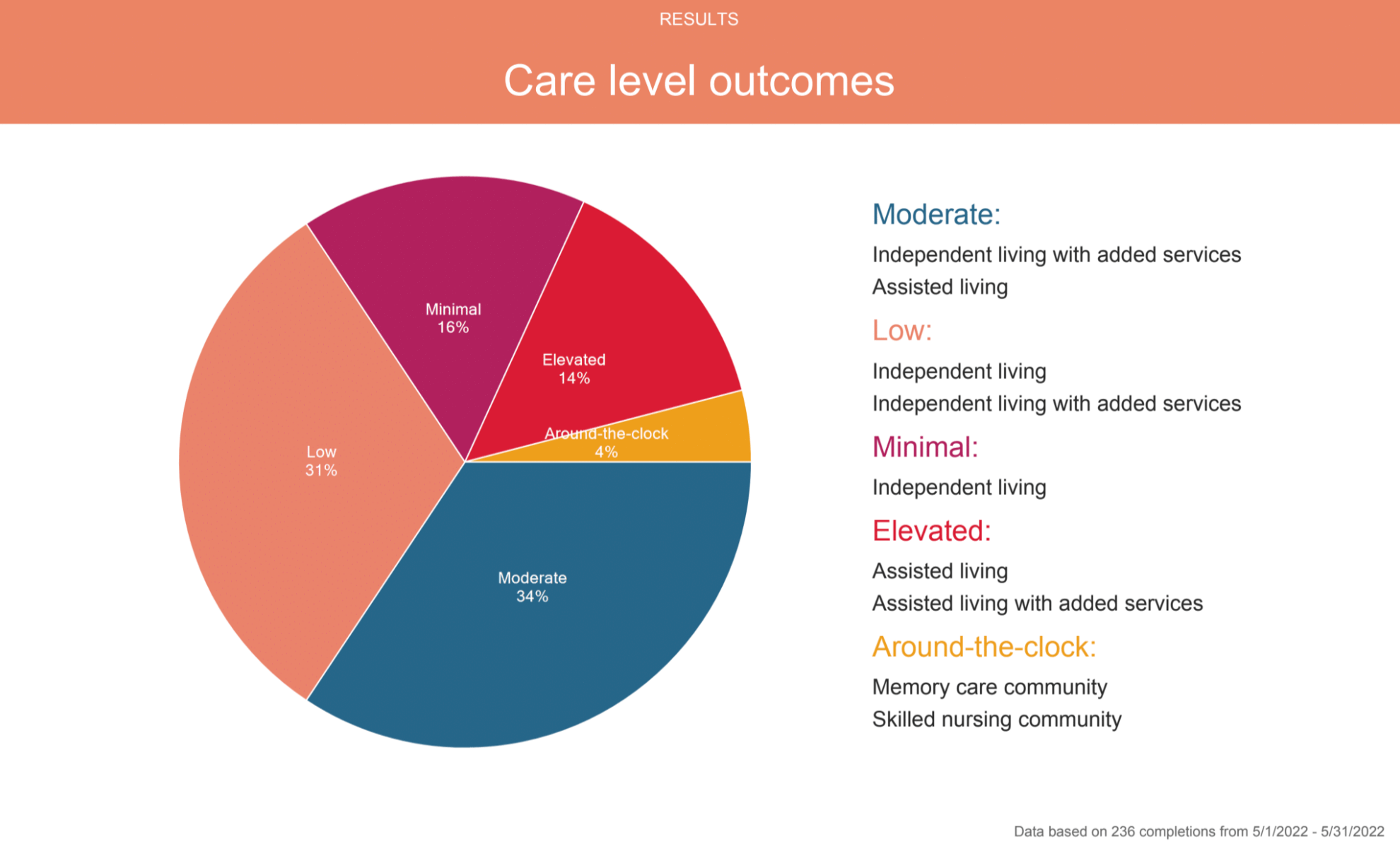 Refined Marketing Efforts & Materials
Big Buzz applied the insights revealed by Roobrik's data to both new and existing marketing channels, such as digital ads, landing pages, educational materials and website copy. These measures helped CRISTA attract more intentional leads and grow its marketing database while increasing high-quality traffic to the website through bolstered relevance and improved search engine rankings. The data also equipped the sales and marketing teams with intimate data on prospects, leading to more valuable and meaningful interactions with those further down the sales funnel.
Email Automation Campaign
Using guidance from Roobrik's data, as well as its expertise in email marketing, Big Buzz developed an automated campaign designed to resonate with leads and make them more intentional about taking steps toward move-in. This campaign included automated responses to initial inquiries for both of CRISTA's locations, as well as post-tour touch points for both locations and multiple levels of care. These automated measures not only streamlined daily operations for CRISTA's sales teams, but also ensured that leads were being nurtured immediately with relevant copy, information and proposed value.
Content Marketing Strategy
Big Buzz developed a long-term content marketing strategy campaign designed to help CRISTA move closer to its goals in several ways:
Improve search engine rankings and the efficacy of search engine optimization (SEO)
Drive more traffic to the website from search engine results pages (SERPs)
Create additional opportunities for website conversions
Stay top of mind with the existing lead database via content emails
Provide value to prospects who visit the website
Further establish CRISTA as a thought leader in the senior living industry
Big Buzz used data from its own proprietary survey process, as well as that from Roobrik, to design a calendar of content topics that would speak to the fears, hopes, challenges and motivations of the people CRISTA most wished to serve. The agency then developed these content pieces using best practices in content creation, reader engagement and SEO. It also helped CRISTA distribute these articles by posting them on its website and providing social media assets to promote them.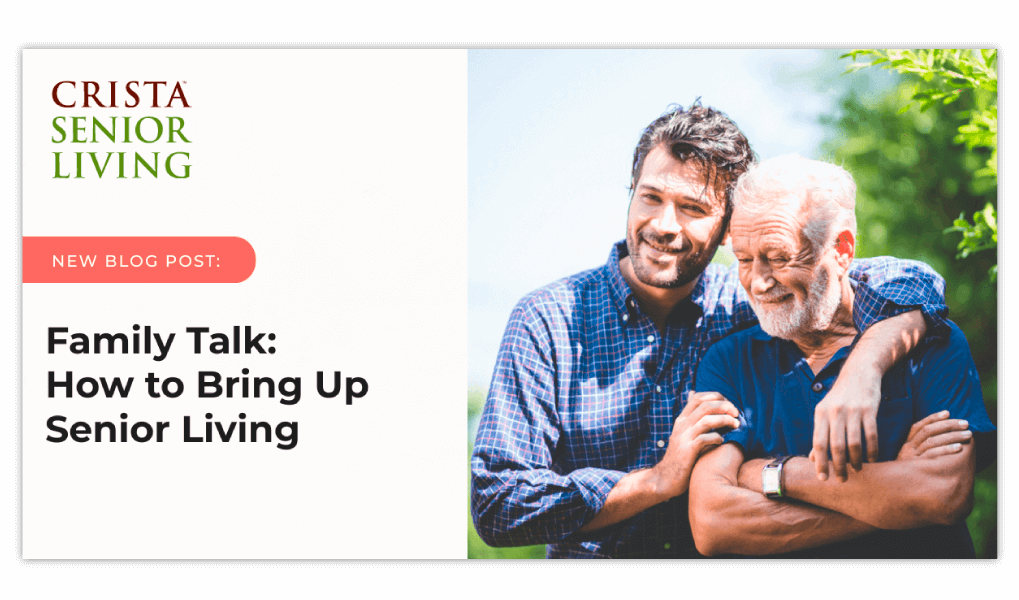 Content Social Media Graphic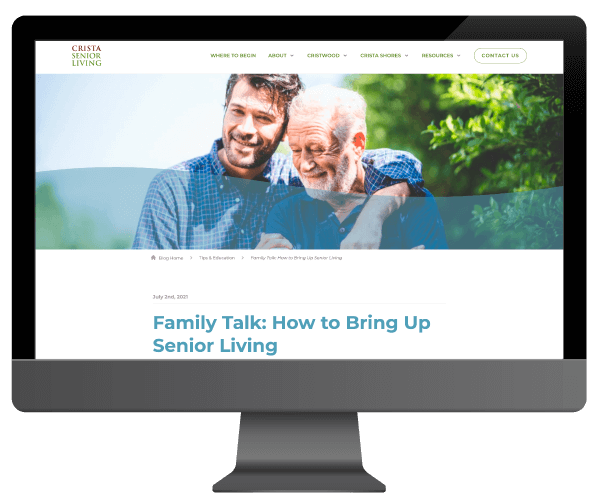 Content Website Post
Marketing Objectives Workshop
In order to help CRISTA more clearly define (and subsequently achieve) its marketing goals, Big Buzz led the client's team through its unique Marketing Objectives Workshop. This process would help all involved members of the organization, from the top down, align on:
A singular goal for the marketing organization
The roadmap and steps required to reach this goal
Which parties were responsible for which roles
How progress and results would be measured
How to reassess the plan if improvement was required
Big Buzz helped CRISTA identify its most important goal and develop a set of explicitly defined objectives, strategies and measures required to reach it. Also discussed was how to record the progress of this process, which KPIs to measure, how often progress should be assessed and more.
Consulting
Part of CRISTA's scope of work included consulting services, an area in which Big Buzz is highly specialized as a result of its 10+ years of senior living marketing experience. Big Buzz provided dynamic, in-depth consulting in three areas:
Sales Training
Big Buzz used its expertise, as well as the data gleaned from its proprietary research process and data from Roobrik, to assess CRISTA's existing sales process. From there, the agency walked CRISTA's sales team through its recommendations for a clearly defined, easy-to-follow, easily-trainable, repeatable – and most importantly, effective – sales process.
Referral Training
Resident and family referrals are one of the most valuable methods of generating move-ins. They are also among the most cost effective. In order to capitalize on the immense benefits of referral marketing, Big Buzz walked CRISTA's team through the ideal referral marketing process. This included becoming more comfortable with asking for referrals, when to ask, how to measure progress and how to involve as many people as possible in the process.
Social Media Training
Social media marketing is another effective method for increasing brand awareness and occupancies, both in terms of cost and success. Big Buzz provided guidance and training on how to best utilize social media, including when to post, what kind of imagery and videos to use, how to express value and how to leverage paid social media advertising. This information would help the CRISTA team get into an effortless routine of social media efficacy.
The Results
The combined marketing efforts of Big Buzz and Roobrik have had an immense impact on overall marketing results. The updated website resources and improved target audience engagement led to a surge in CRISTA's KPIs, such as an increase in new user traffic to the site of over 33% over the course of a year.
After an assessment, new and returning web visitors were found to be spending nearly 4 minutes on the site. The bounce rate shrank to less than 35%, falling perfectly into the optimal rate of 26-40%. Combined with the assessment time of 7-9 minutes, CRISTA achieved an average of nearly 15 minutes of engagement per visitor – an unquestionable indication of high-value traffic.
Big Buzz's work, along with the support of Roobrik, helped increase leads, with 143 new leads from Roobrik's resources alone, surpassing the original client goal for the total number of leads for one year into the hundreds.
In addition to these improved metrics, CRISTA was able to provide more valuable education and guidance to prospective residents while growing its content database to continue to enrich the lives of older adults
"Big Buzz has been an incredible partner. The collaborative learning process they use is dynamic. They won't hand you the plan. You will build it together in the process. They are upbeat, professional and passionate about what they do. They will help you identify and set goals, help develop a plan with you and your team. Then you will start to see results. They are experts in Senior Living but their approach and methodology would work in any industry. I can't write enough superlatives to show the high level of respect and admiration I have for the company the team and the partnership they build with their clients. Wendy is a terrific leader and Melinda is an industry expert. One only has to read about them working hard and playing hard and celebrating clients' success to know that they are incredible."
JIM SHEA, SALES MANAGER, CRISTA SENIOR LIVING