Dentists and Patients Surveyed
Possible Marketing Tactics
About Us
Top dentists from across the nation know Big Buzz as the expert in dental marketing. After more than seven years serving the dental community, Big Buzz has consulted individually with more than a hundred different dental practices from around the country.
The patient perception shall reign sovereign. Gone are the days when the practice reputation was built solely on the dentist's reputation. In this era, the patients' collective perception of the…
"Dental direct mail doesn't work." "That stuff just ends up in the trash." "I never read those things." Now that we have gotten the thoughts and feelings out of the…
In this day and age, it is highly possible to attract your ideal new patients while you are sleeping. You may have spent a lot of time and money optimizing…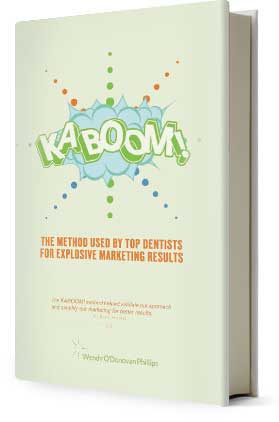 The Method Used By Top Dentists for Explosive Marketing Results
Most dentists feel sick when they think about marketing. Overwhelmed. Confused. Apathetic. Kaboom! offers the cure. This concise handbook shines a light on how dentists can put a method to their marketing in order to safeguard the practice for years to come. Kaboom! lays out an easy-to-follow, method for marketing:
Survey the patients and team
Define a Message and Design Equation
Build a Balanced Marketing Formula, or 12-month marketing plan
Deploy the plan for steadfast results!
Order Your Copy
Like what you see here?
Get more thought-provoking insights from Big Buzz. The content we share via email is crafted by the president of the firm to inspire change and growth in your practice.