Dentists and Patients Surveyed
Possible Marketing Tactics
About Us
Big Buzz is adept at delivering more than 35 different marketing tactics–from website development to direct mail to SEO and beyond. More importantly, Big Buzz identifies and delivers only the handful of marketing tactics that are right for the practice right now.
You are at a party with friends and you see a woman with a gorgeous smile. One of your friends approaches her, points at you and says: "He's a rich…
Patient notices practice's marketing. Contrary to popular belief, the intake process begins long before the new patient contacts the practice. For weeks, months or even years prior, the patient may…
Many dental practices prefer to handle marketing internally rather than outsource it to an agency or other external partner. Here are 7 key practices for getting it right when you decide…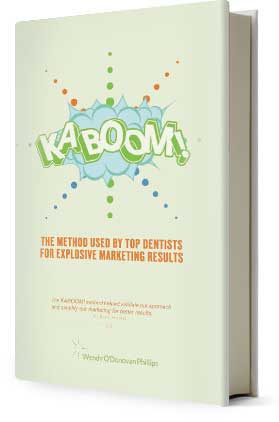 The Method Used By Top Dentists for Explosive Marketing Results
Most dentists feel sick when they think about marketing. Overwhelmed. Confused. Apathetic. Kaboom! offers the cure. This concise handbook shines a light on how dentists can put a method to their marketing in order to safeguard the practice for years to come. Kaboom! lays out an easy-to-follow, method for marketing:
Survey the patients and team
Define a Message and Design Equation
Build a Balanced Marketing Formula, or 12-month marketing plan
Deploy the plan for steadfast results!
Order Your Copy
Like what you see here?
Get more thought-provoking insights from Big Buzz. The content we share via email is crafted by the president of the firm to inspire change and growth in your practice.