by Wendy O'Donovan Phillips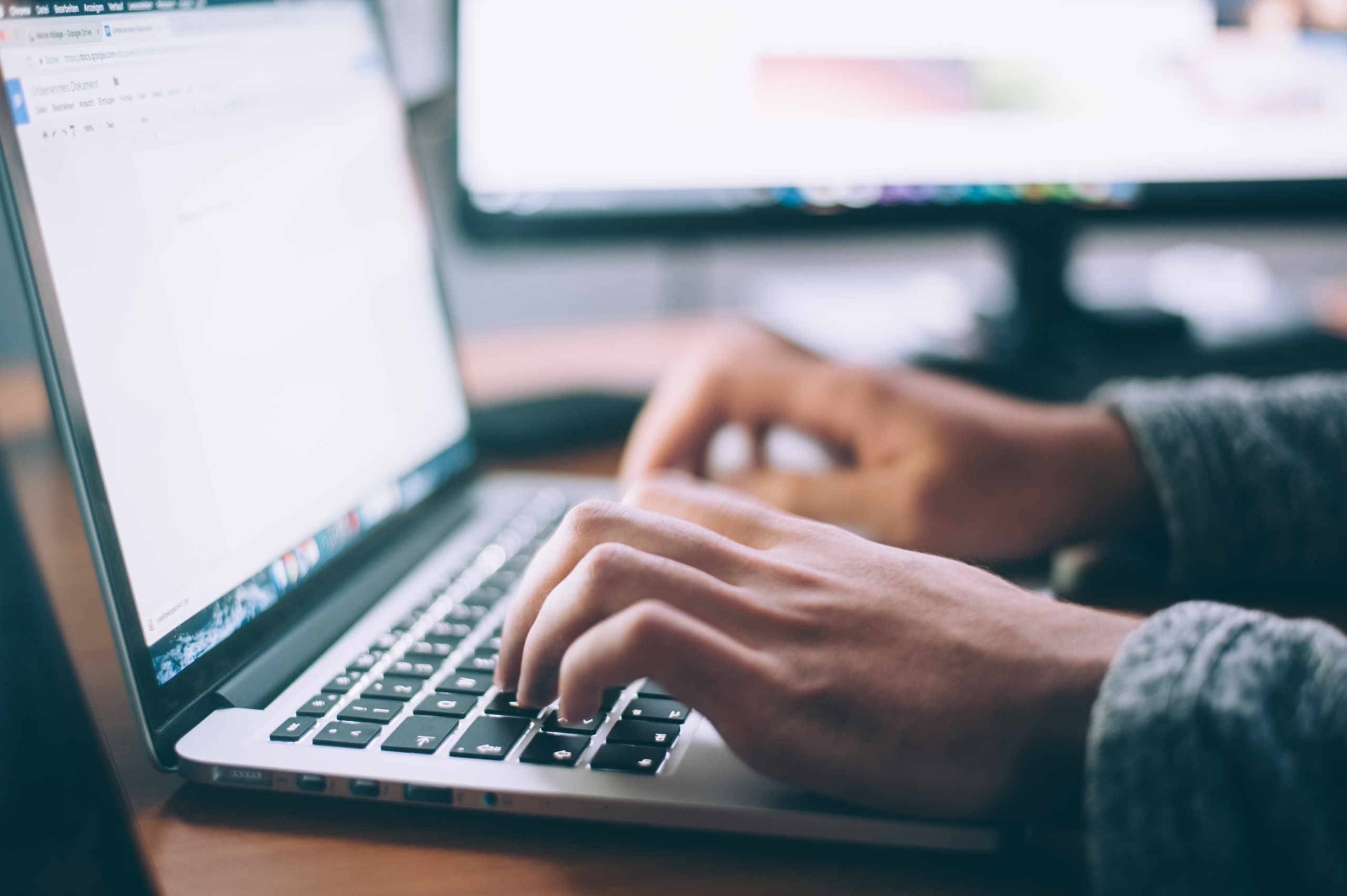 This is an excerpt from Big Buzz's eBook Calls to Action that Work: The Senior Care Industry Insider Report, which contains all the guidance you will need to optimize your CTAs across the board. Get your free copy of the full eBook.
Big Buzz conducted an audit of website calls to action from the top 10 largest senior living providers in the U.S., according to Argentum's 2021 Largest Providers Report.
What Industry Leaders Do Well
90% designed website buttons in a contrasting color to the content web page for optimum click-through rate.
90% followed the rule for text appearing inside the website call-to-action button written in no more than 5 words.
80% began all call-to-action button text with an action word, or verb, like "Get," "Download" or "Schedule" for optimum click-through rate.
70% achieved the standard of call-to-action buttons designed larger than desktop call-to-action buttons on mobile devices for optimum click-through rate.
Where Industry Leaders Need Most Improvement
Downloadable assets
Only 20% of industry leaders used the call to action "Download now – it's free" for downloadable assets. Very few offered downloadable assets at all. Offering downloadable assets on your website invites visitors to glean valuable learnings from you and come to trust you over time. In exchange for this value, downloadable content allows your organization to collect contact information from visitors.
Below, find examples from the three organizations (Sunrise Senior Living, Erickson Senior Living and Senior Lifestyle) that offered downloadable assets or employed other valuable lead-capture strategies.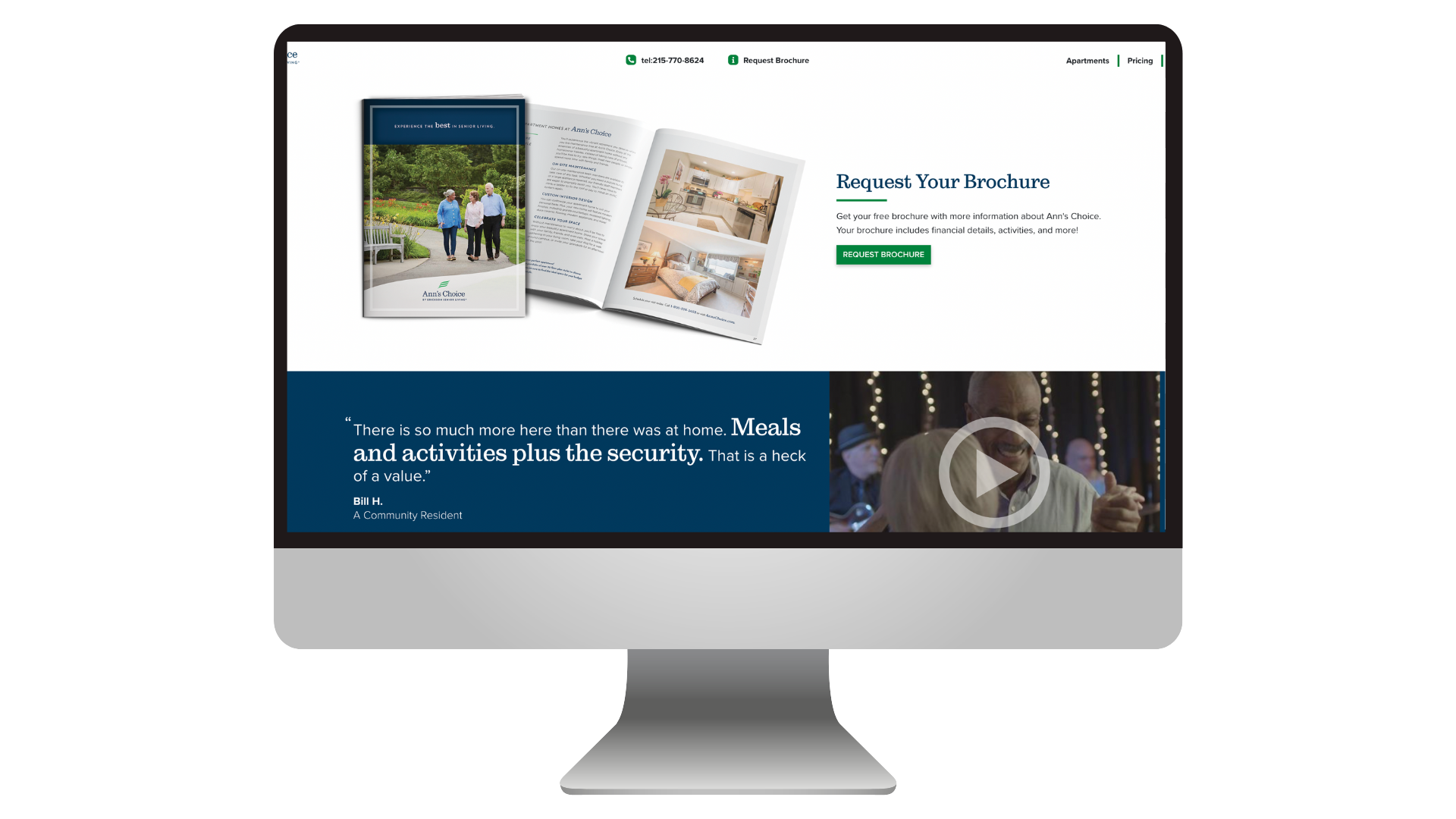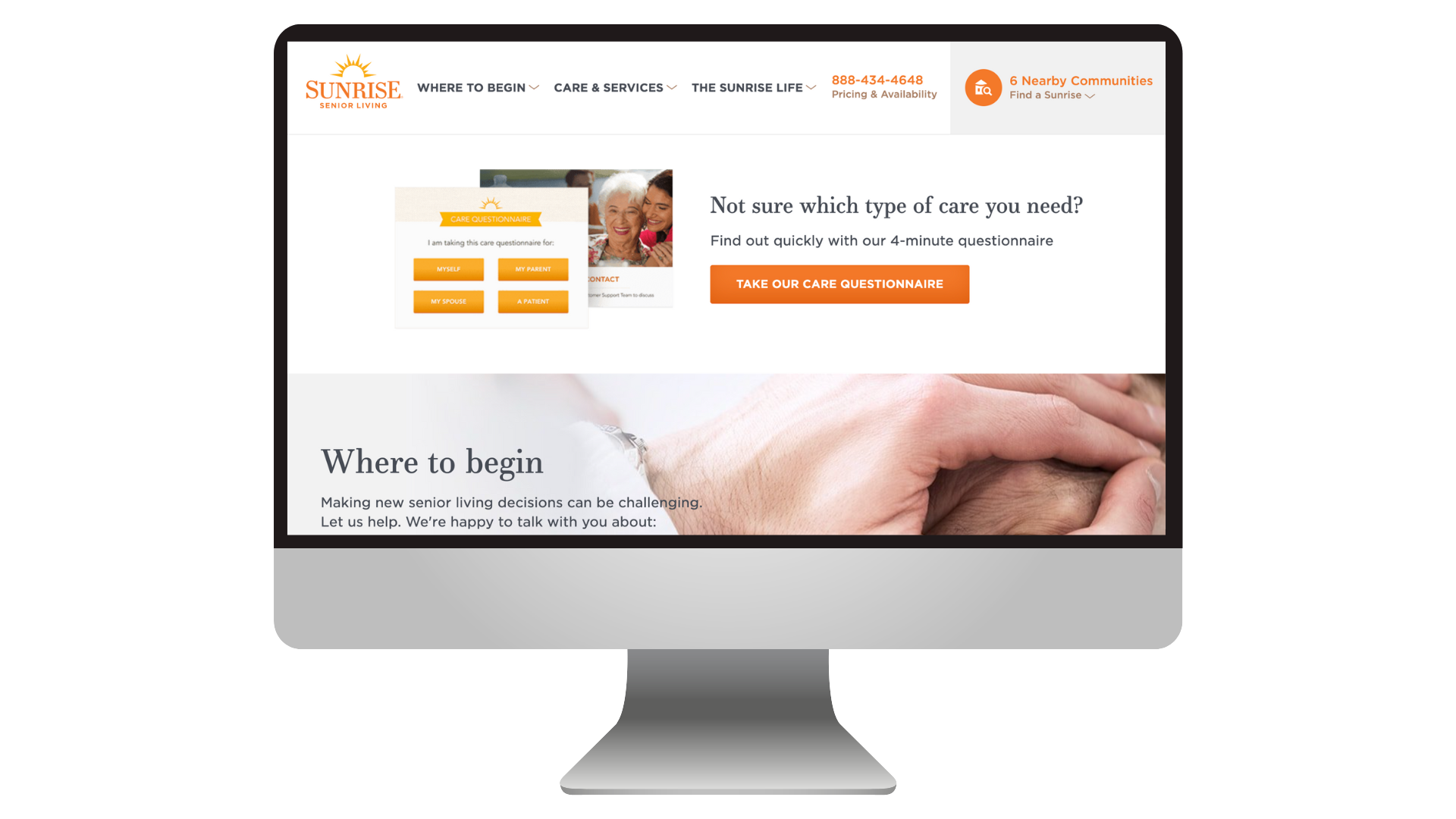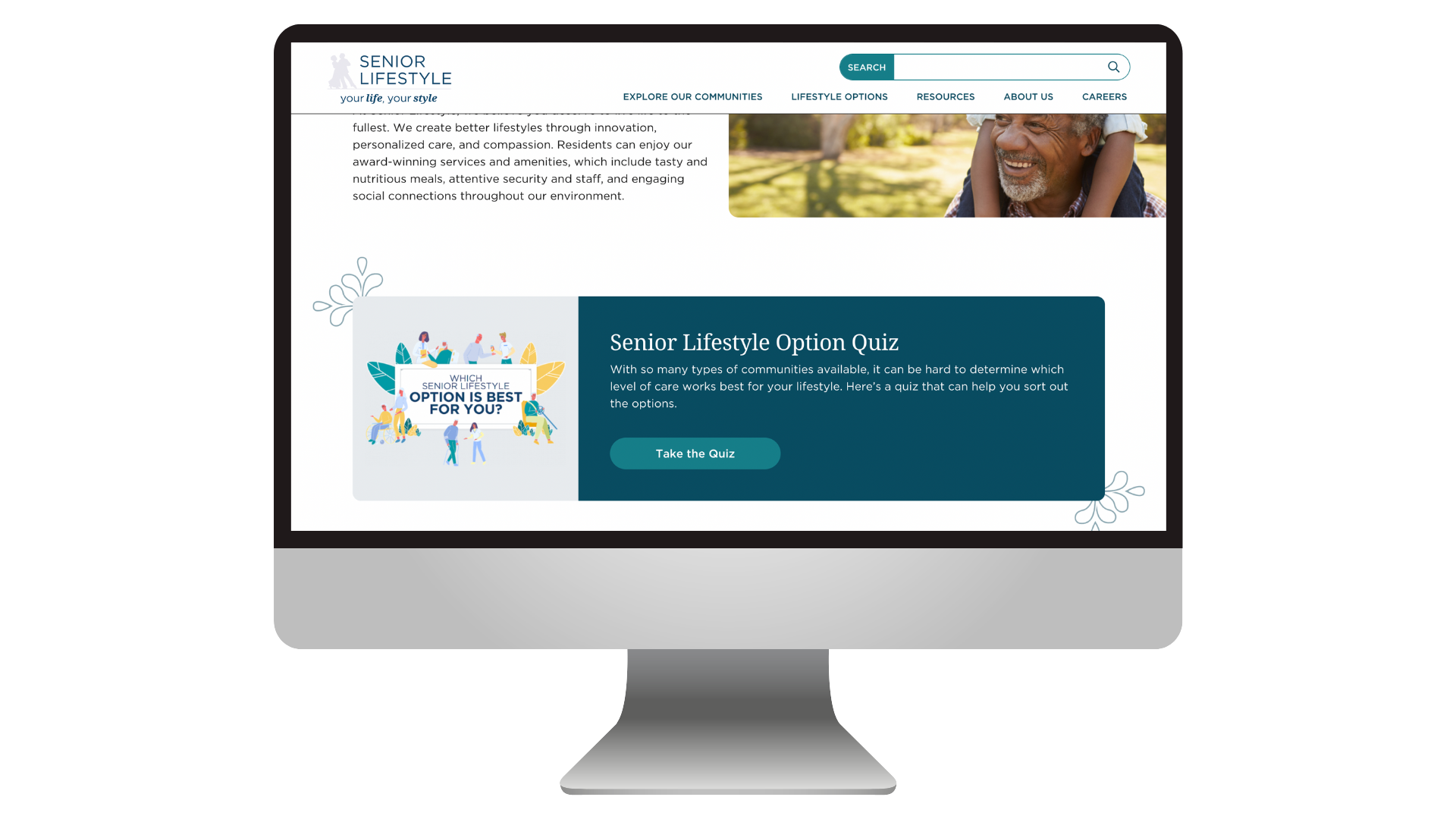 Schedule Now
Just 20% of industry leaders used some variation of "Schedule a tour now" or "Schedule a consultation now" for the contact call to action. Five Star Senior Living did a good job of teeing up the opportunity with this compelling call to action. Upon finding a community, web visitors are prompted to "Schedule a tour." This is a good example of taking the visitor on the journey into the community's door.
Testimonial Quotes
While many industry leaders included testimonial quotes on their websites, none placed testimonial quotes near the website call-to-action buttons to increase click-through rates.
Sunrise did place the following testimonial quote adjacent to a call to action, but not near it. It would be better to add quotes like this one directly below or next to call-to-action buttons for higher conversions.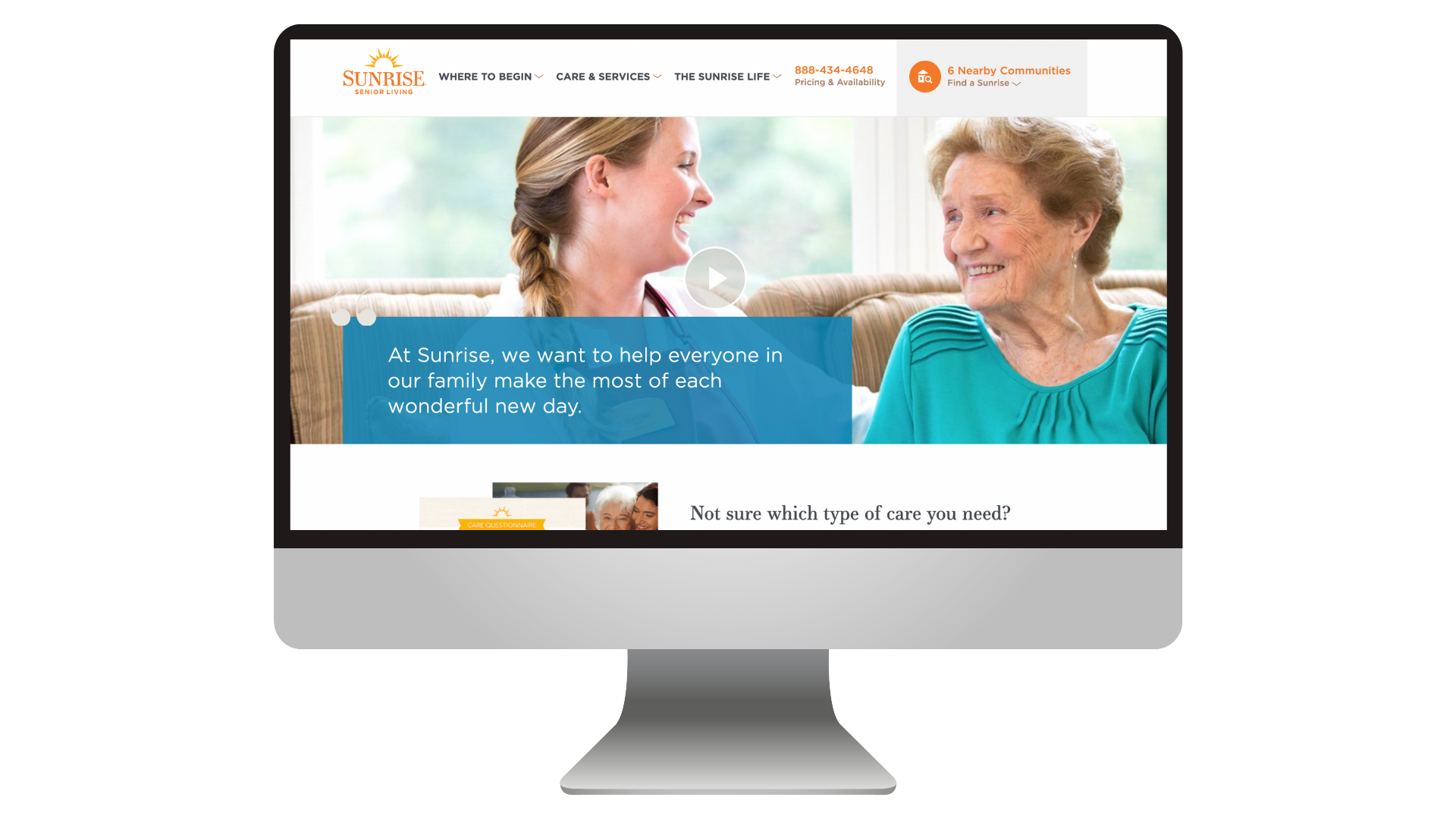 If industry leaders aren't following The Clear Call to Action Model, then how are they leading the industry? Vast brand awareness. Expansive content marketing efforts driven by sophisticated automation. Large online advertising budgets with landing pages that convert. Deep investment in sales team processes training. Industry giants remind all players to also invest well in these areas at a scale appropriate to their organization. Plus, by checking the boxes on all 12 attributes covered in The Clear Call to Action, your organization will compete well in the industry with strong calls to action.
Yes, I want a complimentary strategy session with a Big Buzz nurture marketing expert today so I can get:
✅ Clarity on the root causes of current lead issues we face
✅ Research and industry intel that will help eradicate lead issues for good
✅ A clearer vision for reaching the organization's desired future state this year, 3 years from now and 5 years from now
✅ A free initial nurture marketing plan to invite warm leads to move in now
Big Buzz is a marketing agency delivering a steady stream of move-in-ready leads to teams serving the senior living industry. For more than 15 years, Big Buzz has helped senior living marketing and sales teams nurture leads to increase occupancy, grow and scale. CEO Wendy O'Donovan Phillips is the author of the book Flourish!: The Method Used by Aging Services Organizations for the Ultimate Marketing Results, has been published in McKnight's, has been a regular contributor to Forbes, and has been quoted in The Washington Post, ABC News and Chicago Tribune. The Big Buzz leadership team regularly lectures in front of audiences ranging from 25 to 3,000 attendees, including at Argentum and various LeadingAge chapters. Agency awards and accolades include recognition for excellence by the American Marketing Association, Gold Key Award Winner by the Business Marketing Association, HubSpot Academy Inbound Marketing Certification, and Top Advertising and Marketing Agency by Clutch.
by Wendy O'Donovan Phillips
Share
Join the 13,000+ care professionals who read our weekly insights.
Get actionable learnings to apply now to attract warmer leads.