By Casey Schmidt, Manager of Marketing Strategy & Analytics at Big Buzz
As a healthcare SEO specialist, I understand and empathize with the overuse and overcomplication surrounding the term "SEO."  I have consulted with hundreds of medical and dental practices over the past few years that have attempted to handle SEO in-house or with the help of an agency with little to no results based on the investment they put forth. They likely started asking themselves, "Is SEO worth it?" The answer is yes, absolutely. And the key is to focus on local SEO. If you are looking to hire in-house or outsource the work to an agency, there are some things to look out for, and some questions you can ask to screen for best results.
3 Things to Ignore About SEO for Dentists
#1 The Guarantee
As an SEO professional who wants the best for my clients, this pains me at my core but sadly it's true: I will never guarantee a client top positioning or 100%+ growth in organic traffic because the truth is there are just too many conditions that can impact that result. Yes, I have contributed to great success stories of practices that have blown results out of the water, but in most instances, I aim for a realistic, sustainable range of healthy growth. If a financial advisor told you he would guarantee a 50% growth on your investment, you may be thinking of Bernie Madoff, right? Claims of immediate, inordinate growth should be a red flag. In 2020, SEO relies heavily on quality factors, a shift from years prior. The landscape has gotten much more competitive with more practices utilizing SEO to gain a leg up. If you are a local dental practice in a highly populated or competitive region of the country, it will be very difficult to climb the ladder to the #1 position for general search phrases such as "dentist."  And, while search engine advertising (sometimes known as SEM or more specifically PPC or CRM ads) gives you the ability to pay for those top positions in the meantime, SEO can take time to reach top positioning on search engines organically.
My advice: Pay attention to companies that want to know about your practice. There should be a focus on your demographics, your services (especially your top revenue-generating services), how you and your staff communicate with patients, your target personas, your competition, your differentiators, brand and voice, and physical location. SEO advisors tend to be highly strategic and love to dive in and do research before giving feedback and/or implementing campaigns, so expect questions. If all you have heard is a guarantee and a "let's start now" I would stake my reputation on trouble coming down the road.
#2 It's All About "Keywords" and "Links"
There was a time when SEO was largely linked to tangible metrics such as the number of keywords used in your content and the number of links you have pointing to your website. While I won't discredit the effectiveness of these SEO tactics in 2020, I will say that for a local practice they are just a piece of the pie. I recently wrote an article on the evolution of the SEO Periodic Table that you can read here: Total Guide to the Periodic Table of SEO Ranking Factors, 2020 Update. The takeaway is that SEO has evolved to please the end-user through the use of advanced algorithms. Search engines want to serve people with the best result for the information they're seeking. The practice with the most links over one that's close in location with good reviews won't always win in a head to head search battle. Links also depend on quality factors from the domain that links back to your website. I wrote an article on E-A-T (expertise, authority and trust) that you can review here: Writing Content on Healthcare, Finance or Legal? You Need to Know: E-A-T & YMYL.
My advice: Read up on the latest ranking factors. The article above shows the evolution of those factors as well as things that can be toxic and work against you. There is even a quiz you can take at the end to see where your practice currently sits in regard to 2020 ranking factors. Also, take a bit of time to educate yourself on current marketing topics. SEO editors are usually tapped into current trends like machine learning, consumer behavior, regulations and technology, which can serve you in areas outside of just marketing. The following are great resources and a few favorites of mine:
#3 SEO Requires an Expert
SEO is not something that always requires a professional. In fact, I could probably sit down and educate someone to the degree that they can handle and be as effective as an SEO specialist within a few hours. The gap in knowledge and results therefore comes down to a few things. SEO professionals are expert researchers and have a large set of tools at their disposal. SEO professionals have also watched the industry shift and evolve over the past decade and are up-to-date on best practices and algorithms. They can quickly implement changes as soon as updates occur. Lastly, SEO professionals tend to act as strategists in several different areas of digital marketing due to their knowledge of consumer behavior and user experience, allowing them to build strategies that align with overall goals. If you want to take on SEO without the use of an in-house hire or a marketing agency I would recommend focusing on three things for a local dental practice.
My advice: Start with educating yourself on local SEO ranking factors. Keep things in mind that offer a value-add to the person doing the search. Is your information credible? Is your website easy to navigate? Is it secure, engaging, interactive? These are all things that offer a better experience for those seeking out your practice. Instead of thinking about what elements will "trick" the system, try and design a website that fits your patients' needs. Google will inevitably curate their algorithms to align with those criteria.
3 Things Dentists Can Do To Improve Results Now
#1 Get an SSL Certificate With Your Hosting Plan
An SSL certificate shows search engines that your website is protected. You can usually combine these with any hosting plan, such as GoDaddy, SiteGround or DreamHost. I won't go into great detail on the specific makeup of an SSL certificate, but ultimately it encrypts data between your website and server and shows search engines that patients' information is safe. This is typically represented by websites that have an HTTPS vs HTTP at the start of their URL and a lock symbol to the left of the domain. Not only will this put your prospects at ease but it offers significant SEO value that many competitors overlook. If you do not have an SSL, contact your domain/hosting provider (although hosting will save you more of a headache) and ask them to add it to your plan.  If you really want the best quality, ask if they use the following brands:

Google My Business listings are the top three listings that appear in a search, often referred to as "the local three-pack." If your listing has sufficient reviews with a rating of 4.5 or higher, it will likely lead to more conversions and organic action than any other form of marketing for a local dental practice. These listings are also tied to an algorithm known as Penguin, which helps to better serve those looking for practices near their location. In 2020 it is estimated that 50% of all searches are performed with voice search. That means phrases like "dentists near me" or "dentists near my location" will become more natural search queries. These tap into the Penguin algorithm that seeks out and displays highly reviewed and top-rated practices near a potential patient's physical location.
Local listings provide users with a range of valuable information straight from a search engine, including reviews, practice information, location, hours of operation, COVID-19 updates and even blog updates or promotions. Depending on whether a patient is searching from a phone or desktop, Google will serve them with a call-to-action button to view the website, get directions, or make a call.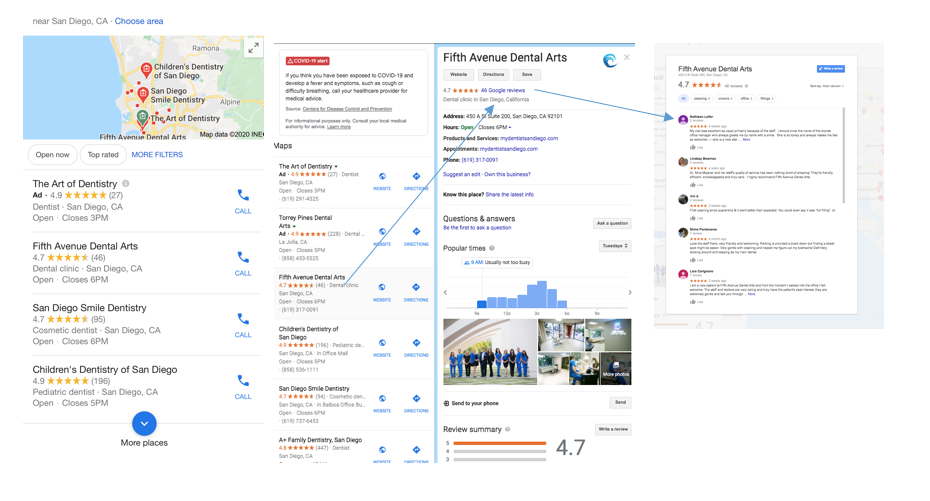 The insights tab for the local listings provides a goldmine of data, including the best times and days that people engage with your listing, the top locations, as well as how impactful your photos are. Keep in mind that setting up a Google My Business listing, which gives you all this information, is 100% FREE.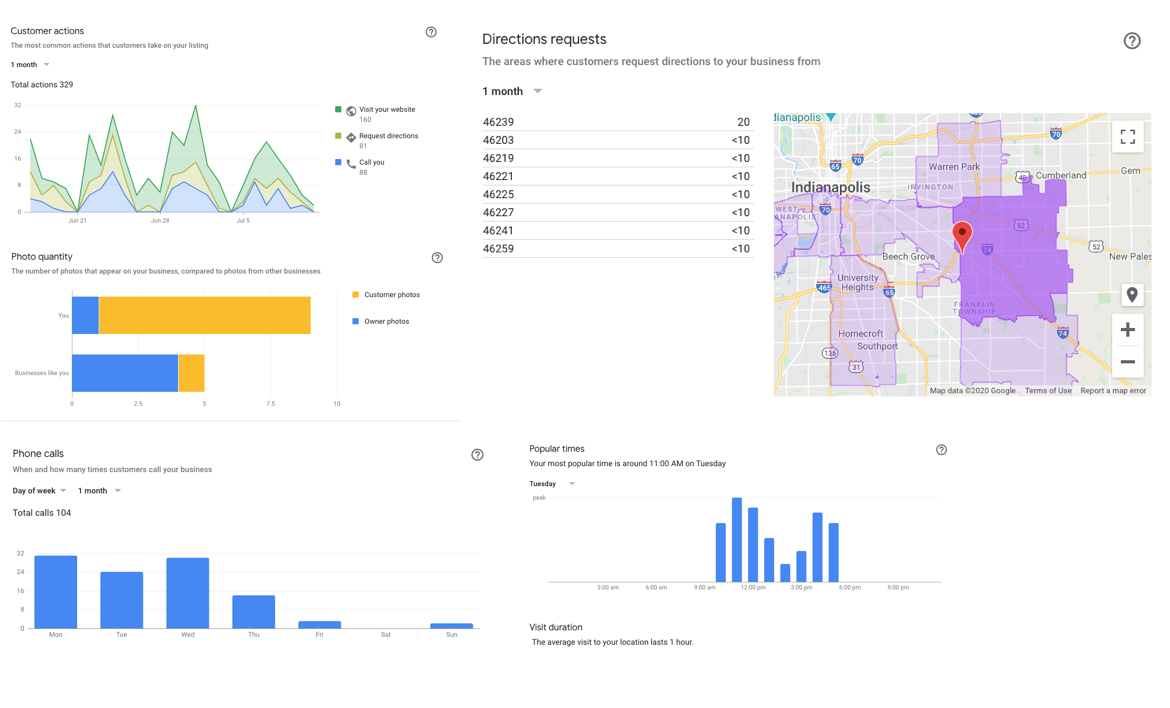 At Big Buzz, we build custom dashboards to pull this information, as well as social media, SEO, advertising and more into one central location for our clients.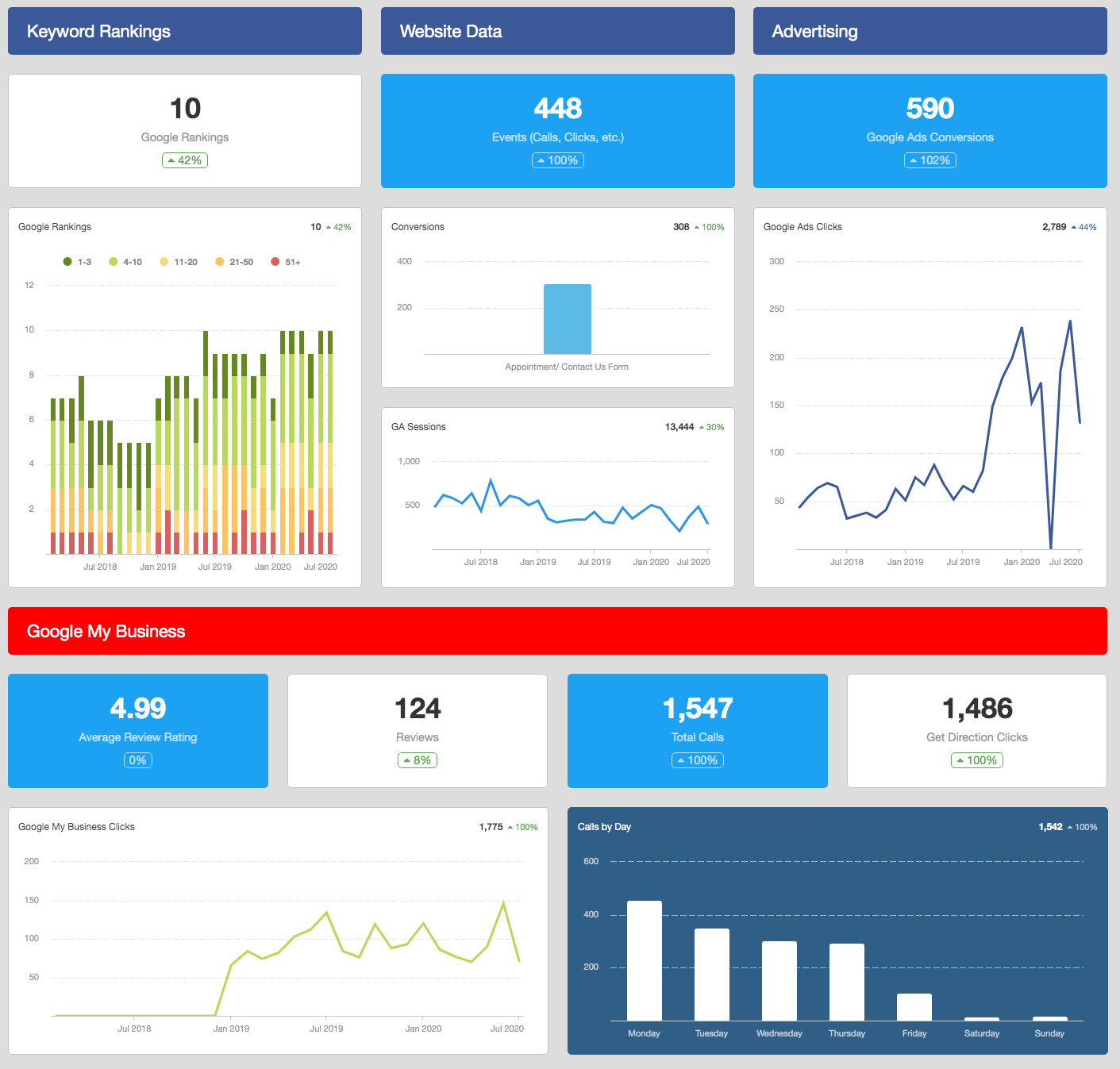 #3 Learn About Meta Tags
When a prospective patient enters a query into a search engine, Google's AI will shoot through the internet in real-time and pull what it believes to be the best selection. While there is a range of factors that go into this, a big one is meta tags. Meta tags tell Google what the website and pages are about. The two main meta tags are the page titles and the page descriptions.  If I were to search for a "dentist in Denver" I will see something like this in the search results:

The top portion is the meta title, the bottom is the meta description. Most website CMS platforms have a section or a plugin you can use to enter these on every page. If you use WordPress, the best one is a plugin called Yoast.
So, how do you write title and description meta tags for SEO?
Here are some best practices to write title meta tags for your web pages.
Keep your title tags under 60 characters.
Add modifiers that best fit the intent of your page, such as best, city, zip code, how, what, tips, etc. These will vary between your homepage, service pages and FAQ or blog pages.
Insert your primary keyword in the title tag, preferably right at the beginning.
Write a unique title tag for each page.
If you have a well-known brand in your community, then you can add your brand name to your title tags to get more clicks.
Follow these tips to write description meta tags for your web pages.
Keep your meta descriptions under 160 characters in length. For mobile, keep it limited to 130 characters.
Integrate your primary keyword and other important keywords as naturally as possible.
Make sure you clearly explain what users can expect from a page if they click on it.
Write unique meta descriptions for each page on your website.
Do not include any non-alphanumeric characters in your meta descriptions and make sure there are no grammatical or spelling errors.
My favorite tool is https://ezlocal.com/tools/meta-title-counter/.
Now, here's an extra tip. Larger websites tend to be crawled and indexed more quickly by search engines. Smaller practice websites can take some time. Create a Google Webmaster account and enter your website page URLs in the top search bar. This will resubmit your website pages for indexing on Google's search results pages.
This will either show you that your URL is not currently indexed (typical with new websites) or that it is on Google, giving you the option to "Request Indexing". In either case, Google will update the page with the most recent information within 24-48 hours and update your rankings more quickly.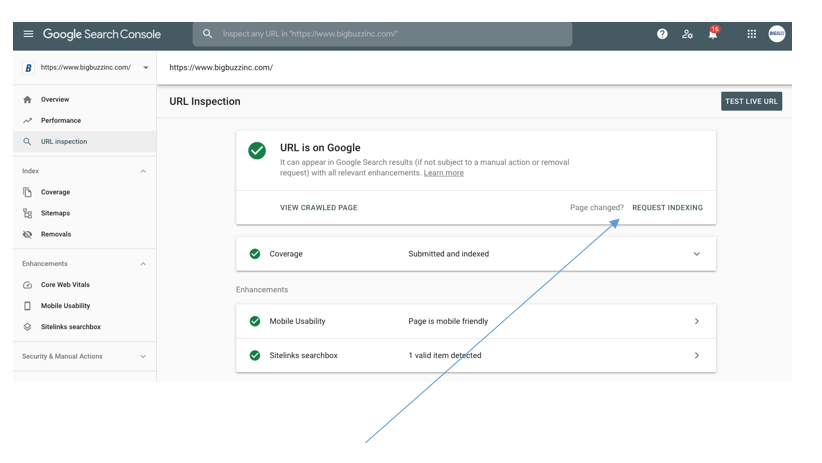 Although this seems tedious, you will find that it is fairly intuitive and can provide you with a simple and quick SEO bump without a large investment in an agency or new hire. At Big Buzz, we have been serving dentists, orthodontists and other specialty practices for over 13 years.  We understand that this group was hit especially hard by COVID-19 and aim to assist and educate as well as offer healthcare marketing services to reach new patient goals. If you would like to learn more or inquire about more robust SEO strategies, reach out to my personal email at casey@bigbuzzinc.com.