2019 marked the 150th anniversary of Dmitri Mendeleev's original Periodic Table of Chemical Elements, so what could be more appropriate a time to release an updated Period Table of SEO Ranking Factors? The original Periodic Table of SEO Ranking Factors was released in 2011 by Search Engine Land and updated in 2013, 2015 and 2017. The Periodic Table of SEO Ranking factors has become a globally recognized tool that search professionals have relied on heavily as the guideline for an effective SEO strategy. In the last several years alone the table has been downloaded more than 100,000 times in over 74 countries and linked to thousands upon thousands of blogs, marketing websites and other pieces of content. It focused mostly on elements dubbed "success factors," with a positive and negative scoring system based on each element. The positive ranking elements included Content, HTML, Architecture, Links, Social, Trust and Personal while the negative elements focused on Violations and Blocking. You can find the original 2011 article here.
The Original Periodic Table of SEO Ranking Factors was released in 2011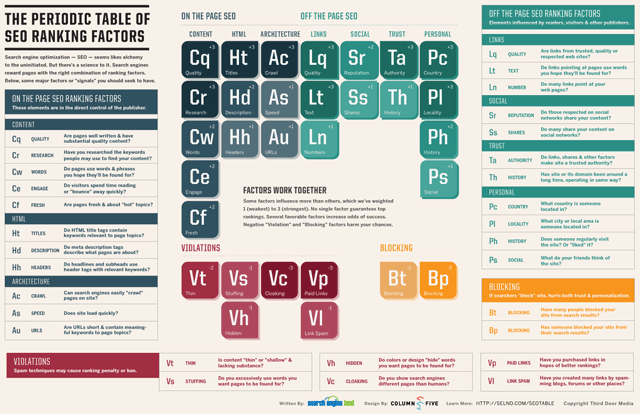 Breaking Down the New Periodic Table of SEO Ranking Factors
Before we reveal the table, let's quickly go over how to read the chart. The chart is broken up into a set of elements, each categorized into a specific vertical. Each box includes a weighted ranking, symbol, element name, brief description and color-coded category. The categories are broken up into positive ranking factors: Content, Architecture, HTML, Trust, Links and User. This is very similar to the 2011 version with the exception of removing "Social" and replacing "Personal" with "User". Negative factors now just include "Toxins" with the addition of "Emerging Verticals." "Emerging Verticals" have no value. Instead, they focus on emerging trends and technologies that professionals should be aware of as they could hold value at some point in the future. The original Periodic Table only included the negative factors "Violations" and "Blocking" outside the original elements. We will get into these replacements and what the categories mean later in the article but for now will focus on how to read and understand the 2020 Periodic Table of SEO Ranking Factors as a tool and guide for your SEO strategies.
Healthcare, Finance or Legal? You Need to Know: E-A-T & YMYL
If your organization operates in the healthcare, finance or legal industries or your content covers one of one of these three areas you are held to a higher standard of SEO. Read our article on E-A-T and YMYL to learn more.

Without Further Ado, The 2020 Period Table of SEO Ranking Factors
Quality +3 – Ensure that you are writing in-depth, well-written content that is highly valuable to the reader.
Research +3 and Keywords +2 – Research and keywords typically go hand in hand. Make sure you are taking the time to research popular and relevant search terms as well as accurate sources to include in your content.
Freshness +2 – Make sure you are creating timely content and either refreshing or retiring old or stagnant pages.
Multimedia +2 – Include images, video, podcasts, etc. to break up content spacing and increase engagement on your pages.
Answers +2 – Create content that can easily be converted into an answer in search. Search Queries are often entered in the form of questions. Formatting it this way increases your chances of being featured as a snippet in the SERP.
Depth +2 – Aim for substance. Shallow content often fails to attract new users or engage and can set you up for a penalty. Typically, blogs should contain at least 300-500 words. However, the best ranking blog length for 2019 is 1,705 words.
Crawl +3 – Utilize technology SEO to ensure search engines can easily crawl your pages and find relevant information related to a user's query.
Mobile +3 – Optimize your website for smartphones and tablets and ensure that it's responsive.
Duplicate +2 – Use redirects and canonical tags on duplicate content.
Speed +2 – Ensure your website loads quickly on any device.
HTTPS +2 – Provide a secure connection for visitors with an SSL certificate.
URLs +1 – Use best practices for URL structures and build a keyword into you page's address.
Titles +3 – Build keywords into your page titles. We recommend using a keyword first followed by a descriptor or brand name.
Descriptions +2 – Meta tags should describe what the page content is about.
Structure +2 – Use Schema markup and other tools to enhance your listings. This also helps search engines find types of content (events, products, organizations, etc.).
Headings +2 – Build keywords into your H1 and H2 tags as well. Make sure each page only has one H1.
AMP +1 – Utilize accelerated mobile pages to boost your page load times on mobile devices.
Authority +3 – Gain authority in everything by getting quality links, shares, comments and more.
Engagement +2 – Visitors should spend time on a page engaging with the material and not bounce.
Reputation +1 – Sites with high traffic, links and history carry weight when it comes to reputation.
Value +3 – Links should come from trusted, high-quality websites.
Anchors +2 – Ensure that anchors linking to other pages use similar keywords.
Backlinks +1 – Increasing your backlink profile with high-quality links leads to better rankings.
Country +2 – Consider the country of your searcher and use hreflang tags when necessary.
Locality +2 – Consider the region, state, city or landmark that may be beneficial to your searcher.
UX +2 – User experience matters now more than ever.  Optimize your website for the optimal user experience.
History + 1 – Take into consideration how regularly someone has visited your website.
Intent +1 – Take into consideration why someone is conducting a specific search and what information they may be utilizing your website for.
Toxins/ Don'ts
Cloaking -3 – Don't show a search engine different pages than your searchers.
Schemes -3 – Don't buy links, spam blogs or use any other black hat tactics to improve your rankings.
Stuffing -2 – Don't use excessive keywords in your copy in attempts to game the system.
Hiding -2 – Don't hide keywords by making them invisible to the viewer.
Piracy -1 – Don't host stolen content on your website.
Intrusive -1 – Don't use ad-heavy content or bombard the user with pop-ups and interstitial content.
Emerging Verticals
Voice – Smart home devices and mobile search are becoming increasingly popular.
Local – Listing, reviews, maps, NAP (name, address, phone) are vital for local businesses.
Image  – Photos and illustrations are increasing in SERP.
Video – Searchers are looking for engaging, live action content.
For more information on emerging verticals check out our white paper "Disruptive Marketing Technologies 2019"
Your More Interesting Inbox Awaits
Join 10,000+ other healthcare professionals who get access to our weekly marketing tips, case studies, survey data and more!
Comment Below and Let Us Know Your Thoughts!
We would love to hear your feedback on the article as well as any questions you may have.  For instance, what changes have you noticed in the past year regarding SEO? Where do you see the future of SEO headed? Are you in healthcare, finance or another YMYL industry and noticed rankings increase or decrease recently?
For access to more exclusive content please fill out our insights tab at the top of the page and we'll send you our latest articles as we release them.

Healthcare Marketing Agency Focused on Bioscience, Specialty Med Clinics and Senior Living Marketing Strategies
The healthcare community nationwide comes to Big Buzz for a fresh approach to medical marketing. After ten years of serving the bioscience, medical and senior living industries, Big Buzz has consulted individually with more than one hundred different clients from around the country. As a full-service medical marketing agency, we offer PPC advertising, social advertising, web design, branding, SEO, social media management and more. Our service industries are bioscience and life sciences, specialty medical clinics, and senior living.