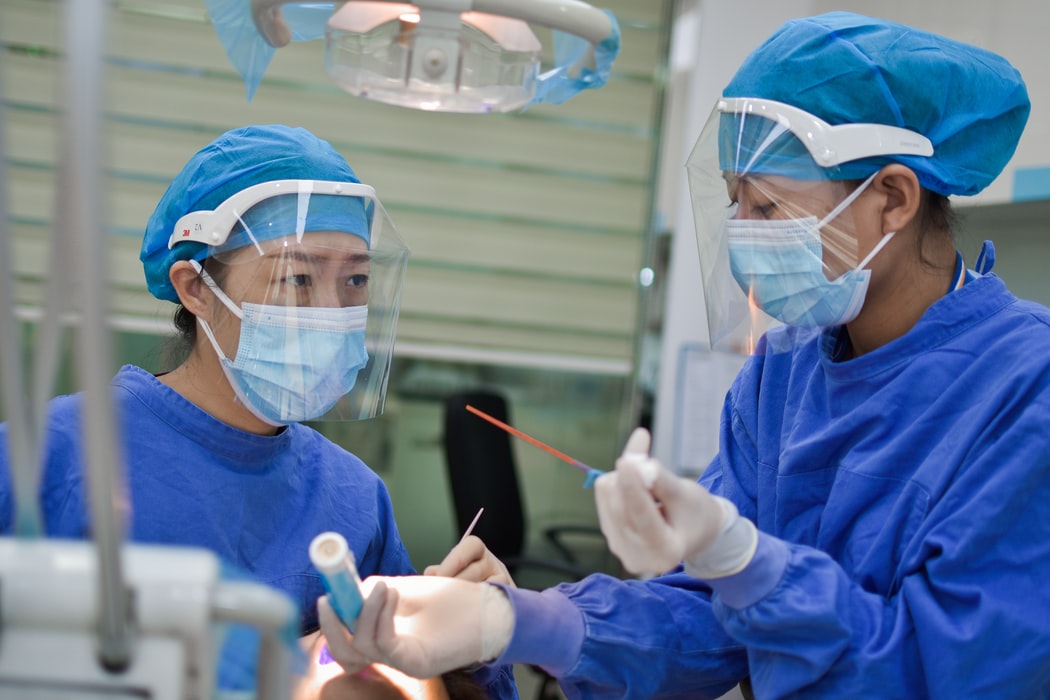 [vc_row][vc_column][gem_youtube width="100%" height="350px" video_id="ho9tvcYb4K0″][vc_column_text]A dentist's office is one of the cleanest and most sanitary places a person can go, both prior to the pandemic and now, and as of a month ago they had
no documented transmissions of infection
. One of the biggest challenges a practice faces right now is unifying this reality with public perception, and there is no shortage of marketing strategies available to re-instill potential patients' trust and faith in your office. This is not only an opportunity to share the new
safety measures
your office has implemented in the wake of COVID-19, but also to showcase your practice's personality and stand out from the crowd.
3 Easy Steps to Creating and Implementing Brand Messaging
Think of the dentist's reputation as the brand and the patients' experiences at the practice as the brand messaging, or story, that will resonate in their minds, keep them loyal and inspire them to refer. Brand messaging can go a long way to connecting with patients on a deeper level, and thriving practices have such messaging fully defined, backed by voice-of-the-customer data and seamlessly integrated into marketing communications.
Part 1: Organize and update your brand messaging
It's important that your dental practice's brand messaging is organized within a single document so that it can be found, read and understood easily by anyone creating or designing marketing materials, as well as by the internal team. Marketing for your dental practice includes external assets like your website and Google ads, but it also includes how you and your staff engage with patients, ask for referrals, present treatment cases and follow-up post treatment. Your practice philosophies – or mission, vision and values – can and should play a part in the brand messaging. It's also important that messaging be regularly updated to align with current consumer feelings.
Big Buzz CEO Wendy O'Donovan Phillips often says, "Nobody tells your practice's story like your happiest patients." Look to patients as a source of inspiration and information to most accurately convey your brand story. Send your patients a simple survey asking what they believe your practice does best, and include their answers into your messaging. Amplifying what your favorite patients love most about the practice will bring in more patients like them. We also recommend including a final question asking respondents if they'd feel comfortable having their answers crafted into testimonials. Often, referrals and word-of-mouth marketing are the strongest sources of new patients and this is an easy way to keep that going.
Part 2: Parse your survey results
Once you have surveyed your patients, download the answers to a spreadsheet (you can do this using a survey tool such as SurveyMonkey) and identify the commonalities among the answers. For example, multiple patients may have expressed gratitude for your thorough new safety measures, complimented the welcoming nature of the staff, or shared how easy it was to receive treatment. Compile the most common answers into three groups and label them with a relevant overarching message. In the examples used above, those labels may be "Commitment to Safety", "A Welcoming Team" and "Patient Convenience." Use these as a baseline to what your differentiators may be and expand on each with one to two paragraphs bringing them to life.
Be sure to vet them against your competitors to ensure they are true differentiators and not something every practice can claim. For example, if other nearby practices boast a commitment to safety, perhaps your commitment also includes convenience by offering virtual consultations via SmileSnap, offering complimentary face masks or texting patients ahead of their appointment with safety instructions. These are value-add services that not every practice offers.
Part 3: Integrate your messaging
Now that you have perfected your messaging, start using your brand pillars, or differentiators, in your marketing correspondence. In the following example, the brand pillars are safety, comfort and ease:
"Did you know we are accepting new patients? Our welcoming staff and commitment to safety will make you feel safe and comfortable in our office, and our online patient portal makes scheduling appointments easier than ever!"
Aside from brand messaging, there are other ways to market your practice's safety measures:
Make Meaningful Connections with Content
Content marketing is a powerful and versatile tool for getting in touch with both current and prospective patients. It can boost your practice's credibility by promoting the doctor's and teams' depth of knowledge and create a sense of trust that makes it more likely for prospects to schedule an appointment. Consider writing a 200- to 500-word post biweekly, uploading it to the blog section of your website and using your email software to send an excerpt with a link to read more to everyone in your database.
Not sure what to write about? Consider dedicating five minutes of every morning huddle to ask each team member to recall recent questions and concerns from your patients, and use those concerns as topics for content. For example, if a patient was concerned that dental treatment could spread germs more easily than in other medical offices, write a piece entitled "How Dental Office Safety Prevents the Spread of Germs," and include the safety protocols that are used in your office. You could also write more personalized content, such as an interview with the doctor about these kinds of concerns conducted by a strong communicator on the team.
Tie It All Together with Digital Marketing
Your new safety measures should be broadcast loud and clear on your website in a prominent and visible section, but they can also be promoted through other means, such as on social media. Post photos of the staff in their PPE or share videos of updates made to the practice to allow for more social distancing. You can boost these posts to increase exposure at a relatively low cost. You may also consider including safety callouts in your Google Ads, either as ad extensions (these appear below your ad text to provide extra information to those searching) or on the landing page. Be sure to use messaging and storytelling to tell prospects why they should come to your practice, beyond just a list of safety protocols.
Would you like to learn more about how to implement these measures now? Get a free, no-obligation assessment of your current marketing strategy to finish 2020 strong. Email our CEO now at wendy@bigbuzzinc.com to get scheduled.
Big Buzz is an agency delivering focused marketing efforts for dentists and dental teams nationwide. CEO Wendy O'Donovan Phillips is the author of KABOOM!: The Method Used By Top Dentists for Explosive Marketing Results, has been published in The American Academy of Cosmetic Dentistry magazine and has been quoted in Forbes, The Washington Post, ABC News and Chicago Tribune. The American Dental Association hired Phillips as an expert consultant in marketing. She regularly lectures for dental organizations and associations in front of audiences ranging from 25 to 5,000 attendees. Agency awards and accolades include recognition for excellence by the American Marketing Association, Best Advertising Agency and Best Web Developer in Denver by Expertise, and Top Advertising and Marketing Agency by Clutch. [/vc_column_text][/vc_column][/vc_row][vc_row][vc_column][/vc_column][/vc_row]
Join the 13,000+ care professionals who read our weekly insights.
Get actionable learnings to apply now to attract warmer leads.