A Focus on Strategic Marketing Planning for Senior Living
We surveyed marketing executives across the senior living industry to uncover what works best in marketing planning and why, along with specific steps you can take to improve your marketing This complete data-driven eBook includes…
Why a Strategic Approach Makes All the Difference in Marketing Planning
Top Internal Team Members Involved in Marketing Planning for Senior Living Organizations
Most Common Steps to Marketing Planning for Senior Living
Top Research Informing Marketing Planning for Senior Living
Top 10 Initiatives Found in Senior Living Marketing Plans
Cadence of Marketing Plan Review in Senior Living Organizations
Marketing Plan Budgeting Practices for Senior Living Organizations
The Big Picture: A Word on the Marketing Objectives Workshop Approach
Outcomes in Marketing Planning for Senior Living Organizations
Download the eBook to learn more about what we discovered.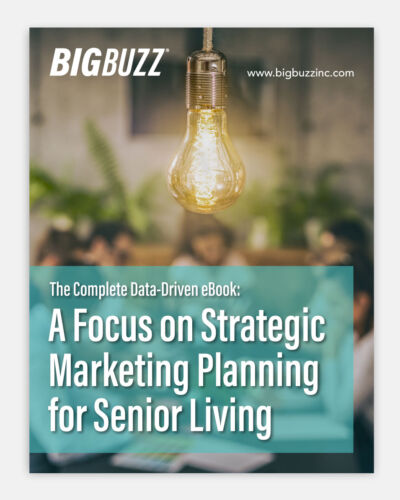 The Complete Data-Driven eBook to Storytelling Marketing for Senior Living
We surveyed numerous marketing executives in the senior living industry to find out why storytelling makes such a difference in marketing. This ebook covers…
Storytelling Defined
The Importance of Storytelling in Marketing
Storytelling in Practice
The Arch of Storytelling in Marketing
Measuring Success in Storytelling Marketing
Download the eBook to learn more about what we discovered.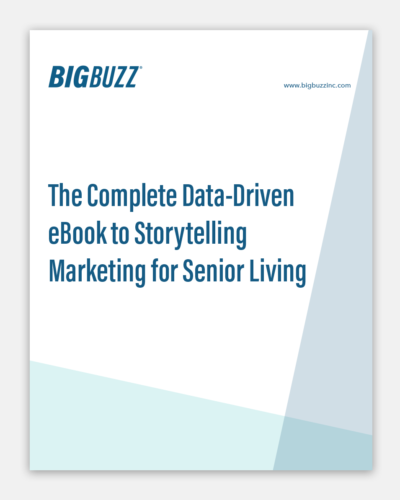 Senior Living Guide: Generating Reviews
Online reviews are a helpful resource for prospects researching senior living options. They are also an incredibly effective and inexpensive marketing tool for your organization. They improve your reputation, boost your credibility and even bolster your local search rankings. Download the guide to learn 7 easy methods of generating online reviews from residents and family members.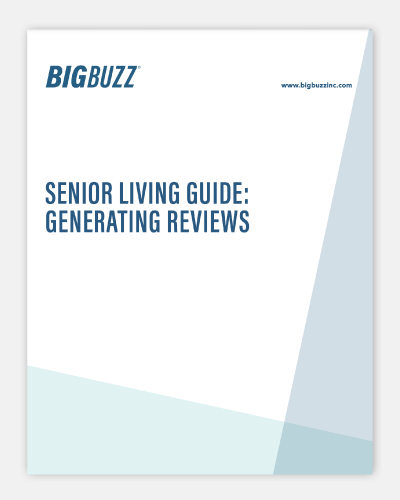 Your Guide to HIPAA-Compliant Marketing
Marketing is not just a powerful tool for driving revenue, it's practically a necessity in today's competitive landscape. However, the rules imposed by HIPAA make healthcare marketing a tricky proposition. After all, it can be difficult to achieve ROI when you're paying $50,000 per violation. At this time, it's important to note that while Big Buzz has more than 10 years of healthcare marketing expertise and our guidance is founded in research and data, we do not provide legal advice.
In this guide we focus on three primary areas of marketing as it relates to HIPAA:
Websites
Email
Social Media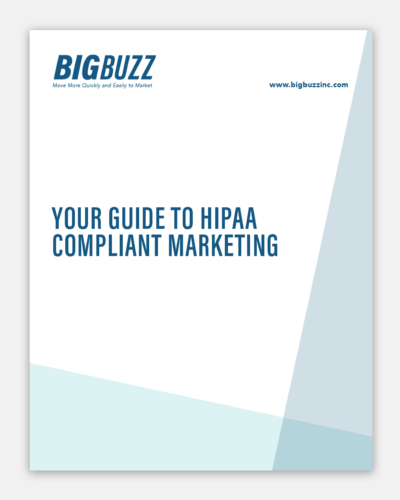 Survey Data Report: What Are Your Patients Thinking Right Now?
Big Buzz conducted a survey of dental patients in our home state of Colorado in order to better understand their collective thoughts, behaviors and mentalities related to seeking dental treatment in 2020. We hope the information contained within this report will help our local dental clients as well as dentists nationwide better understand their target audience and help them meet or exceed their biggest goals.
This report contains:
Information on patients' plans for dental visits
Information on how patients are finding new dentists
Recommendations to attract new patients
Healthcare Cybersecurity: Protecting Your Organization
Forget banking and retail – healthcare is one of the industries most vulnerable to cyberattacks, and breaches are on the rise. There are several varieties of cyberattack, each with its own functions and motives, and education is the first step against thwarting them. Learn more about the trajectory of this troubling trendtrend and what you and your organization can do to combat it.
You'll learn:
Why electronic health records are so in demand
The different types of cyberattacks
What your organization can do
The Power of a Survey: Marketing's Utility Player
Many would argue there has never been a better time to be a marketer than today. The sheer number of tactics in the marketing arsenal is staggering. Many traditional methods still flourish while new innovations in targeting, reach and segmentation empower marketing teams like never before.
However, the true potential of these powerful tools cannot be realized without the proper research and due diligence. Luckily, among the arsenal of marketing tactics is the survey, an approach with a level of versatility and precision that many may not fully grasp at first glance.
Dental Facebook Marketing Quickstart Guide
Now is the time to capitalize on social media to connect with your patients and target audience in a meaningful way. A peer-reviewed study published in the Journal of Medical Internet Research found that nearly 83% of all participants feel a social media presence is either effective or very effective to engage and obtain new patients. This Facebook guide includes:
Social listening
The 80/20 rule
Rules of engagement
Content ideas
Photography guidelines
Facebook Stories & Facebook Live
The Omnichannel Approach to Healthcare Marketing
In a landscape where consumers are more online than ever before, healthcare organizations must make it a priority to leverage the versatility of the internet and all the platforms therein. Gone are the days where a practice can rely solely on a mailer to drive traffic, or an eCommerce company can buy an ad here and there online and watch the sales come rolling in. The one-track mind is destined to fail in today's fickle marketplace.
Learn about the differences in omnichannel and multichannel marketing
Learn about healthcare applications of the omnichannel approach including…

Patient Satisfaction
Reach and Budget
Conversion Rates and Lead Generation
Reaching and Targeting the Right Audience
With today's fractured and complex marketing landscape, it can be difficult to home in on the right segment, let alone reach it with any success.
Luckily, there are steps organizations can take to whittle down the massive healthcare-consuming public to target the particular segment that they can benefit most, and vice-versa.
Download now to learn about crafting, targeting and reaching the audience that will help your organization flourish.